The sector of cryptocurrencies continues to develop and one of the reasons that also makes it successful is the transaction fees which are much cheaper in this environment than traditional institutions.
Indeed, even if there may be significant costs between blockchains, these remain less than the traditional banking system where more the amount is important at the time of a transaction more most of the time the expenses will be consequent.
1.6 billion Bitcoin transferred for less than 1 dollar
A recent transaction of 81 842 Bitcoin (BTC) took place with a fee of 3392 sat which is equivalent to $0.70 taking into account the rate of 20.7 sat/vB (per virtual bit) according to Mempool on October 26th.
Taking into account the price of one Bitcoin during the transaction ($20,744) this means that 1.6 billion Bitcoin could have been transferred for less than a dollar. These costs are definitely much lower than in the banking sector where with such an amount, there will have been substantial costs to pay.
It is a great strength of cryptocurrencies, transactions are almost instantaneous. On the other hand, they require verification and registration as a block on the blockchain (in this case the Bitcoin blockchain in this case) before the transferred amount can be used.
Cryptocurrency investing is offered by eToro (Europe) Ltd as a PSAN, registered with the AMF. Cryptocurrencies are very volatile. No consumer protection.
The Proof of Work mechanism
In order to be able to register these blocks on the blockchain, minors are needed to perform calculations to power network security. Thus, each new block found leads to the creation of new Bitcoin generated and helping to validate transactions.
In the case of this transaction of 81,842 BTC, it is not clear if the Bitcoins were used for a transfer to a cold wallet or on an exchange platform.
The mechanism Proof of Work is making a lot of noise right now, because it's a fundamental concept in the crypto world, but it consumes a lot of energy since miners compete to perform the calculations.
Bitcoin has been subject to many criticisms on this subject, mainly because the environment is a subject that concerns us all and is highly topical. In addition, Ethereum successfully updated The Merge last September, enabling the transition from the Proof of Work protocol to Proof of Stake.
Proof of Stake
With this new protocol, the network energy consumption has been reduced by more than 99%. Therefore, many pro-ecological actors and individuals would like Bitcoin to do the same.
Proof of Stake unlike Proof of Work also provides network security, but this time there is no need for miners anymore. It's a sort of draw select a validator to perform the checks.
If this change was successful for Ethereum, it took years of preparation, it was a critical step. In the case of Bitcoin, it is also possible on paper to switch to Proof of Stake, but Bitcoin does not have a team of developers like the Ethereum network. Moreover, the creator of Bitcoin is not known unlike Ethereum.
Thus, it is difficult to envision what Bitcoin could be if it were given the opportunity to switch to such a protocol. This is unlikely to happen as long as it is a delicate operation than risky for a number of reasons in the case of the BTC blockchain. Despite everything, the energy problems are real and could play against Bitcoin in the years to come.
Bitcoin price analysis
Bitcoin experienced a difficult start to 2022 with a substantial fall. The installed bear market has impacted all the altcoins on the market. Even so, in recent days market sentiment seems slightly more positive with Bitcoin having passed the $20,000 mark.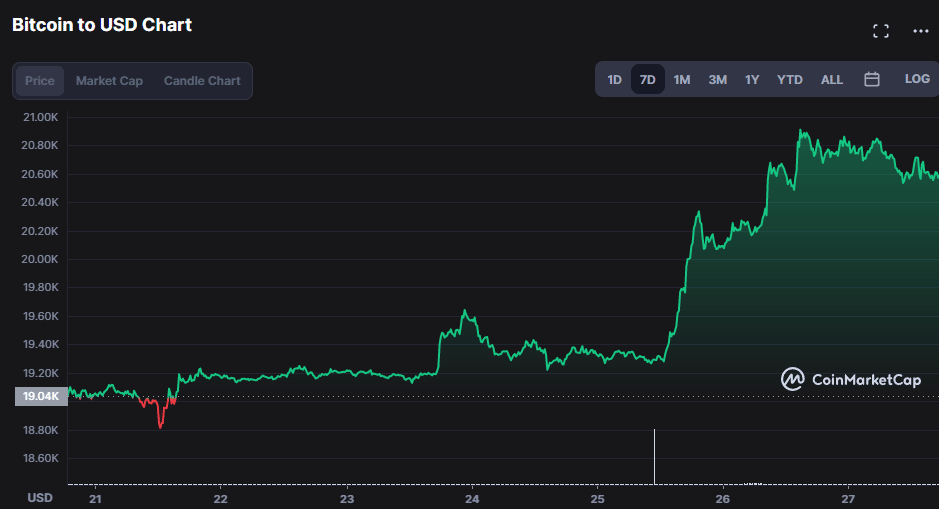 Ethereum also suffered a joli pump causing it to exceed $1,500. As a result, the majority of the market is in the green. Moreover, the whales continue to accumulate BTC and ETH for a few weeks: a sign that could testify to an upcoming bullrun.
This sudden rise is characterized by better than expected figures in the US finance market, but also the newly elected British Prime Minister. This having a relationship with the world of crypto-currencies, it could be that the cryptos receive a status in the United Kingdom: positive news that this sector really needs.
The current Bitcoin price is from $20,587 when writing this article according to CoinMarketCap. An increase of 8.15% over the last 7 days which represents more than $1000 difference with last week.
---
Bitcoin's rise is impacting all altcoins including Cardano et Ripple who could explode much faster than expected because of the impact they could have on this environment in the years to come.