Discover our selection of five cryptocurrencies to watch and in which it could be interesting to invest at the end of 2022. Today we are touring the industry with five representatives of hot market niches: interoperability, the blockchain relationship / real markets, layer 2 and DeFi.
🟣 Polygon (MATIC)
Type: Ethereum Second Layer / Layer 2
Capitalization: $6.93 billion (#11)
Key catalysts
We recently reported to you the upcoming launch of a unique product in the Ethereum overlay landscape: the solution Polygon zkEVM.
As a reminder, second layer ("layer 2") solutions such as Polygon exist to solve Ethereum's congestion problems (a "layer 1"). More transactions per second, without sacrificing security or decentralization. Except that until now, there remained a size limit: the applications developed on the Ethereum blockchain-mother were only not transposable as is on layers 2.
Last July, the Indian creators of Polygon therefore unveiled zkEVMa second layer solution of type zkRollup absolutely compatible with theEthereum Virtual Machine.
The zkEVM enthuses the developers : since the opening of the test network (the "testnet"), they have seen that they do indeed benefit from the network effects of the EVM, while inheriting its development tools and its support infrastructure. No more fiddling!
The opening of the main network ("mainnet") is planned for the first quarter of 2023.
Expected price impact
The implementation of zkEVM implies that MATIC tokens will be used for pay network gas charges. What considerably increase the demand for MATIC.
The launch of zkEVM is most likely to lead MATIC to outperform as the token will be concurrently used to increase network decentralization with more staking.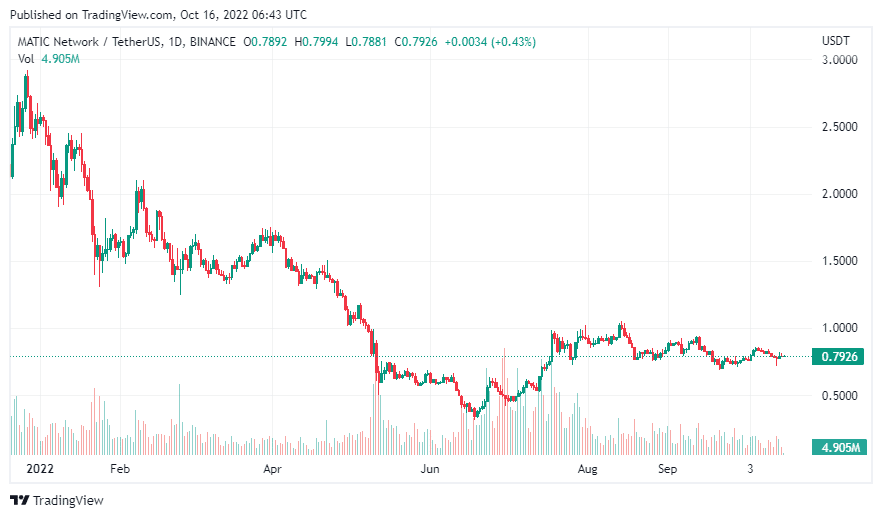 ✅ Optimism (OP)
Type: Ethereum Second Layer / Layer 2
Capitalization: $164 million (#143)
Key catalysts
The total value locked (TVL, for "total value locked") on the Optimism network has 221% bonds : from $294 million to nearly $944 million in the past month, the network has generated approximately $664,000 in revenue for its validators during this period.
A solid performance in the middle of a bear market and which illustrates the insolent growth of the activity and of liquidity on this blockchain.
Behind the success, there were two important events: the launch of the decentralized exchange Velodrome Financewhich has already racked up 133 million in TVL, as well as rolling outOP token incentives through Optimism's Governance Grant Program.
Expected price impact
We believe that the OP token will benefit from the growth of optimism as well as the wider adoption and migration of cash to its protocols.
Although the use of the OP token for incentive purposes may exert some selling pressure on the token (beneficiaries will exchange them for fiat to fund themselves), this should be offset by its continued use as a gateway to the Optimism ecosystem.
Additionally, while there is no timeline for when this will be announced, the OP token will be used to decentralize the network, helping to increase its value and usefulness.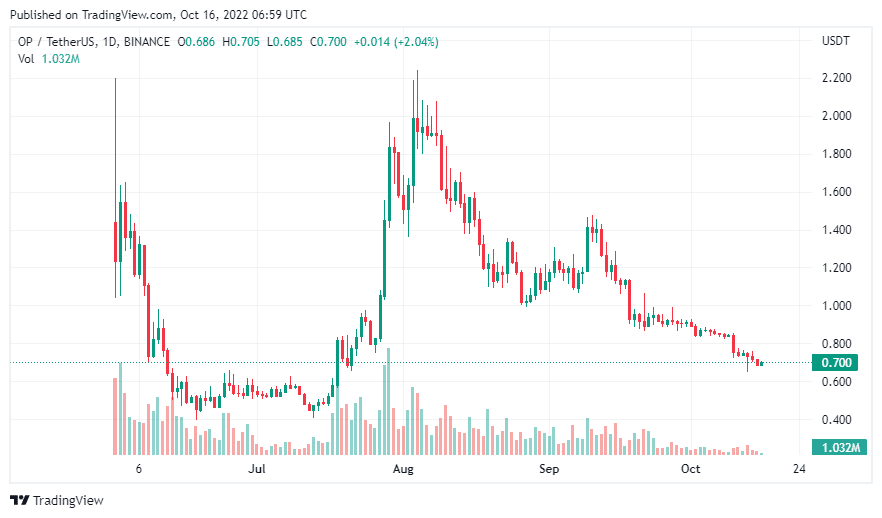 🍃 IMPT.io (IMPT)
Type: tokenization of carbon credits
Capitalization: Still in presale ($10.8 million to be raised)
Key catalysts
This is the first listing on a centralized exchange that will set the tone once the presale is over: OK ? LBank ? MEX ?
Indeed, the project is still in presale, and it has just exceeded 5 million dollars collected.
We have extensively covered the IMPT.io project and its IMPT token (see our last article What will be the next crypto to explode? Our opinion and predictions on the IMPT token). In short, this is a project that aims to tokenize carbon credits.
Carbon credits which are currently traded on a regulated market, but which is no less opaque and administratively restrictive. The blockchain solution offered by IMPT.io is not new, but it brings new elements like NFTs and an impressive list of announced partners (more than 10,000 brands!).
💡Quant (QNT)
Type of crypto: Interoperability / Inter-chain
Capitalization: $2.22 billion (#30)
QNT: a little-known altcoin that capitalizes $2 billion
QNT is the native token of the Quant Networks project. An infrastructure project that proposes a decentralized architecture to allow theinteroperability and the communication between existing blockchains.
The project was set up in 2015. Quant Networks is not strictly speaking a blockchain. Rather, it is a kind of blockchain software that connects blockchains and other computer networks together.
Technically, Quant Networks works through technology overledgeran operating system on top of blockchains that runs a meta-gateway allowing any network to connect and run their applications on different blockchains.
Fees are paid in QNT, an ERC-20 token.
Key catalysts
Several governments and central banks have recently considered using Quant Networks. The objective: to develop their central bank digital currencies (CBDC, for "central bank digital currencies") and – above all – the connect with each other.
Indeed, if Tezos (XTZ) and Ripple (XRP) are the networks favored by central bankers for their projects, these two networks cannot communicate with each other. Or at least, not completely secure.
But right now, the architecture provided by Quant is already capable of running smart contracts and connecting all kinds of apps across blockchains that don't even support them (like Bitcoin ) or varied (like Ethereum or Ripple).
Potential impact on prices
More 250% : the progression of the QNT since June is already spectacular following these advancements. A short-term correction is not excluded, but will not call into question a medium-term bullish trend.
No signs of exhaustion approaching $200: a level that should be exploited by new buyers keen to participate in the current uptrend, while taking advantage of an attractive entry price.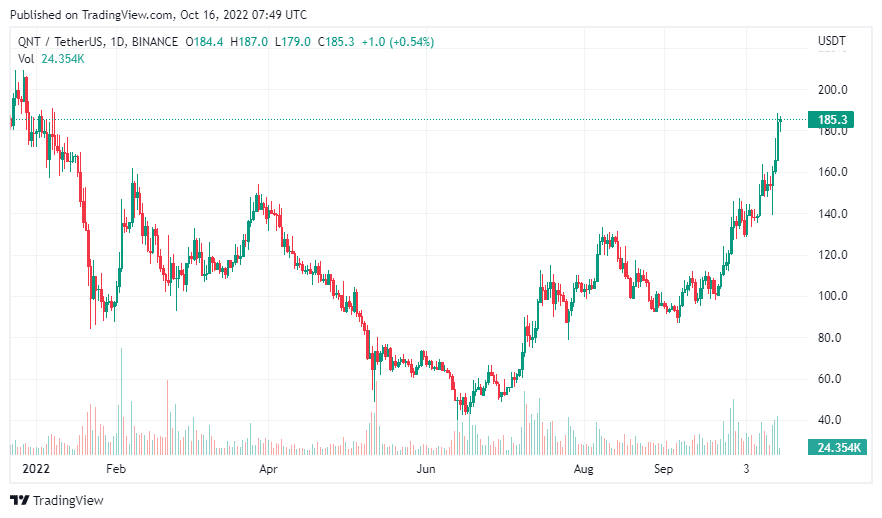 🪐 Cosmos (ATOM)
Type : Blockchain native / Layer 1
Capitalization: $3.34 billion (#22)
Key catalysts
It's'announcement of the dYdX Chain which seems to us to be likely to radically change the outlook for Cosmos for 2023. As a reminder, dYdX is the most important decentralized exchange of the market ($400 million in daily volumes) ahead of Kine Protocol and Uniswap.
On June 22, dYdX therefore announced that it wanted quitter Ethereum for the benefit of Cosmos. dYdX (dubbed dYdX v3) currently runs on the StarkEx network, a second layer of Ethereum built as a zkRollup.
The next version, soberly baptized dYdX v4, will more precisely operate on its own proof-of-stake blockchain built using the software tools made available by Cosmos (the Cosmos SDK, for "software development kit").
The reasons are multiple and follow multiple tests: to increase performance, to ensure freedom of regulation and to obtain finality on the functions of the protocol. dYdX intends to use its native token DYDX to secure the network.
Expected price impact
ATOM will not directly increase the value of dYdX Chain immediately, as there is no indication that the decentralized platform intends to take advantage of the famous "cross-chain security" of Cosmos 2.0.
The main thing seems to us to be elsewhere: given that dYdX was one of the first major applications to adopt a layer 2 of Ethereum, it is likely that this points the way to follow for other projects. We believe then that more teams and projects will migrate or at least rely on Cosmos.
Assuming this is the case, it is likely that some will take advantage of cross-chain security once it goes live, which will help drive demand for ATOM tokens.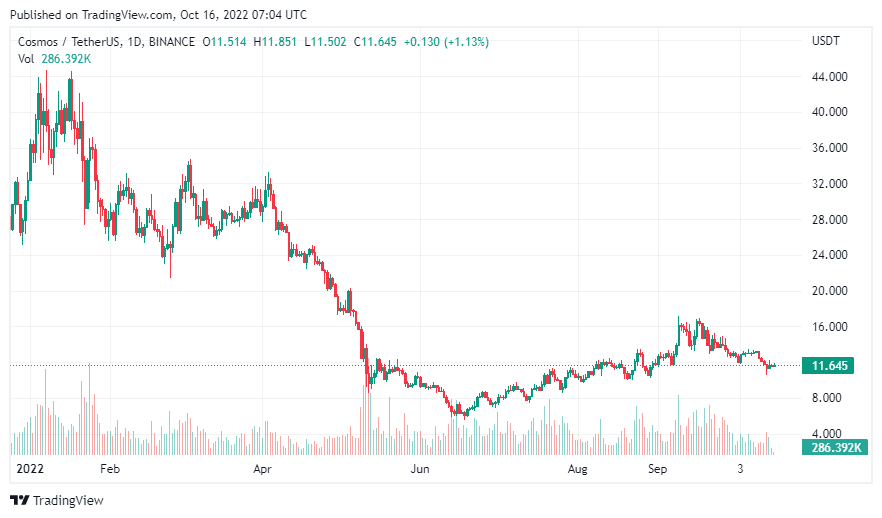 ---
A final word on the context of altcoins. Historically, October is not the best month for altcoins, after the famous septembear who weighs on the crypto market every year.
Bitcoin and Ethereum are at resistance levels and have been stagnating at these levels for several weeks. Compared to traditional markets, cryptos are holding up better, even if this is to be put into perspective: the S&P 500 has lost 25% since January, against 60% for cryptos.
Fear of another rate hike (after that of September 21) is therefore weighing on altcoins. The same goes for stock market indices. The DXY dollar index is strengthening: it is at its highest for 20 years, and is fully playing its role of "safe haven". Altcoins are still far from out of the woods…