Crypto adoption thanks to CB – Crypto cards are invading our daily payments. After'announce the FTX at the beginning of October, it's the turn of the exchange Blockchain.com to associate with VISA to propose its own crypto bank card… to the delight of the platform's 37 million users. Let's get into the thick of it !
Peter Smiththe CEO of Blockchain.com, observes a gradual change in the behavior of investors. During this slow and boring phase of the bear market, users abandon trading in favor of DeFi. Being able to use your cryptos in everyday life has become the watchword. In this light, Blockchain.com's proposal makes full sense. And this enthusiasm is confirmed through the plebiscite of users.
"We have opened a whitelist [pour obtenir cette carte bancaire crypto] for a very short period of time. And we had, despite everything, nearly 50,000 registrations. »

Statement de Peter Smith
This new free credit card will allow its holders to use their cryptos, but also their dollars or euros present on Blockchain.com, for their daily expenses. All this free of charge and recovering on top of the market a cashback d'1 % on their purchases. This model, already applied by Binance typicallyis all the rage among users.
This card is already available in the US and will be launched in European Union countries in early 2023.
>> Don't want to be taken for an apple? Earn Solid Returns with AscendEX Earn (Commercial Link) <<
Growing digitalization paves the way for crypto adoption
"As investors dive into the crypto universe, […] they are becoming more and more inclined to spend their cryptos on a daily basis. However, for the moment, it is still relatively complicated, it is still difficult and slow to link the crypto world and the traditional banking system. »

Peter Smith
According to him, having a crypto bank card is the ideal gateway. It allows you to stay within the crypto ecosystem, while having the possibility of making daily expenses within the more traditional world. As a reminder, Blockchain.com bank cards are issued by the payment specialist Marqetabased in California.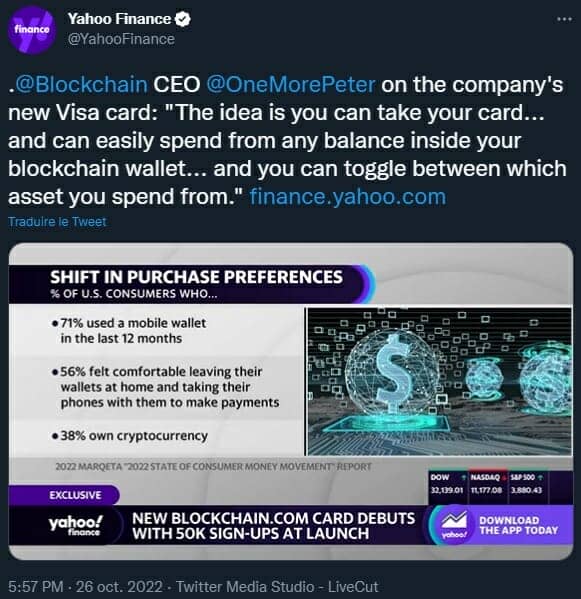 Marqueta's 2022 report on "Consumer monetary behavior" has also provided very relevant data on this subject. According to this, 71% of US consumers used a mobile wallet in the past year. 56 % of them say they are comfortable with the idea of ​​taking only their telephone for shopping. Et 38 % hold cryptocurrencies. It should be noted that the panel questioned was made up of 4,000 people, including 2,000 in the USA.
Without a doubt, the mobile payments should intensify in the years to come as our societies digitize. A trend that could strengthen theadoption of cryptocurrencies. In this sense, crypto cards, mostly free, and offering cashback to their holders, are revolutionizing the sector. Although the general public has not yet fully realized it, it is a small revolution that could well undermine our old banks, far from offering us such benefits.
Will you support the crypto revolution? It's up to you to get on the crypto train! Get solid returns for your cryptocurrencies with AscendEX Earn. Join AscendEX today (lien commercial).