While the Dogecoin continues its ascent thanks in particular to the takeover of Twitter by Elon Musk, who is one of the biggest supporters of DOGE, according to analysts, other cryptos could experience a similar pump.
Indeed, Dogecoin is not the only crypto to have potential in the current market. Here is 3 other cryptocurrencies which could have as much success as DOGE soon!
Tamadoge (TAMA) is a cryptocurrency meme coin which raked in over $19 million during its pre-sale in the space of about 2 months. A real success that allowed him to achieve an ATH (All Time High) of 0,19 $ at its launch is a x19 compared to the initial price.
Unlike the majority of other meme coins, this one has a use. Indeed it is a Play to Earn which is inspired by Tamagotchis, those toys that were a real phenomenon in the late 90s, all in their own Metaverse called the Tamaverse.
Each Tamadoge takes the form of a NFT of a virtual pet that it will be necessary to raise in order to see it grow, but also with the possibility of making it face other players to win rewards.
Although the current price of TAMA is only $0.034, the project has potential and could pump as good if not more than Dogecoin in the future.
Crypto-assets are a risky investment.
Why could Tamadoge explode?
Indeed, Tamadoge unlike Dogecoin has a utility, but as a bonus the project is only in its infancy. Therefore, its full potential is yet to come. This is particularly the case with the game Tamadoge which should be revealed more next year.
This promises Tamadoge en 3D, augmented reality and virtual reality. Concepts that are intriguing for such a type of game on the blockchain and of which we are curious to see the results.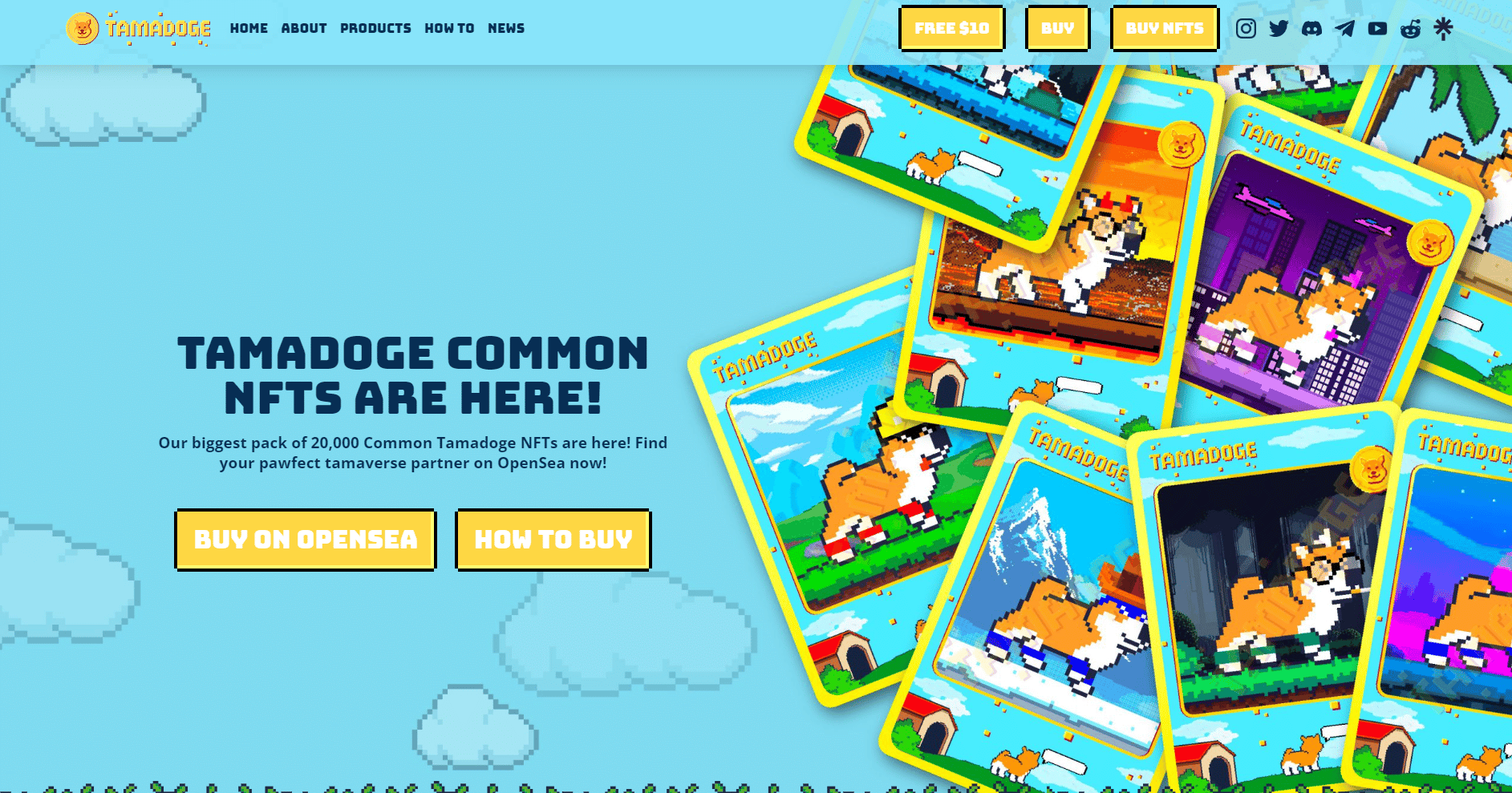 As a bonus, recently launched NFTs on OpenSea are a real success both by their fairly high price and by the trading volumes proving that TAMA NFTs are among the highlights of the OpenSea platform showing that there is demand for them.
We will have to continue to watch Tamadoge carefully in the weeks and months to come. Depending on the announcements and the outcome of the project's evolution, the TAMA token could very easily surpass its ATH by $0.19 and heading towards $1.
Dash 2 Trade: crypto at the service of traders and investors
Dash 2 Trade (D2T) is a cryptocurrency that is currently on presale. She managed to collect over $4 million in the space of about ten days: a substantial sum!
Phase 2 is underway among the 9 planned. The current price being 0,05 $ for 1 D2T token while at the end of the presale it will be 0,0662 $. It is therefore advantageous, as in most cases with presales, to invest as early as possible, paying attention to possible red flags and considering how much money you can afford to risk.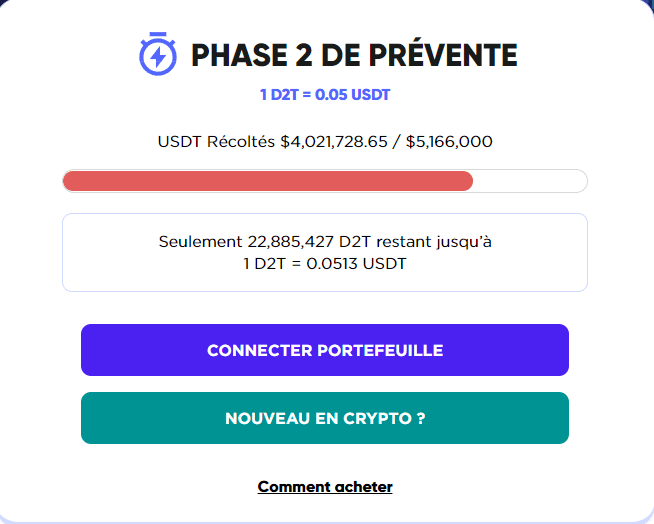 Dash 2 Trade is therefore a platform offering various tools and features to enable traders and investors to make the right decisions regarding their investments in the cryptocurrency community.
Thus, such a crypto has the potential to explode simply because it can allow over the long term to rmake more profit. Indeed, Dash 2 Trade will be available as a monthly subscription payable in D2T.
Among the various possible functionalities there will be real-time alerts, auto-trading, the possibility of simulating your trades, metrics and indicators, but also the general sentiment of the market as well as information concerning presales. Thanks to Dash 2 Trade, it will be easy not to miss any opportunity while having all the information in a clear and concise manner.
Crypto-assets are a risky investment.
Invest in presale
If you want to invest in this presale and not miss the opportunity to miss out on a crypto that could pump like Dogecoin in addition to being a tool that risks help you make profit in the future, here's how to go about it:
Head to the official site Dash 2 Trade.
Click on the "Connect" button in order to connect your crypto wallet.
Choose the amount of D2T tokens you want
Pay with ETH or USDT and validate the transaction.
D2T tokens will only be not available before the end of the presale. Therefore, when it has ended, return to the official website and click on the "Claim" button in order to receive your D2T tokens directly in your portefeuille crypto. If you want to learn more about how to buy D2T tokens please consult our guide which expands further on this topic.
Calvaria Duels of Eternity: a new NFT game
Calvaria ($RIA) is a new card game. These will all be NFTs to collect, but also especially to build your own decks to face other players. It is therefore a game both for all collectors, but also for those who want to prove that they are capable of implementing the best strategies and applying them against other players.
Besides the fact that it's yet another Play to Earn, it has its own advantages, including an original way to introduce more people to the blockchain. Indeed, Calvaria Duels of Eternity will be playable on PC, mobiles (iOS, Android), but also a version Free to Play will emerge for those who are not familiar with new technologies in order to try their hand at the game all the same.
As a bonus Calvaria Duels of Eternity will have its own stacking platform to deposit your $RIA tokens in a liquidity pool for a given period of time and in exchange receive rewards passively.
There will also be a card lending system allowing each player to lend their cards for $RIA tokens, but above all to be able to build any deck without necessarily owning all the cards.
Crypto-assets are a risky investment.
Presale in progress
The presale of Calvaria has just reached the 1 million dollars of which over $800,000 in the space of a week. Phase 3 is underway with 1 $RIA equals 0,02 $. In total, there will be 10 phases with the value at the end of the presale for 1 $RIA token being 0,055 $. This represents an x5 just between phase 1 to phase 10 of the presale.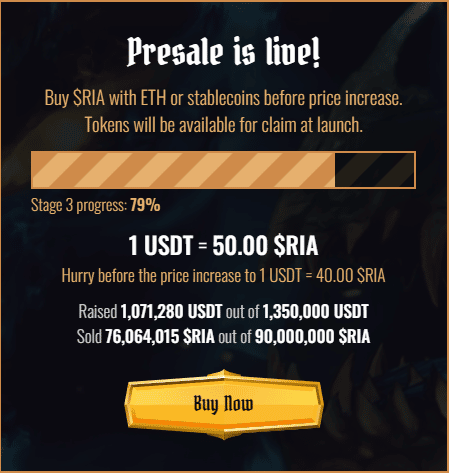 If you want to participate and invest in this project, here is the procedure to follow:
Go on the official site of Calvaria and click on the "Buy Now" button.
Connect your crypto wallet via the "Connect" button.
Define the amount of $RIA to buy.
Pay in USDT, DAI, BUSD, USDC or ETH and validate the transaction.
The $RIA tokens must be "Claim" at the end of the presale via the button of the same name to send your tokens to your crypto wallet. For more information on how buy $RIA, feel free to browse our guide.
---
If you are interested in the world of pre-sales, there are also at the moment successful green crypto named IMPT which has already raised over $11 million. It has many partners such as Amazon, Apple and Hugo Boss.