The exchange giant has just burned more than two million BNB as part of its quarterly burn. BNB is in good shape and the outlook remains bullish for one of the largest caps in the market.

$674 million gone up in smoke
Binance just burned for 674 million dollars of BNB. This is approximately 2.020 million BNB at a price of $333.
Regularly Binance burns tokens in the framework from a self-immolation depending on the price of the asset and the number of blocks created on the BNB network. The first auto-burn took place in October 2017. The price of BNB was only $1.52 then. With this reduction in circulating supply, the number of BNB is currently 155,166,772.80 BNB.
In addition to this mechanism in place since 2017, Binance also burns tokens as part of the programme Pioneer Burn. This mechanism, introduced in 2020, helps users who lose their assets by sending them to the wrong address.
Cryptocurrency investing is offered by eToro (Europe) Ltd as a PSAN, registered with the AMF. Cryptocurrencies are very volatile. No consumer protection.
BNB back above $400?
As for the outlook for the BNB, they remain decidedly bullish. We observe that the price of the asset broke away from a downward trend line and has since experienced a good progression.
BNB also appears to be forming a five-wave pattern that indicates continued upside for the days or weeks ahead. The target of this movement is located in the 453 dollar area. It also corresponds to a major resistance which could therefore block the price.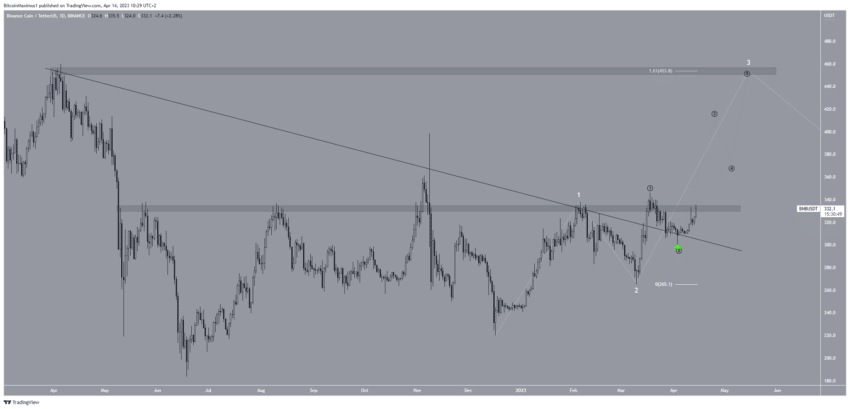 However, we note a major resistance at the 330 dollar levels which could dampen the ardor of the BNB. A daily close above this level would be an interesting bullish signal. This was the case for the day yesterday with a nice bullish candle.
BNB is currently trading for $343. up more than 10% over the last 7 days. It is one of the most in-form tokens among the big caps in the market.
The rest of the market in the green
In the rest of the market, Solana also appears in great shape. The SOL is currently trading for $24 up more than 20% over the week. Bitcoin is he above $30,000 with more than 8.5% increase over the week. Ethereum does even better with 14% increase over the week and a price of $2080.
Cosmos and its token ATOM have also seen good progress with more than 16% increasefor the last 7 days. ATOM is currently trading for $12.68. Decision is he in increase of nearly 40% at $1.6 per token.
The market seems to be picking up again since the beginning of the year. We will watch carefully the next few days which will be decisive. Can BNB break through again? symbolic bar of 400 dollars or should we expect a new correction?
---
Source : BeinCrypto
---
On the same subject :