Victoria, Seychelles, 18 avril 2023 – Bitget, one of the largest copy trading and crypto derivatives platforms, has started a partnership with Core DAO, the organization dedicated to developing the Satoshi Plus ecosystem. This collaboration will result in the creation of a $200 million ecosystem fund focused on supporting decentralized applications (DApps) built on the Layer 1 Core Network blockchain.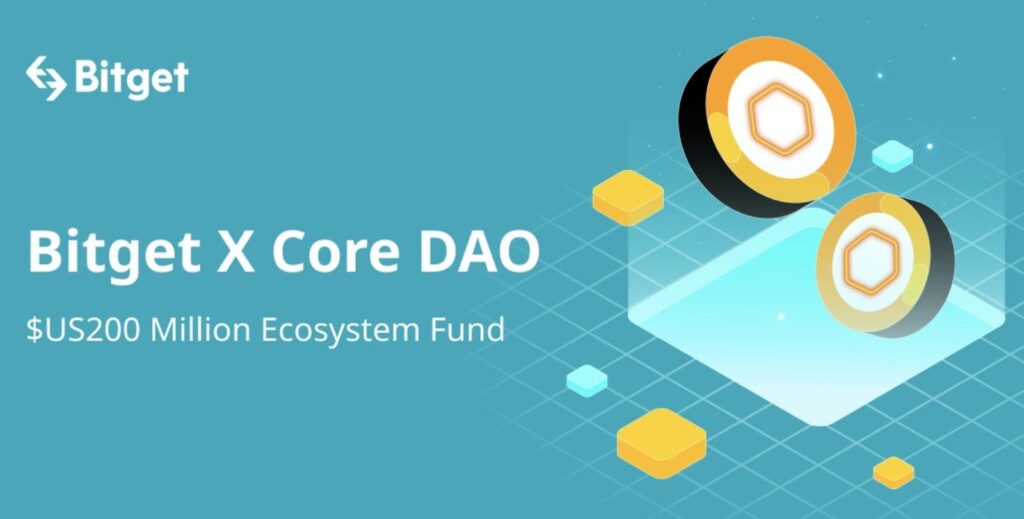 Fund rollout follows Core Network's mainnet launch and first airdrop of CORE tokens, which have been redeemed by over 1.5 million users, as well as recent integrations of cross-chain messaging protocol LayerZero , and oracle permissionless Switchboard protocol. The ecosystem fund, which is backed by strategic partners such as Bitget and MXC, will provide support to early stage projects for research and development, recruitment, marketing, community building programs, and other growth initiatives deemed priorities.
In addition to the $200 million investment, the partnership also provides for the potential listing of Core projects and the opening of a new Core trading area on Bitget and its BitKeep integrated wallet. Particular attention will be devoted to the Core ecosystem fund and technological approaches, providing the project with the service and experience of the Bitget team in terms of security and development possibilities.
Bitget also intends to become one of the core network validators and support staking of CORE tokens on the exchange. With over 8 million users, Bitget can bring significant staking to the Core DAO ecosystem while fueling it with liquidity.
"This investment is further proof of our commitment to supporting the blockchain space from different angles. Keep in mind that the purpose of blockchain is to bridge the gap between the real world and the web3 space, and that is exactly what we are promoting with this partnership and our support for the ecosystem fund. With our help, we believe Core can reach great heights and advance the true principles of decentralization, which are built around transparency and improving the cross-chain experience of community members. »

Gracy Chen, CEO of Bitget, when announcing the collaboration.
Unlike its industry counterparts, Core DAO's ecosystem fund will not use a grant system where the primary criteria for a project to receive financial support is a commitment to build on a given protocol. Instead, the Core Ecosystem Fund will reward each project for achieving custom, agreed-upon goals that deliver tangible value to the Core community.
"Too often, grant programs seem designed to grab headlines and generate short-term momentum rather than incubating projects aligned with the long-term success of the ecosystem". "Core DAO has always prioritized creating the highest quality technology over being the 'first' or 'fastest' to accomplish something. That's why our ecosystem fund in partnership with Bitget will incentivize projects for their ability to both deliver value and sustain success. »

Rich Rines, original contributor at Core DAO
This partnership follows the recent launch of the Web3 Bitget Fund, which is part of Bitget's ongoing efforts to facilitate the development of the Web3 and cryptocurrency industry. Exchange platform Bitget recently underwent a massive expansion campaign, focused on promoting its "Beyond Derivatives" strategy, which includes collaboration with various real-world and Web3 projects. Among the latest initiatives is the appearance of the Bitget logo on the sleeve of the official shirt of Juventus of Turin as well as the entry into the Web3 space thanks to the acquisition of several related projects. Bitget intends to promote blockchain adoption by providing more users with access to decentralized services, thereby expanding its product line.
About Bitget
Established in 2018, Bitget is one of the world's leading cryptocurrency exchanges, whose flagship features are Futures trading and copy trading services. Serving over 8 million users in over 100 countries and regions, the platform is committed to helping users trade smarter by providing them with a versatile and secure trading solution. It also inspires the general public to embrace cryptocurrency through collaborations with reputable partners, including legendary Argentine footballer Lionel Messi, legendary Juventus Turin, and official esports event organizer PGL. According to CoinGecko, Bitget is currently in the top 5 Futures trading platforms and the top 10 Spot trading platforms.
For more information: Website | Twitter | Telegram  | LinkedIn  | Discord
About Core DAO
Core DAO is a Layer 1 blockchain that combines the decentralization and security of Bitcoin with the scale and utility of Ethereum. Through its Satoshi Plus consensus mechanism, Core DAO incorporates the best aspects of Proof of Stake and Proof of Work. Core DAO is made up of an international group of contributors seeking to promote the growth of the Satoshi Plus consensus and the power of blockchain technology to reshape society based on a philosophy of co-creation. Visit coredao.org to learn more or start building today.
For more information: Website | Twitter |  Telegram  |  Medium  | Discord
Receive a digest of news in the world of cryptocurrencies by subscribing to our new service of newsletter daily and weekly so you don't miss any of the essential Cointribune!
The Cointribune editorial team unites its voices to express themselves on topics specific to cryptocurrencies, investment, the metaverse and NFTs, while striving to best answer your questions.
Disclaimer:
The content and products mentioned on this page are in no way endorsed by Cointribune and should not be interpreted as its responsibility.
Cointribune strives to provide readers with all useful information available, but cannot guarantee its accuracy and completeness. We urge readers to educate themselves before taking any action relating to the company, and to take full responsibility for their decisions. This article should not be considered investment advice, an offer or an invitation to purchase any product or service.
Investing in digital financial assets involves risks.