Not an incubator, but six! – Dear developers, the BNB Chain arrives in six European cities. And, it intends to support start-ups that build on its blockchain. For this, she launches her European Innovation Incubator. This is a three-week coaching program to help developers design their product. Let's analyze all this more closely.
The BNB Chain takes on Europe
London, Paris, Berlin, Barcelona, ​​Lisbon and Warsaw. Prepare your lines of code, the BNB Chain teams are coming and they are there to help you. Start-ups will be able to benefit from the help of experts in the sector as part of the development of their new dApps Web3. Registration for this virtual program across Europe began on October 10.
The incubator will give developers access to a large number of web3 resources and training delivered by Binance community partners and experts. They will notably address blockchain technology and the associated economic and strategic models. Projects will be able to benefit from advice on the best way to deploy them with a view to placing them on the market. They will also have the opportunity to discuss among themselves and with the experts during organized offline meetings.
The most promising projects will have the opportunity to receive a prize of $50,000 as well as additional assistance: security audit, consultations on the economy token, 100% bonus on gas costs for one month. They will also have strong sponsorship for the Most Valuable Builder (MVB) from Binance. This is a long-known global accelerator program that aims to support developers and their business.
>> Your first bitcoins in a few minutes? Sign up on Binance (commercial link) <<
An incubator to attract developers?
"We are determined to provide the best infrastructure to allow European Web3 projects to grow and scale […] [L'accent doit être mis sur] ease of adoption and use for experienced Web3 users and beginners. Our goal is […] to build large user pools over the long term. »

Zoe Wei, Chief Commercial Officer at BNB Chain
The partners who have joined this BNB Chain incubation program to provide support are numerous: Jump Crypto, Pyth Network, 1InchCoinMarketCap, Trust Wallet, PancakeSwapPolkastarter, WorldPay, Binance Charity, Binance Labs and many more.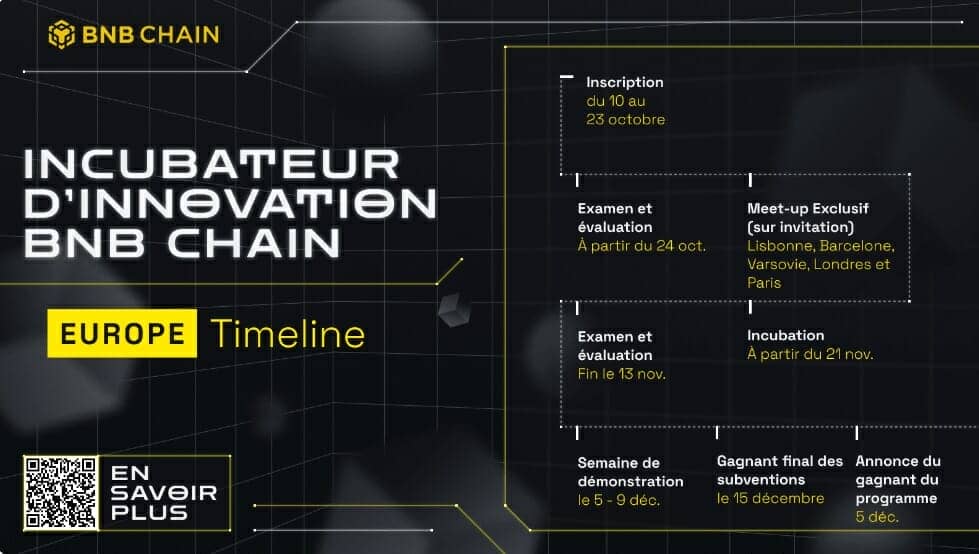 This incubator is open to projects that wish to deploy on the BNB Chain or that have already done so. At least one key team member must be based in Europe. Applications are open from October 10 to 23, 2022. The incubation period will last from November 21 to December 15, 2022.
Just like the blockchain Stellarthe BNB Chain is well aware of one thing. The success and democratization of its product depends on the attractiveness of its blockchain for developers. The more they are built on the BNB Chain, the more the dApps will be evolved and likely to attract the general public. We then understand the challenge for the BNB Chain of these support programs responsible for boosting small projects that are launching on the Binance ecosystem.
You have the right to understand nothing about blockchain development. On the other hand, not being interested in Bitcoin is unforgivable! Don't wait any longer to prepare for the future en going to register on the Binance platformTHE absolute benchmark in the sector (commercial link).