When Mercury, Celsius and Jupiter align… – I see, I see… money leaking on the horizon. Even with your best crystal ball, there are events that are very difficult to predict. The bankruptcy of celsius is one of them. A shame for Maren Altman, a very popular crypto-psychic on the other side of the Atlantic who did not see the worst happen… A problem with a defective crystal ball perhaps? Here is the story.
Celsius and Altman, the misalignment of the planets
Maren Altman is an influencer followed by more than1,8 million de followers on Twitter, TikTok and Instagram. She gradually gained fame during the previous bull run thanks to some rather amazing predictions, combining crypto trading and astrology. A few months back, crypto investors were indeed amused to see Bitcoin trends roughly superimposed on the lunar calendar. Mere coincidence or truth?
Still, in the case of Altman, it has just drawn the wrath of the crypto-sphere following the publication of a report in the context of the ongoing legal proceedings concerning Celsius. This shows two transfers of $15,000 each issued by thebankrupt crypto lending company to the famous clairvoyant. Payments that occur just before Celsius declares bankruptcy and prevent its users from withdrawing their funds.
These payments concerned marketing services delivered by the psychic on its networks in order to promote the said platform. The contract with Celsius stipulated that Altman should produce two YouTube videos per month with advertising content as well as mentions of Celsius on TikTok. We see her discussing with Alex Mashinsky, former CEO of Celsius on Youtube. She was also forbidden to mention the Celsius token, then in free fall. Advertisements that fall badly, in the middle of May, when we know that Celsius has blocked withdrawals of funds from its clients from the month of June. A misalignment of the planets as they say.
>> Play it safe, register on FTX the reference of crypto exchanges (commercial link) <<
Altman, accomplice or victim?
And as Pluto is in the shadow of Neptune this Monday in 8, the accusations continue even more. In a comment on Youtube, Maren Altman would have indicated that she had not been paid for this content. 30K$ is however far from being a trifle. This is enough to exasperate Internet users and Celsius users who have lost everything.
Maren therefore ends up acknowledging the payments received, but qualifies the accusations of which she is the subject of 'witch hunts'. "My mistake was to trust Celsius," she confides to our colleagues at CoinDesk. She adds "having had no visibility [sur les problèmes financiers de Celsius] other than its marketing campaign.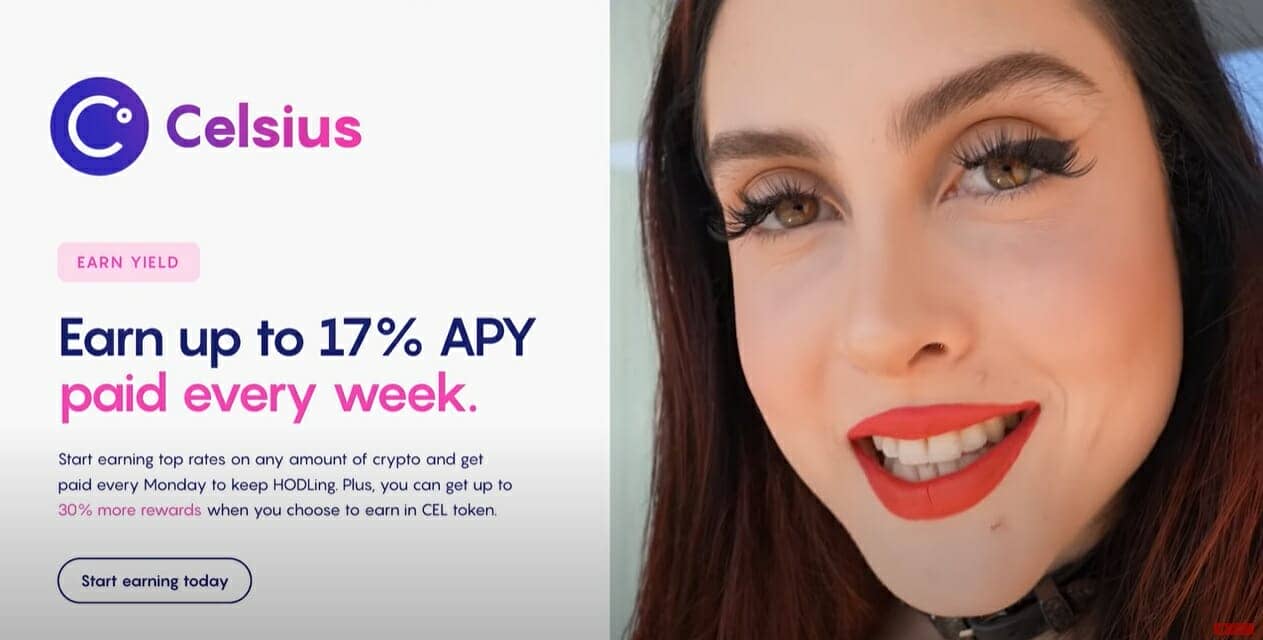 For her, her campaign for Celsius is no different from an advertisement for a fashion brand. Some voices are still heard in his defense. And, it is true that Maren Altman by associating with a bankrupt box like Celsius is damaging its brand image and tarnishing its reputation. Perhaps she would have preferred not to have advertised it instead of risking seeing her audience slip away.
The crypto world is young and effervescent. A real battlefield in which the many projects that emerge during bull markets compete. And unfortunately, some, even the biggest and most influential like Celsius, disappear at the first drops of blood, taking in their fall their users. In the midst of this tornado, like Maren Altman, thousands of influencers and investors are trying to grab their share of the pie. However, great caution is required in crypto because the risk is often commensurate with the immense opportunity.
Stay away from spammers and scammers. Avoid too-good-to-be-true offers like the plague and get into the habit of being healthy with suspicion. On the other hand, also learn to place reasonable trust in respectable and recognized players in the ecosystem. The FTX platform falls without a shadow of a doubt into this second category. Come acquire and trade your first bitcoins and other cryptocurrencies. Register on FTX. You will benefit from a lifetime discount on your transaction fees (commercial link).