June 5 was a very eventful day for the cryptocurrency industry. The Securities and Exchange Commission (SEC) announced the initiation of legal proceedings against the Binance exchange and its CEO, Changpeng Zhao.
This announcement had the same effect as a ricochet while spreading throughout the sector. As a result, the actions of the crypto exchange Coinbase immediately fell despite the fact that it was Binance that was the subject of these lawsuits before Coinbase was also the target.
The effects of the SEC lawsuit on the crypto sector in general
US regulators continue their efforts to regulate the cryptocurrency industry. It is with this in mind that during the day yesterday, the SEC has filed a lawsuit against Binance.US, its American dedicated platform and its CEO Changpeng Zhao (CZ) in court for the District of Columbia.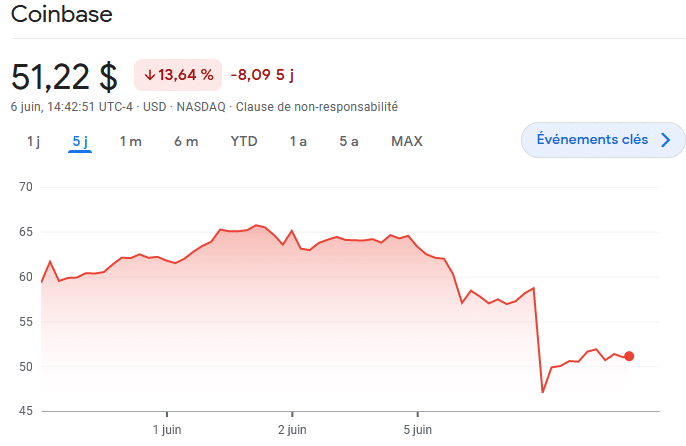 Shortly after the statement released by the regulator, Coinbase shares fell drastically taking a slap of more than 20% temporarily from $65 to $45. For the time being, the action has begun a slight rise again, but despite everything the fall is severe since it represents a 13% loss with current COIN share price being 51,22 $.
However, Coinbase is not alone in feeling the full impact of the SEC. Just as its shares were down, the price of Bitcoin (BTC) also fell more than 5%, from below $26,000.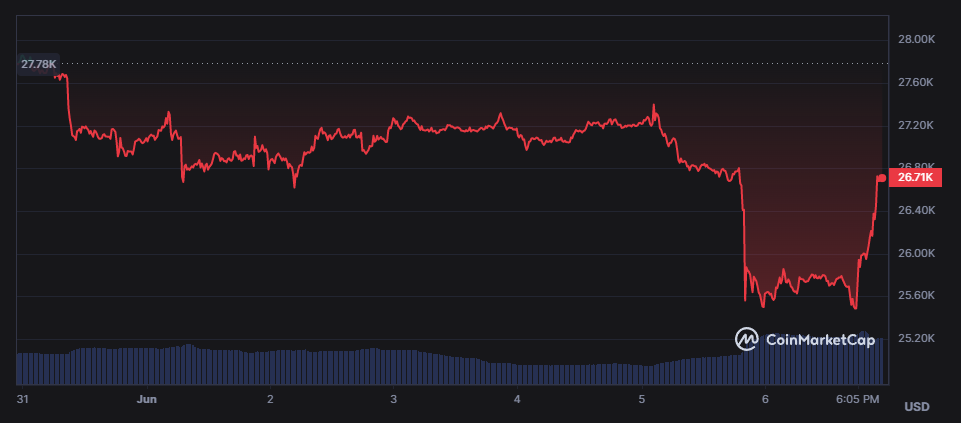 MicroStrategy (MSTR), the company that is among the largest holders of Bitcoin tokens in the world, saw its shares also fall by almost 9%, while the shares of several Bitcoin mining companies have also felt the tremors of this seismic wave with Binance as its epicenter facing the SEC.

The SEC intensifies its attacks on players in the crypto world
The origin of this imbalance is simple: SEC leaders accuse Binance, the largest exchange of cryptocurrencies in the world, and its affiliates of deception, fraud and embezzlement. According to the regulatory authority, the platform misled clients and embezzled funds to a separate investment fund owned by the company's CEO, Changpeng "CZ" Zhao.
All of the charges made by the SEC are very similar to complaints filed on March 27 by the Commodity Futures Trading Commission (CFTC), another US regulator.
Through a blog post published on its platform's website, CZ has denied all charges outright.
However, if the current case is not really related to Coinbase, the latter has already had disputes with the SEC. The regulatory authority organized an investigation on the company's digital asset listings, staking-as-a-service program, institutional trading service, and wallet services.
The company, in turn, sued the SEC in hopes of forcing the regulatory agency to set clearer rules regarding its digital asset regulatory system. La Sec on this June 6 also attacked again Coinbase just like Binance from many lawsuits.
---
Source : Cointelegraph
---
On the same subject :