The presale of Dash 2 Trade, the crypto market data analysis platform, has just started. After only a few hours, there are more than 400 000 $ that have been raised and at this rate, it could well achieve the objective of its first presale phase, which is to raise more than 1,66 millions USDT.
Over $400,000 already raised!
In just a few hours, the platform has already lifted over $400,000. Each token is currently sold at a price of 0.0476 USDT. This pre-sale phase plans to raise 1.666 million USDT (in exchange for 35 million D2T tokens). The presale seems to take place in 9 phases.
D2T token distribution information:
The D2T token in detail
The platform token Dash 2 Trade (D2T) is based on the blockchain of theEthereum, as an ERC-20 token. The virtual currency of this platform will therefore benefit from all the power and security offered by Ethereum technology.
The platform provides a total distribution of 1 billion tokens with the following distribution: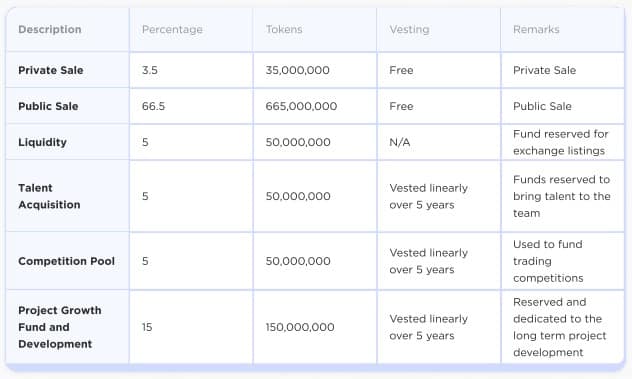 Of this total, 5% of the funds are allocated to the team responsible for developing the platform, which represents 50 million D2T tokens. The first pre-sale phase (currently underway) plans to put 35 million tokens up for sale at a price of $0.0467. The next phases break down as follows:
| | | |
| --- | --- | --- |
| Phase | Amount raised per phase | Token name for sale |
| Phase 1 : 0.0476 $ | 1,666,000 $ | 35,000,000 |
| Phase 2 : 0.0500 $ | 3,500,000 $ | 70,000,000 |
| Phase 3 : 0.0513 $ | 3,591,000 $ | 70,000,000 |
| Phase 4 : 0.0533 $ | 4,663,750 $ | 87,500,000 |
| Phase 5 : 0.0556 $ | 4,865,000 $ | 87,500,000 |
| Phase 6 : 0.0580 $ | 5,075,000 $ | 87,500,000 |
| Phase 7 : 0.0606 $ | 5,302,500 $ | 87,500,000 |
| Phase 8 : 0.0635 $ | 5,556,250 $ | 87,500,000 |
| Phase 9 : 0.0662 $ | 5,792,500 $ | 87,500,000 |
Between the first and the last presale phase, the price of the token is expected to increase by almost 40%. If you would like to participate in the presale, you can do so now by clicking on the link below:
Crypto-assets are a risky investment
---
Optimal security?
The development team claims that the code of its smart contract (Smart Contract) has been inspected by SOLIDProof. The information does not yet seem to be available on this agency's website, but if the information turns out to be accurate, it is a guarantee of confidence insofar as this German company is precisely specialized in the inspection of codes. involving virtual currencies. This organization has already taken care to control the code of several other notable contracts such as AutoCrypto for example.
The virtual currency management team was additionally controlled by Coinsnipper.net via a procedure called KYC (Click here to see the certificate). In the team there are quant traders, traders or marketing specialists.
Here is a small overview of the management team of Dash 2 Trade: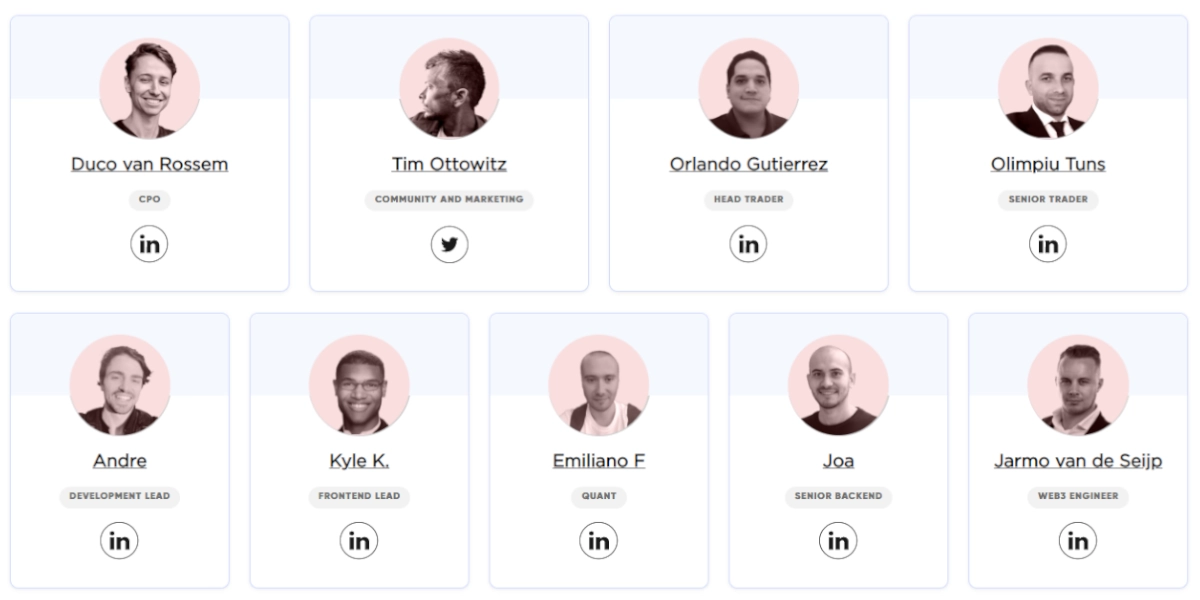 Dash 2 Trade analysis solution was designed by the professional team of Learn 2 Trade. This educational platform is specialized in the field of trading and has more than 70,000 members around the world.
Everything seems to indicate that the Dash 2 Trade project is very serious. The company has also received venture capital funding of $200,000, which is an encouraging sign of institutional interest.
---
Dash 2 Trade in a nutshell
Dash 2 Trade is a platform specializing in the analysis of the cryptocurrency market on a global scale. In particular, the platform provides useful information to traders to help them make decisions, such as trading signals (buy/sell), social analyzes or price predictions.
A gigantic market: 50 million potential customers!
According to business consultancy Chappuis Halder & Co., Dash 2 Trade enters a gigantic market. The market has more than 50 million traders who trade more or less regularly on the virtual currency market, including 12 million Europeans and 17 million Americans.
Another platform, known as Cryptohopper, was founded in 2017 and this service has been a real success, after only five years of existence. More 500 000 traders use this automated trading platform. The features of Dash 2 Trade are very similar to those of Cryptohopper, but with some notable differences. The integration of social consensus and personalized metrics with high added value provide relevant information that is very useful for traders.
To learn more about the technical operation of Dash 2 Trade, here is a video in English.
Full of very practical features for traders!
The idea of ​​the Dash 2 Trade platform is to share useful information to enable traders to get an overview of the market and make effective trading decisions.
According to roadmap on the official website, the platform is expected to launch by the first quarter of 2024. One should expect an extremely powerful platform which should contain some very handy features for traders and investors.
The platform provides the following functionalities in particular:
Trading Signals

: detection of market opportunities in real time in order to be notified (before others) of market opportunities in the crypto sector.

List of ongoing ICOs

: complete list of all current ICOs with a Dash score + the possibility to follow the ICO via a Watchlist.

Metric data

: developer activity (number of commits), market capitalization, trading volume, social media activity, social consensus and lots of very useful metric information to stay ahead of the global cryptocurrency market.

Outil de backtesting

: testing an automated trading strategy to improve your trading performance.

List Alerts

: receive an automatic alert with each new launch of crypto-currencies.
Dash 2 Trade platform subscriptions
The Dash 2 Trade platform includes a free version which will give the user the right to view general market information or metric data for a small group of pre-selected cryptocurrencies.
The project provides for payment of the subscription in D2T tokens. Future subscribers will therefore be forced to buy tokens to pay for the subscription pack.
Dash 2 Trade provides the subscription packages below:
Pack Starter

: with a monthly subscription of 400 D2T with limited functionality;

Pack Premium

: with a monthly subscription of 1,000 D2T or annual billing of 9,600 D2T, giving you the right to benefit from more extensive functionalities.
---
To subscribe Dash 2 Trade tokensyou must go to the site by clicking on the link below:
Crypto-assets are a risky investment
Buying D2T tokens turns out to be relatively simple, you just need to follow the following steps.
1 – Connect your crypto wallet to the presale platform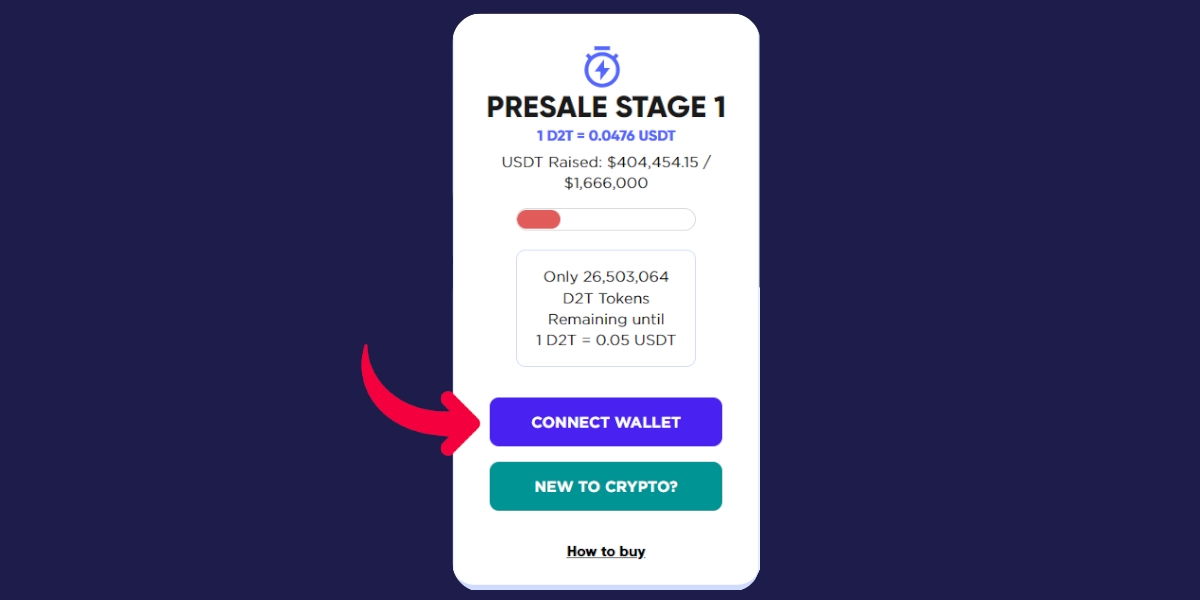 For this step it is necessary to hold a crypto wallet. MetaMask seems to be the best crypto wallet to use according to the Dash 2 Trade team. For use on a smartphone, the team encourages you to use Wallet Connect.
2 – Purchase of tokens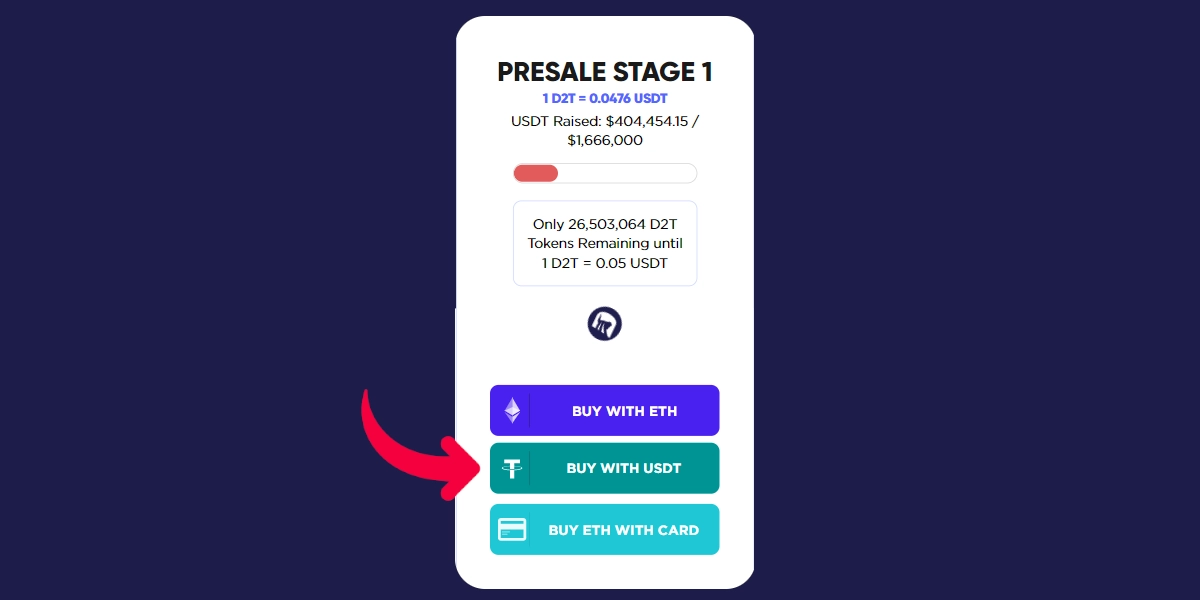 Once your wallet is connected to the presale platform (smartphone or PC), you can then proceed to the next step: the purchase of tokens. Dash 2 Trade currently offers 3 payment methods: payment in Ether (ETH), in Tether (USDT) or via credit card (purchase of ETH with a credit card). Once you have chosen your purchase method, all you have to do is indicate the amount you want and then confirm the transaction.
3 – The D2T token claim phase
Once the presale is complete, you will then be able to claim your D2T tokens. The site has everything planned and you can simply claim from a form that will be set up on the official site.
To know more :
Learn 2 Trade launches cryptocurrency signals service on Telegram