The decentralized storage offers a real alternative to conventional consumer storage methods such as Google Cloud or Dropbox. We will show you in this article how to leverage decentralized storage for your own needs and how decentralized file storage works.

Centralized storage and its big disadvantages
With a conventional storage mode like Google Cloudeach file is stored on a physical server managed by an IT service provider who is responsible not only for the IT security of the network but also for all the IT backups necessary to ensure the persistence of the data over the long term.
It's a convenient storage mode to store large computer files and is generally quite inexpensive. Some solutions offer free data storage for individuals up to a few GB per month, such as the Google Drive solution for example.
Although these storage solutions are generally inexpensive, or even free for individuals, you should know that professional solutions generally charge companies and individuals for the following services: data storage, data processing and use of data on the network (bandwidth). The final price of the service therefore varies according to the quantity of data stored (measured in GB) as well as the bandwidth used on the network.
Disadvantages of centralized storage:
The IT provider acts as central authority and it can potentially prohibit all of its users from storing certain data that violates its data management policy. Data stored in the cloud is also subject to controlled and censored by an authoritarian government. It is generally observed that cloud solutions do not offer sufficient guarantees in terms of long-term data persistence.
Decentralized storage provides an alternative solution
Fortunately, blockchain technology provides a solution to all of the drawbacks mentioned above. It is possible to store data in a decentralized way using this technology.
With a decentralized storage system, all the data is cut into small pieces, then stored in packets on anonymous servers (called nodes) connected to a decentralized network. Unlike an IT service provider, which is the one and only authority to control data storage, the network is made up of a large number of validators who are responsible for data storage and consistency.
The advantages and disadvantages of decentralized storage?
Decentralized files are not subject to the data management policy of the IT service provider. It is therefore possible to store any type of file on the network. A government authority can hardly control and censor decentralized files since these files are stored in all four corners of the globe.
Data stored on the network is also cut, encrypted and distributed over several servers in order to prevent a user, who does not have the secret key, from being able to reconstitute all of the content without prior authorization.
On the other hand, you should know that with decentralized storage, there is no central authority that controls and prevents illegal files to be stored on the network. It is potentially possible for criminals to store illegal files such as child pornography files. This is one of the main problems of the network.
The most popular decentralized file storage network is called IPFS (InterPlanetary File Network). This is a storage protocol that helps resist censorship. The file data is thus cut up, encrypted and stored in different places in the world in order to guarantee its availability and at each access attempt, the data is then grouped together and then sent to the Internet user. This storage mode is used to store websites as well as non-fungible tokens (NFT).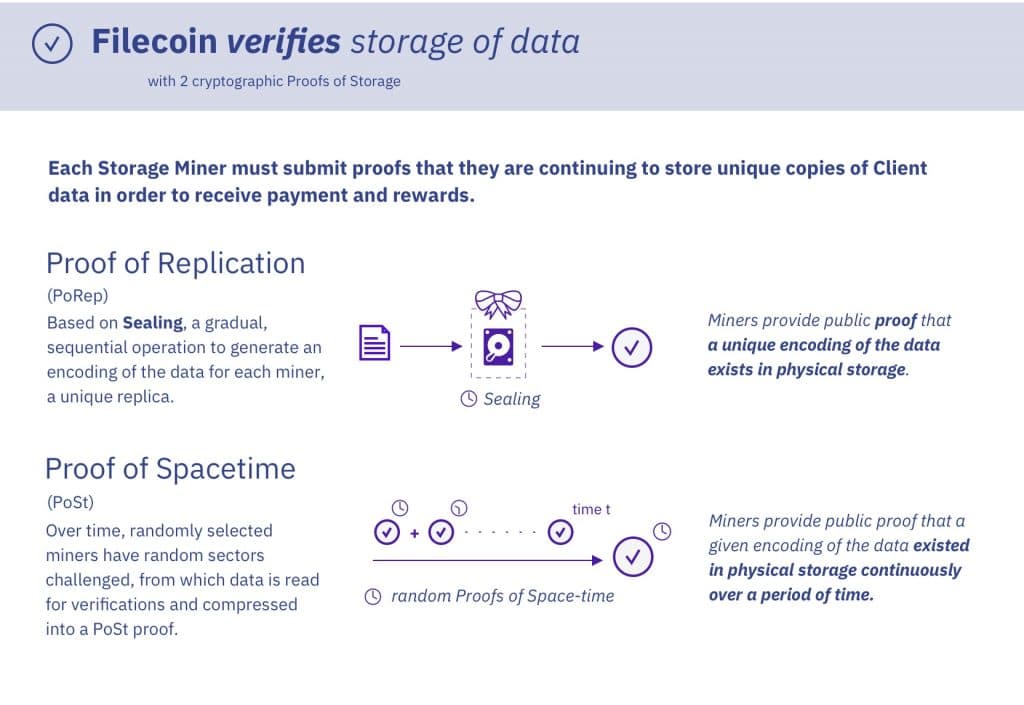 It exists several decentralized file storage solutions on the market. Filecoin being the most popular solution and this solution regularly makes the headlinesactu crypto and it uses in particular the IPFS protocol for data storage. There are also other equally popular solutions: ArweaveStorj, Sia et Akash.
Cryptocurrency investing is offered by eToro (Europe) Ltd as a PSAN, registered with the AMF. Cryptocurrencies are very volatile. No consumer protection.
---
Source : Filecoin
---
On the same subject :