If you missed the APTOS AirDrop don't worry, here's a chance to participate to that of Dash 2 Trade (D2T) for an amount of 150,000$ one token D2T. The draw will take place in 4 months.
This new crypto has just launched its presale on October 20 and has already raised over $900,000 in two days. Its purpose is to provide a platform for investors and traders to make it easier for them to make profitable decisions.
The Dash 2 Trade platform
Dash 2 Trade is therefore a platform offering tools and features to traders to facilitate their decision-making. Unlike other competitors, Dash 2 Trade focuses on the cryptocurrency industry, but also on presales and ICOs.
The aim of Dash 2 Trade is to provide complete data, but easy to analyze. Indeed, there is a high number of opportunities in the crypto market whether it is on a presale or even knowing when to buy. On the other hand, it is difficult to to be able to have a global vision, because on a human scale this represents too much data to monitor.
With Dash 2 Trade, you will not only be able to build watchlists so you don't miss anything, but D2T will also provide information on opportunities not to be missed, just as there will be real-time alerts for the launch of new crypto-currencies or on the movements of the whales.
As a bonus with the automated trading, you can build your own strategies to optimize your profits and the backtesting feature offers you the possibility to test trading combinations without risking your investments in order to develop and optimize your trades.
Crypto-assets are a risky investment.
A service accessible by subscription
The Dash 2 Trade platform will require a subscription to take full advantage of the features. There will still be a free tier, but the standard and premium tier will be in the form of a monthly subscription payable with D2T tokens.
Such operation will therefore generate trading volumes and a healthy ecosystem for this crypto since it will always be necessary to have D2T tokens in order to have to pay the monthly subscription.
Of course, to access all the features and tools, you will have to consider taking the palier premium if you do not want to miss any opportunity and have exclusive information, while the standard bearing to those wishing to access automated trading, to have a better vision of the market without pushing the optimizations to the extreme.
An AirDrop at $150,000 of D2T tokens
With the launch of the presale, Dash 2 Trade has set up a AirDrop that will take place in 120 days in order to offer $150,000 of D2T tokens to the lucky winner. To participate is extremely simple, just go to this page.
The conditions to hope to win require own at least $150 worth of D2T during the draw which will therefore take place in 120 days. Beyond that you have several possible actions which will generate entries for you to increase your chances of winning.
Take care to check that you do not block cookies to access the actions to be carried out as indicated on the web page. Then, all you have to do is perform each of these steps to increase your chances.
Take into account that you don't have to do them all, it will just increase your chances even more. Among the different possible actions, there will be the one to indicate the address of your crypto wallet, visit the official Dash 2 Trade website and several actions of sharing or in connection with the social networks Twitter, Instagram, Discord and Telegram.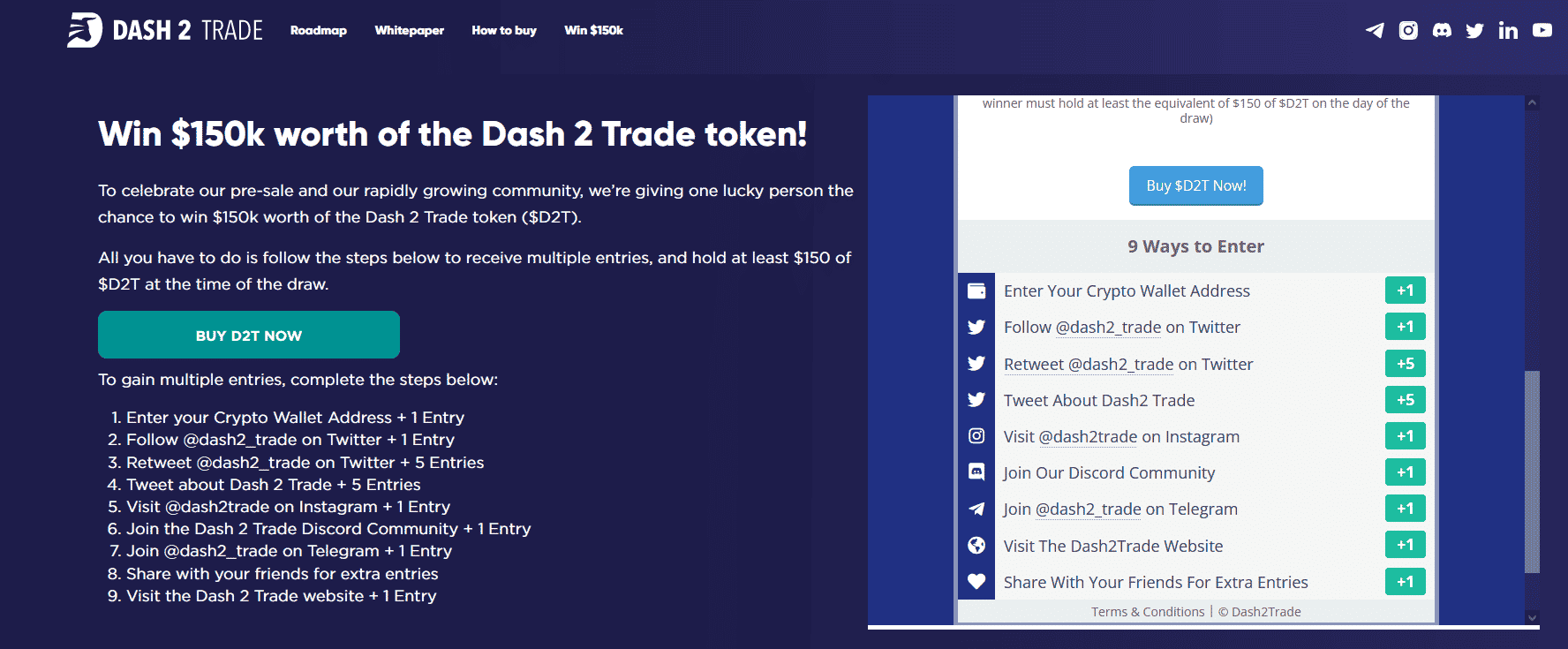 Participate in the presale
The Dash 2 Trade pre-sale therefore started on October 20 and already over $900,000 raised within 2 days. It is a token based on the Ethereum blockchain. There will be a total of 9 phases and the first at this rate should end in a few days leading directly to the second phase.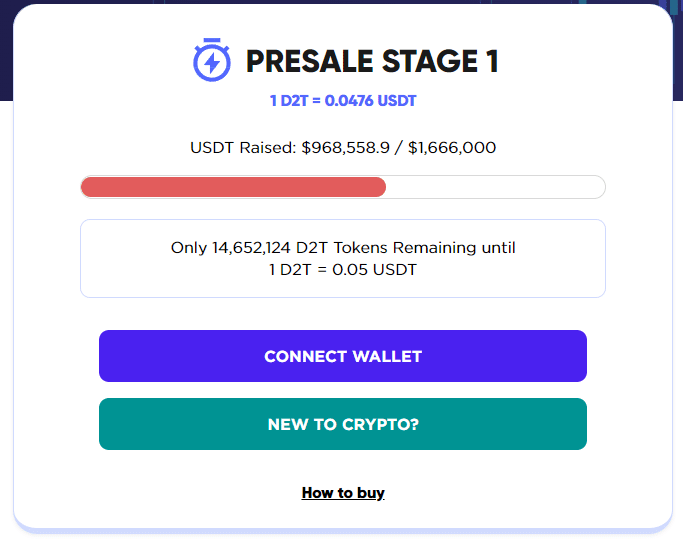 The current price of a D2T token is 0,0476 $ and during phase 2 it will change to 0,0500 $ to reach the 0,0662 $ at the end of the presale in phase 9. It is therefore advantageous to invest now if you wish to participate in the Dash 2 Trade project.
To do this, you just need to join the official website and connect your crypto wallet via the "connect" button. If you don't have wallet crypto, Metamask is a popular choice and easy to use.
Then, to proceed with the purchase of your D2T tokens, you will need to use des ETH ou USDT then select the desired amount. Once the transaction is validated, you will not be able to recover your tokens immediately.
You will have to reach the end of the presale to click on the bouton "claim" available on the official Dash 2 Trade website to receive your D2T tokens directly in your crypto wallet. If you want more information on how buy D2T tokens, read our complete guide on this subject.
---
In addition to the Dash 2 Trade pre-sale that has been all the rage in recent days, there is also that of IMPT, a green crypto which began on October 3. Already more than 7 million dollars collected of the $10.8 million planned for phase 1.