The bear market has always been present since the beginning of 2022, but in recent days the general sentiment of the market has tended to evolve positively, which could result in a next Bull run ahead.
A market in the green is obviously additional chances to make significant profits and this is particularly the case on the side of the presales which can explode more. So, here are the 3 cryptos currently in presale which have potential that should not be ignored!
IMPT green crypto
IMPT is a cryptocurrency whose pre-sale started on October 3rd. It wishes to support the environmental cause by becoming a leader in the carbon credit market. Carbon credits are a response of the Kyoto Protocol to try to reduce the emission of greenhouse gases by companies.
Thus, these are certificates issued only by governments and national agencies. There is an involuntary market which mainly concerns companies and a voluntary market opening up the possibility for individuals to own carbon credits. These are both salable and purchasable and entitle anyone who owns them to emit a certain amount of CO2.
As a result, with IMPT, carbon credits will be NFT which will bring more transparency and ease of use without the risk of fraud or of using the same carbon credit several times, as has happened in the current market in the past.
Crypto-assets are a risky investment.
Use with IMPT
It will be possible buy and sell carbon credits on the IMPT platform, as well as by purchasing products from many partners, you can accumulate IMPT tokens until you are able to obtain a carbon credit.
IMPT has indeed more than 10,000 partners, mainly luxury and general merchandise stores. Among the big brands, we can mention in particular Hugo Boss, Apple or even Amazon who recently joined the project. This greatly increases the potential of this project, particularly with Amazon, which is the number 1 in online commerce.
IMPT wants support environmental projects and helping with sustainability in their own way. With carbon credits and this cryptocurrency on the blockchain, it's a feasible long-term project.
Presale update
IMPT is a token based on the Ethereum blockchain. This one with The Merge is now much more ecological by having succeeded in reducing its energy consumption by more than 99%. The presale of IMPT therefore started October 3 and move forward at a brisk pace.
Indeed, already more than 11 million dollars invested and as of today, October 29, we are currently in phase 2 of 3. The initial price of an IMPT token was $0.018 in phase 1, from now on, c 'is 0,023 $ then it will be $0.028 the value of an IMPT token in the last phase.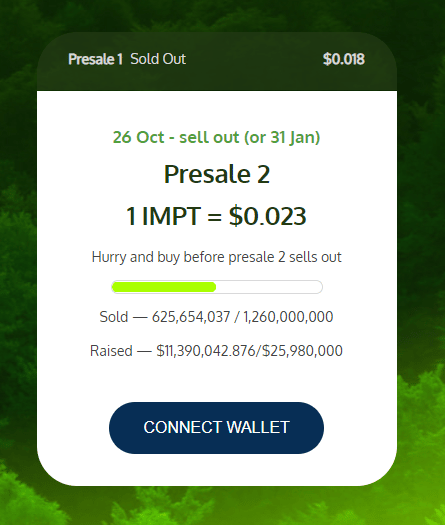 To participate in the presale, nothing could be simpler:
Meet on the official site then connect your crypto wallet using the "Connect Wallet" button.
Make payment for IMPT tokens with USDT (Tether) or ETH (Ether). It is also possible to buy ETH by credit card via Transak.
Validate the transaction to confirm your purchase of IMPT tokens
Please note that your tokens IMPT will only be available at the end of the presale and you can retrieve them via the "Claim" button on the official website to send them to your crypto wallet. For more information for buy IMPT tokens, check out our guide.
Calvaria Duels of Eternity the P2E card game
Calvaria Duels of Eternity ($RIA) also called more simply Calvaria DOE is a Play to Earn. This is a card game featuring three factions where players can build their own deck with the aim of competing against each other.
Each card is an NFT making it a collectable battle card these elements. There are many card games and it is a relatively popular format not only for its easy to play, strategically hard to master, but also for its card collecting side.
Besides the Play to Earn side, Calvaria DOE will have a staking platform which will allow you to deposit your $RIA tokens in the liquidity pool for a locked and defined period in order to generate rewards passively.
At first, a card lending system will see the light of day allowing you to lend your own for rewards, but also to borrow those of other players to build your decks without necessarily having to absolutely own all the cards.
Presale update
The Calvaria presale started on September 19th and in recent days the pace has increased relatively significantly with more than $500,000 collected in one week for a total d'environ 780 000 $ at the time of writing this article.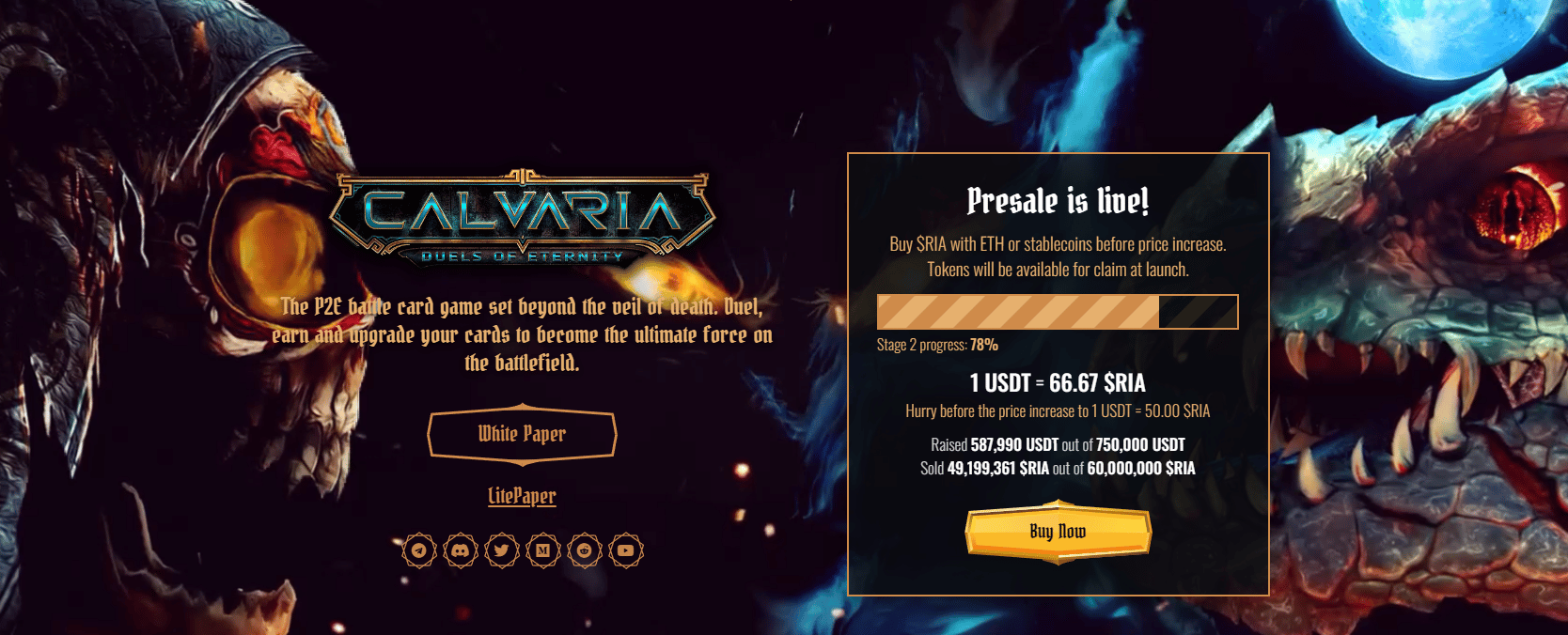 Phase 2 is currently underway with 1 $RIA equals $0.015. During phase 3 the price will rise again to reach $1 RIA is equivalent to $0.02. If you want to participate, you must do so as soon as possible in this way:
Go to the official site and click "Buy Now" to join the presale purchase page.
Connect your wallet crypto via the "Connect" button on the page.
Indicate the amount of $RIA you wish to buy and then pay them with USDT, USDC, DAI, BUSD or even ETH by validating the transaction.
$RIA tokens will be available at the end of presale by clicking on the "Claim" button to send them to your crypto wallet. If you want to learn more about how buy $RIA read our guide on this.
Dash 2 Trade: the tool for traders
Dash 2 Trade (D2T) is a relatively recent pre-sale (launched on October 20th) that aims to build a platform targeting traders and investors with the aim of providing them with tools and functionalities adapted to improve their decision-making and thus make more profits.
Several competitors already exist, but in general, it is complex to understand their data just as Dash 2 Trade goes further by offering indices of the general market sentiment or even in focusing on pre-saless that make up an important part of the cryptocurrency industry, but whose opportunities are easy to miss as there are so many projects.
The Dash 2 Trade platform will have a free version which will offer the possibility of discovering the functionalities and tools, but in order to access all the possibilities in a complete way it will be necessary pay a monthly subscription with the D2T token as a means of payment.
A point on the pre-sale
The Dash 2 Trade presale recently reached its Phase 2 and has currently raised over $3.1 million within ten days. The D2T token is based on the Ethereum blockchain and its current price is 0,05 $. In total 9 phases will take place.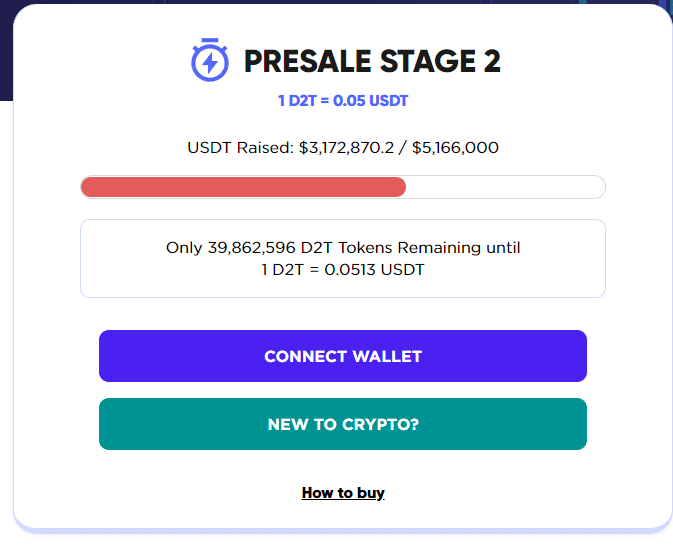 If you want to invest in this project here is how to go about it:
Head to the official site from Dash 2 Trade and click on "Connect Wallet" to connect your crypto wallet.
Indicate the amount you wish to buy from Dash 2 Trade.
Pay with USDT or ETH then validate the transaction.
D2T tokens will only bet accessible only at the end of the presale by clicking on the "Claim" button to send them to your crypto wallet. For more details on how buy D2T remember to consult our guide.
---
There are many pre-sales and these can help you reap significant profits. Nevertheless, you have to know how to be careful and correctly analyze the presales that involve risks. So be careful about the red flags potential and only invest what you can afford to lose.