More and more people today denounce the environmental impact of crypto-currencies and blockchain technology in general. This is a situation that worries not only people outside the crypto world, but industry players as well.
Many would-be investors and people who might use one of the many cryptocurrency systems out there are hesitant because of the dangers the use of cryptos vis-à-vis the environment.
Fortunately, there are technologies and projects that can allow to be greener and this even in the world of crypto-currencies. In this sense, The Merge has allowed Ethereum to go green by consuming 99% less energy.
Thus, the team in charge of IMPT project attempts to prove to the world that green cryptos exist. Therefore, IMPT is a platform based on the Ethereum blockchain and aims to facilitate the trade of carbon credits with the desire to raise awareness of the ecological cause.
The IMPT project in a nutshell
IMPT is a project of cryptocurrency based on the Ethereum blockchain. It aims to create a platform that will use NFTs to provide carbon credits with the aim of creating a crypto at the service of ecology.
The mode of implementation of cryptocurrency is relatively simple to understand. The whole project runs around the purchase and exchange of carbon credits. A carbon credit is a certificate giving its holder the right to emit a determined quantity of greenhouse gases. Only governments and national agencies can distribute such certificates.
In accordance with the legislative measures adopted in the majority of developed countries, all companies are bound by the law to offset its carbon emissions each year.
It is precisely in the context of greenhouse gas trading that a value has been assigned to carbon. This value aims to measure the amount of gas released by emissions related to fossil fuels, which contribute to the destruction of the environment. Since value can be measured, it can also be exchanged between companies, individuals and even countries.
Thus, anyone who buys a carbon credit has the right to emit a certain amount of CO2. The seller, on the other hand, waives this right after the transaction.
Trading greenhouse gases in this form uses tokenization technology. It's basically a system of transforming anything that can be exchanged into a token with a certain value.
It is therefore not very surprising that the system of carbon credits and that of crypto-currencies end up combining. An opportunity that IMPT developers knew how to seize with this innovative project.
Crypto-assets are a risky investment.
Why buy IMPT tokens?
Following the many analyzes carried out by scientists in connection with global warming, people are now much more aware of their carbon footprint.
This is particularly the case for companies which, whether they like it or not, are led to invest more and more in projects in favor of sustainable development and the environment. It can thus be seen that the market for offsetting carbon emissions has experienced rapid growth, both in the bond sector and in the voluntary sector.
According to the latest estimates, these two sectors were valued at around $271 billion and just over $1 billion, respectively, in 2021. This figure represents a growth of 128% since 2008 for the bond market alone. As for the voluntary market, it should reach $50 billion by 2050.
Obviously, IMPT caters specifically to these booming markets. A factor that propels it directly into the rank of the best investments long-term cryptocurrencies, especially if it manages to become the leader in its ability to transparently offer the purchase and sale of carbon credits.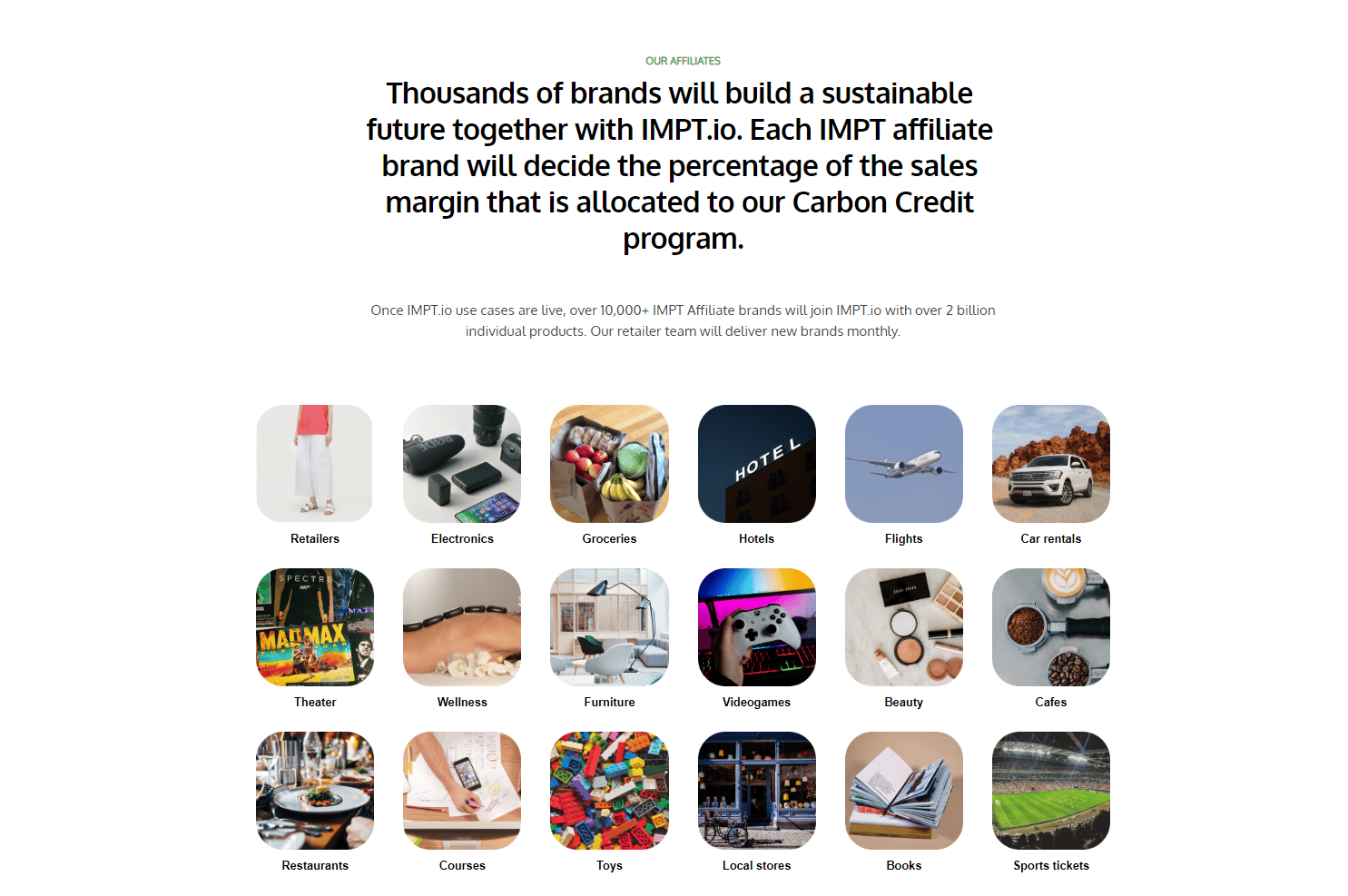 In addition, IMPT has already entered into leading partnerships with more than 10,000 companies who agree on the fact that the planet must be made more habitable. Each of these companies will help the project attract a non-crypto user base. The project managers planned to expand the partnerships each month by adding more companies little by little.
On the IMPT platform, it is possible to acquire carbon credits in two different ways. At first, you You can buy these directly from the IMPT shop. The platform issues carbon credits in the form of NFT in order to eliminate the risk of scams and scams that are very prevalent in the carbon market.
Then you also have the option of using a more indirect way. In this context, you will need first accumulate IMPT tokens in your wallet. These are distributed to all users who purchase products using the IMPT purchase platform.
Once you have enough tokens, you can convert them into NFT carbon credits in the IMPT shop. The project already includes more than 10,000 partners from the world of luxury and various products, including major brands such as Apple and Hugo Boss.
What are the different stages of the presale of the project?
Despite all its prowess and promise, it's important to note that IMPT is still in the presale stage. Nevertheless, the roadmap allows us to determine the different pre-sales phases of the project. There will be exactly three stages and we are currently in the first phase from the following three:
1st presale phase – 1,600,000,000 tokens (20%) at a price of $0.018.
2nd presale phase – 2,660,000,000 tokens (22%) at a price of $0.023.
3rd presale phase – 3,540,000,000 tokens (18%) at a price of $0.028.
The project started its first presale phase on October 3rd. According to the latest news announced by the team of developers, it has already received over $4 million in just over a week, proving the enthusiasm of investors.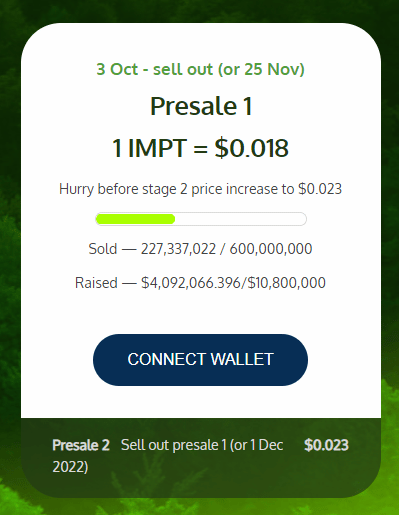 As you may have noticed, the token price is gradually increasing at each of the new pre-sale phases. If you are interested in the project, invest as soon as possible, as long as the price is low in order to obtain a higher return.
If you want to participate in the pre-sale phase, you need follow several important steps. First of all, the need to create a crypto wallet. This step is not mandatory for those who already have one. On the other hand, if this is not the case, you can find various free ones such as MetaMask for example.
You will then need connect this crypto wallet at the official website of IMPT. For this, once you are on the website, you just have to click on the option [Connecter le portefeuille] located in the presale box and then follow the instructions.
Finally, in order to become an investor for this project you will have to buy IMPT tokens and for that you will have to do it either with ETH or USTD. If you don't have any in your wallet, you can buy them at any cryptocurrency exchange platform as Binance.
Note that it is also possible to directly buy ETH you need to acquire IMPT tokens using your credit card directly via Transak from the official IMPT website.
Once the transaction is complete, you have officially become an investor in the IMPT project. The presale should end around March 2023 and IMPT indicates on its roadmap its desire to be available on exchange platforms around April 2023. If you want to know more, do not hesitate to read our guide on this subject.
---
Presales carry more risk, but are a good way to invest and obtain high gains. Thereby, Tamadoge together multiply its price by 19 after its pre-sale ended a few weeks ago.