It's official ! Elon Musk has finally bought Twitter for $44 billion on October 26. If the latter promises big changes for the blue bird network and in particular concerning greater freedom of expression, it is the investors of Dogecoin (DOGE) who are delighted with this news.
Indeed, the CEO of Tesla and SpaceX has often shared his opinion on crypto-currencies and especially Dogecoin of which he is one of the fervent supporters. Every time he tweets about DOGE, he makes pump the price of this asset. Thus, investors hope that Elon Musk will soon adopt Dogecoin on Twitter.
Musk's takeover of Twitter
It all started last April when Musk acquired 9.2% shares of Twitter for $3 billion and then announcing a few days later its intention to buy Twitter. The board of directors accepted his proposal during a few exchanges, but a few weeks later the multi-billionaire canceled his proposal following disagreement over the number of real users on the network.
Twitter officials have decided to sue to validate this takeover, but against all odds, Elon Musk finally decided to accept and confirm the takeover of Twitter for $44 billion as the trial was due to begin in the coming weeks.
Upon his arrival, Musk fired some of the executives he considers responsible for the mismanagement of Twitter or who do not share his opinion on the future of the network. Indeed, Elon Musk intends to bring new functionalities including greater freedom of expression.
Dear Twitter Advertisers pic.twitter.com/GMwHmInPAS

— Elon Musk (@elonmusk) October 27, 2022
Moreover, he would also like to integrate functions like on WeChat so that Twitter becomes more than it already is. It is possible that means of payment will become available and it could therefore be that cryptocurrencies as the Dogecoin have a role in all of this. Elon Musk intends to offer a network based on communication for the well-being of humanity.
Cryptocurrency investing is offered by eToro (Europe) Ltd as a PSAN, registered with the AMF. Cryptocurrencies are very volatile. No consumer protection.
Dogecoin Price Rises Following Twitter Takeover
The price of Dogecoin for the past few days keep climbing following the announcement of the takeover of Twitter. It makes perfect sense when you know Musk's past with this cryptocurrency.
Indeed, he has many times in the past spoken favorably of it, supporting the project. This has always generated temporary increases so much influence does Musk have over this cryptocurrency. As a bonus, he is one of the few individuals to support the project within his own companies.
It turns out that Tesla, SpaceX, and even The Boring Company accept payments in some cases with DOGE. Therefore, it makes sense to think that Twitter, which is now a company of Musk could accept payments in DOGE maybe for promotion or more.
In addition, the CEO of Binance, Changpeng Cheng invested through his company for $500 million in Twitter. He believes in Musk and also that the network could become a gateway to further educate users on new technologies while gradually transforming Twitter to Web3.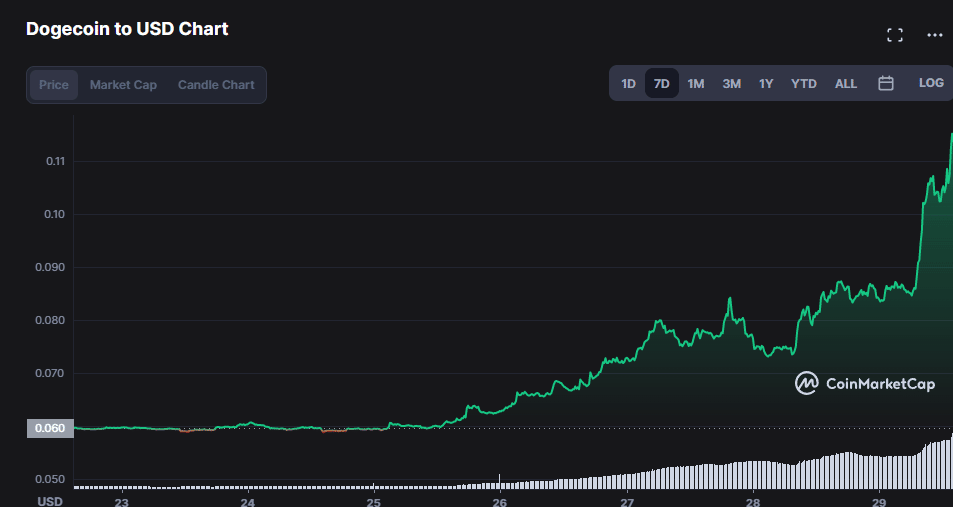 As a result of all this, the Dogecoin community is more motivated than ever. If the price of DOGE was still $0.06 a week ago, currently the value of DOGE is $0.1307. A 36% increase in 24 hours and 95% over 7 days! Following Musk's announcements soon, this crypto could explode much more and reach $1 very quickly!
These cryptos could reach $1
Beyond Twitter and Dogecoin, which is pumping as a result following Musk's takeover, the market has been doing better in recent days and some ongoing pre-sales could explode in the coming months. by reaching $1! Here are some of these projects not to be missed.
IMPT the ecological crypto
IMPT is a project that focuses on carbon credit certificates and wishes to become a leader in this market to allow greater transparency and ease in the management of the latter.
Carbon credits have a future, in particular because they give the right to emit a certain quantity of CO2. In addition, IMPT has many partners including Apple, Hugo Boss or Encore Amazon enhancing the credibility of the project. The presale is in phase 2 of 3 with the price of 1 IMPT equivalent to 0.023 $ and over $11 million invested.
Dash 2 Trade for investors and traders
Dash 2 Trade (D2T) desires build a platform with many tools and features to help crypto traders and investors make better decisions to make more profits.
D2T will be available for free, but also under the form of a monthly subscription allowing you to unlock automatic trading as well as many more advantages in addition to much more precise information, all while paying via the D2T token.
As a bonus, Dash 2 Trade focuses on providing presales information as well. The presale is in its second phase out of 9 for a price of $0.05. More than 3 million invested in the space of ten days.
Calvaria Duels of Eternity a P2E of cards
Calvaria Duels of Eternity is a Play to Earn allowing you to build your own deck and compete against other players. Each card is an NFT. As a bonus, there will be a stacking platform to passively generate rewards. Additionally, a card lending system will allow you to build your decks even if you don't have all the cards.
The presale, launched on September 19, has already collected over $700,000. Phase 2 is underway with 1 $RIA equivalent to $0.015.
To participate in presales whether IMPT, D2T or $RIA, the principle is the same:
Go to the official website and click on the "Connect" button in order to connect your crypto wallet.
Buy the desired amount by paying with USDT, ETH (or other possibly usable crypto).
Validate the transaction and wait for the end of the presale to "claim" your tokens.
---
Pre-sales carry risks, but it is also a great way to make big profits. This was particularly the case with Tamadoge, a few weeks ago, which managed to make a x19 at the end of its presale.