While the former President of the United States has just been officially charged by the justice of New York, we see a big revival of interest in sales related to its collection of NFT cards.

Donald Trump's criminal indictment boosts the popularity of his NFT collection
After a fanfare launch in December 2022, the price of the cards NFT of Donald Trump had fallen sharply since its all-time high reached on February 16, 2023. The recent indictment of the former American president comes from relaunch card business… and therefore also the average sale price of the collection!
JUST IN: Donald Trump NFT sales volume soars 461% following indictment

— Mr. Whale (@WhaleWire) March 31, 2023
On March 31, 2023, a day after his official indictment, the average sale price of an NFT card from his collection reached the $1054 mark, accompanied by a sharp increase in sales volume to $166,806. The increase is spectacular and it demonstrates the renewed interest of investors in this collection following the accusations of fraud against the former President of the United States.
A sharp increase in sales volume?
Thus, according to the NFT Price Floor tool, which specializes in price comparisons between NFT assets, there is a increase in sales volume of 8.89% over the past seven days, with 453 sales recorded over the period.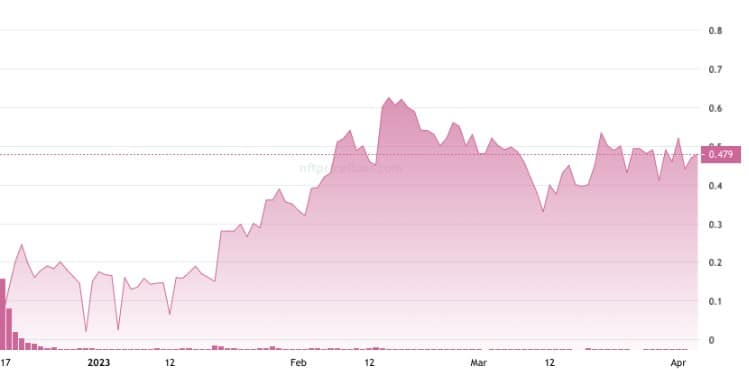 A sharp increase in the selling price of the cards since its official launch in December 2022:
Since its official launch in December 2022, Donald Trump's Collection NFT Cards have met with a real enthusiasm from collectors and fans of the American billionaire. 45,000 cards were thus sold in a few hours during its official launch in December 2022.
While each NFT card was put up for sale at a $99 unit price, we see today that a card is traded at an average price of $854 in the secondary market. A spectacular increase of 862% in less than four months and a great success for this collection of cards when most critics cried foul when it was launched.

A price far from its historic high
Despite the indictment of Donald Trump and the charges of fraud against the American billionaire, we see that the average selling price of a card is still quite far from its annual high reached on February 16, 2023 at $1296. It is very likely that with the approach of the next US presidential elections, the volatility on this asset should also remain very high in the coming weeks.
What does his collection of NFT cards consist of?
45 000 cartes NFT were marketed in December on the official site at a unit price of $99. The whole collection depicts the businessman in different positions with different attires. A few months after its launch, the card collection is now owned by 13,968 unique owners interested in buy NFTs.
Each card in the American billionaire's NFT collection also comes with a chance to win various activitiessuch as a dinner with Donald Trump, a conference organized on the Zoom software, staying with the American billionaire on his private property or training on the golf course on Trump's estate.
Cryptocurrency investing is offered by eToro (Europe) Ltd as a PSAN, registered with the AMF. Cryptocurrencies are very volatile. No consumer protection.
---
Source : NFT Stats, Nftpricefloor
---
On the same subject :