In the context of the banking crisis hitting the United States, the crypto market has also found itself on the front line. If it is a risky market, not inclined to digest uncertainty, some believe that cryptos could still do well if the crisis were to continue.

Bitcoin and the crypto market rebound after the bankruptcy of SVB!
Two weeks ago, economic players around the world had their eyes on the Silicon Valley Bank which had just announced its bankruptcy. Exposed to the bank with $3.3 billion in reserve, Circle, the issuer of the stablecoins USDC shook for long hours. As the news quickly spread around the globe, many token holders massively sold the USDC. creating a depeg which pushed the stablecoin to $0.90.
Quickly, the American regulator indicated that all depositors' funds would be covered. A decisive element for the repeg of the USDC and at the origin of a strong pump in the digital asset market. Since then, the equity market has been dead calm while the crypto market is experiencing euphoria. The following graph, taken from the Coinmarketcap platform, shows the evolution of the bitcoin price over the last 30 days: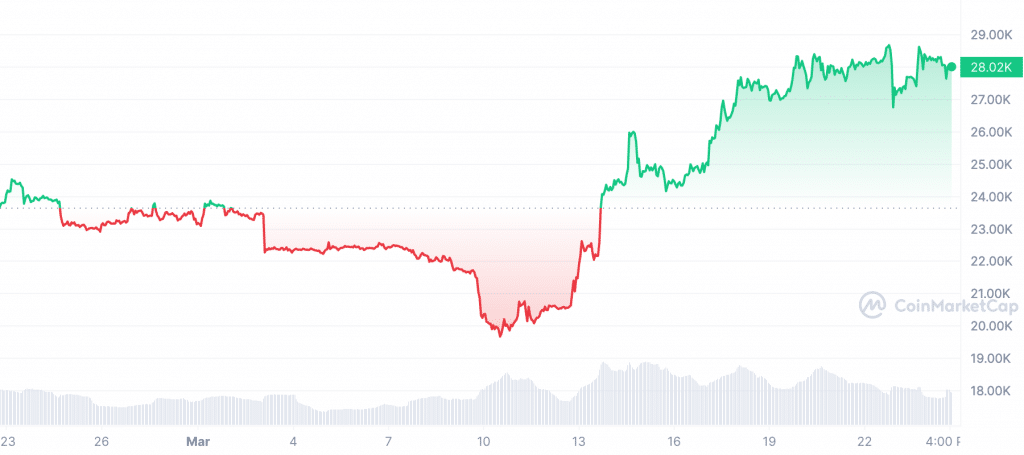 First worried by the consequences of the announcement of the bankruptcy of the SVB bank (low point on the chart), Bitcoin quickly started to rise again. To the point of now coming approach the symbolic bar of 30,000 dollars.
Cryptocurrency investing is offered by eToro (Europe) Ltd as a PSAN, registered with the AMF. Cryptocurrencies are very volatile. No consumer protection.
Bitcoin, can it pull the whole crypto market?
For Bitcoin, it seems clear that the current situation looks like a very good opportunity. If we stick to the last 15 days, the mother of cryptocurrencies is perhaps the one that is doing the best. To the point of seeing its dominance regain levels more reached since last June. While the sample is still far too small to draw firm conclusions, a rise in Bitcoin dominance often precedes an altseason. Over the past two years, this scenario of Bitcoin dominance close to 48% has occurred 3 times. Each time, altcoins managed to outperform Bitcoin in the weeks or months that followed.
Finally, the collapse of Silicon Valley Bank may have marked a real turning point for Bitcoin and the entire crypto market. THE turn of independence. Because the market has often been confined to a mirror of the risks and opportunities offered by the equity market. For the first time, the crypto market could go its own way.
Nevertheless, if we can consider that the current situation can represent an opportunity for the crypto market, difficult to estimate that a powerful crisis can push the market to the heights. An element that does not share who recently estimated that Bitcoin Could Be Worth Over $1 Million Within 3 Months. A forecast based on a very severe crisis scenario.
---
Source : Coinmarketcap
---
On the same subject :