The BRC-721 E gateway is now operational, allowing users to transfer NFTs from Ethereum to Bitcoin Ordinals. The only problem is that it is not possible to go back.
Migrating your NFT from Ethereum to Bitcoin
Ethereum remains by far the leading NFT platform in terms of value and trading volume. However, with the Ordinals protocol, the Bitcoin network has seen significant transaction volume in recent weeks. And for the NFT holders Ethereum who wish to migrate to the Bitcoin network, there is now a solution.
Bitcoin Miladys, an NFT project offering derivatives of the Ethereum-based Milady Maker Profile Picture (PFP) project, has just launched a BRC-721 E runways. Created in partnership with Ordinals Market and the crypto wallet, Bitcoin Xverse, it allows you to migrate NFTs from Ethereum to Bitcoin via Ordinals, but without the possibility of a rollback.
Ethereum NFT holders can thus use the gateway to move their assets from one blockchain to another. More concretely, the original Ethereum NFT is sent to a adresse « burn » inaccessible. This means that the asset no longer exists on the chain, but is then recreated on Bitcoin thanks to the Ordinals protocol.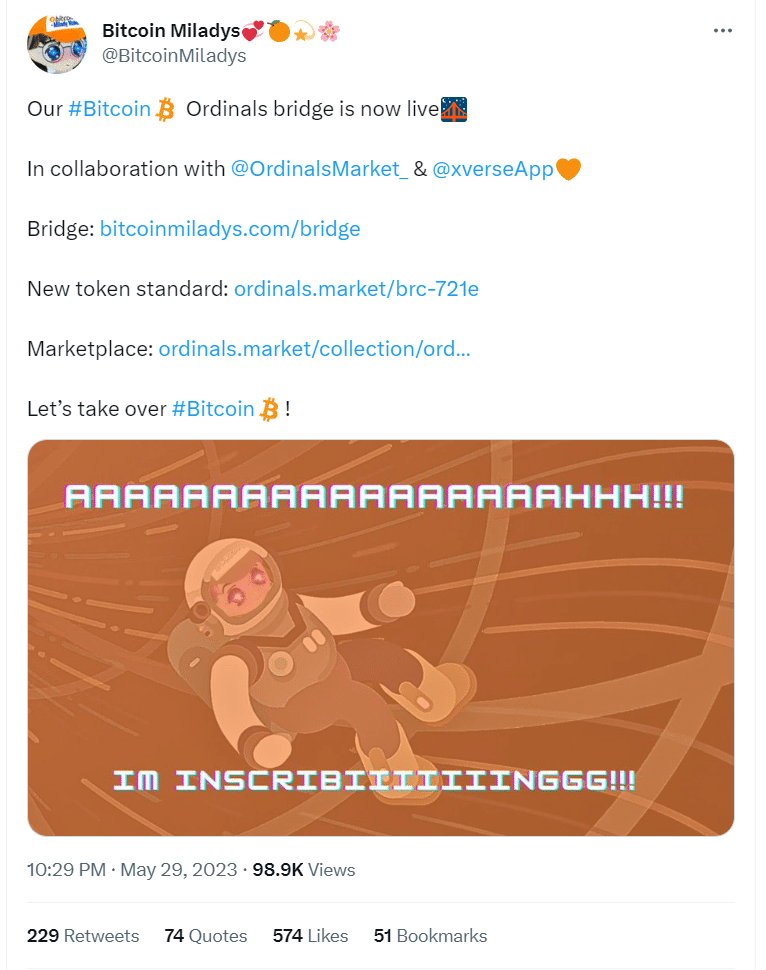 Is the technique interesting?
Miladys Bitcoins were originally minted on Ethereum. The standard and gateway of the BRC-721E token can nevertheless work with any NFT Ethereum compatible.
The process remains interesting for holders of NFTs on Ethereum who wish to migrate them to Bitcoin. Indeed, the sudden rise in power of the Ordinals could give value to their NFT migrated. However, it should be remembered that the change of blockchain is not without risks.
Last February, a BAYC owner notably burned his original Ethereum NFT before minting a new version of it on Bitcoin with the Ordinals protocol. By burning his original NFT, he had renounced the license allowing him to access the advantages that the possession of the NFT de Bored Ape.
Growing popularity for Ordinals
When bitcoin conference 2023 held last week in Miami, Ordinals had attracted Ethereum developers and web3 in general. Among the services that caught the attention of participants were: OrdinalSafethe self-owned bitcoin wallet designed for Ordinals.
It should also be remembered that since its launch last January, Ordinals has recorded more than 10 million registrations. At the beginning of the month, the protocol did not count than 3 million, but since the launch of the BRC-20 normswhich uses ordinal registrations to allow users to mint fungible tokens on Bitcoinboosted the popularity of the protocol.
---
Source : Decrypt
---
On the same subject :