Ethereum has been gaining ground since last Friday, with the market's second largest cryptocurrency peaking at $1,370, up more than 9% from last Friday's low of $1,252, a performance well above that of the Ethereum. Bitcoin.
The ETH pricelike that of most other cryptocurrencies, has been enjoying a more positive mood since Friday afternoon, as some statements revived speculation of a slowdown in the Fed's rate hike.
Why has Ethereum been bouncing since Friday?
In question, we find an article by a Wall Street Journal reputedly well-informed Fed specialist, according to whom the question of a further 0.75% rate hike for the FOMC meeting next week is still pending.
We also note dovish remarks from Mary Daly, the president of the San Francisco Fed, who warned that we should not expect rate hikes of 0.75% to become the norm.
As a result, the odds of a 0.75% rate hike at the next meeting fell to 90% from 99% a week earlier according to the Fed's Investing.com Rate Barometer.
For the next meeting in December, the chances of a rate hike of 0.75% or 0.50% are now even, with also a 5% probability that the Fed will raise its rates by 0.25%. A week ago, the market was anticipating a 2 in 3 chance of a rate hike of 0.75% in December, and a 0% chance of a rise limited to 0.25%.
However, it should be remembered that the Fed's rate hikes have played a big role in the fall of Ethereum and cryptocurrencies in general in recent months. So seeing Fed rate hike expectations recede is a relief to crypto investors, which at least partly explains Ethereum's rebound since Friday.
Crypto-assets are a risky investment.
Ethereum outperforms Bitcoin
It is also interesting to note that although Bitcoin, the largest cryptocurrency in the market by capitalization, has also rebounded since Friday, its gains are much more limited.
$18,600 to $19,080, an increase of only +2.5%, compared to +9% for Ethereum over the same period. However, this outperformance of ETH against Bitcoin could continue over the next few days.
Indeed, Bitcoin faces an immediate major resistance zone with the major psychological threshold of $20,000 and the 100-day moving average at $20,900, while Ethereum for its part faces much less significant resistance.
Thus, if the upward movement of cryptocurrencies observed since last Friday extends into this week, acheter Ethereum will arguably be a better bet than buying Bitcoin.
Moreover, in the longer term, a survey whose results were published last week showed that the majority of investors expect Ethereum to end up one day. overtake bitcoin in terms of capitalization.
Towards a continuation of the rise of ETH this week?
Coming to this new week, several key events are likely to influence Ethereum and other cryptocurrencies. In particular, investors will be watching preliminary US Q3 growth numbers.
An unpleasant surprise could worry the Fed about the impact of the rate hike on the economy, and bolster expectations of a slowdown in the Fed's rate hike, potentially leading to a rise in ETH.
Conversely, a good surprise could comfort the Federal Reserve in maintaining a very aggressive monetary policy, and cause cryptocurrencies to fall.
Note that this week will also be the occasion of the ECB meeting, and although the European Central Bank has less influence on the price of Ethereum than the Fed, a hawkish or dovish surprise could influence the cryptocurrency in a certain way.
What is the technical background on ETH/USD?
From a graphical point of view, it should be recalled that the Ethereum has been evolving in a range of approximately $1200-1400 since September 20, knowing that this consolidation is part of a downward channel visible from the flow of the month of August, as seen on the daily chart below: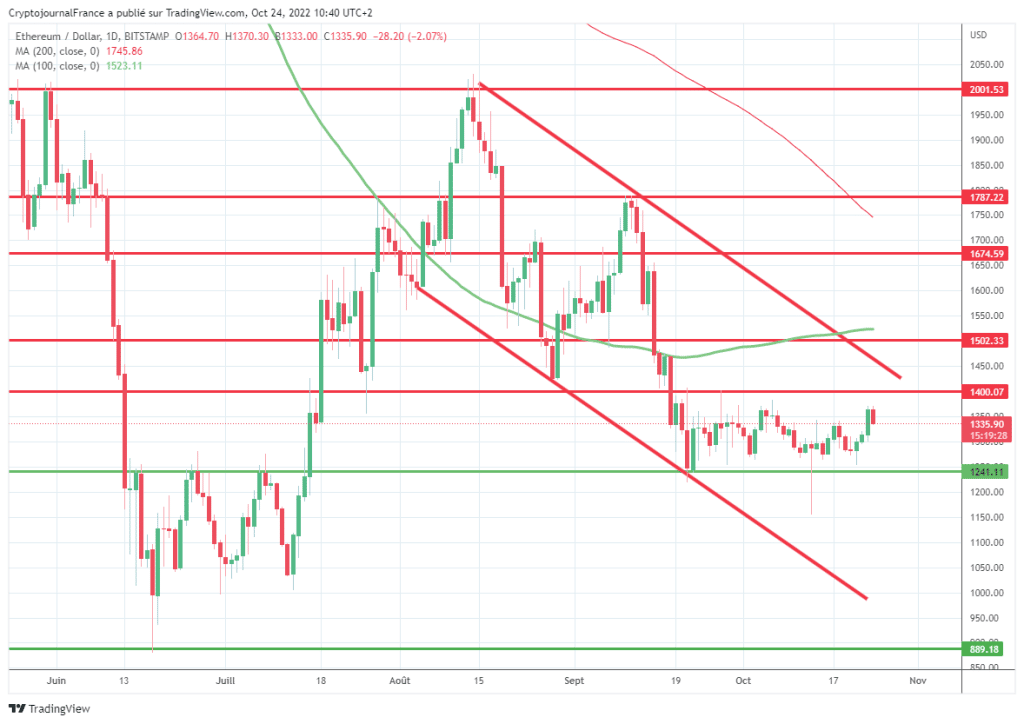 A break above $1400 would be a bullish signal and test the upper band of the channel. In this case, the next objective to aim for will be the $1500 threshold, as well as the 100-day moving average at $1523.
On the downside, a break below the $1200 zone could see Ethereum rejoin the lower boundary of the bearish channel mentioned above, which could mean a return of the cryptocurrency below the major psychological threshold of $1000.
---
Do you know you can earn passive income with Ethereum? To find out how, see our guide sur le staking Ethereum !