Despite the volatility importance of digital assets over the past two years, the sector continues to attract new followers. This is partly due to investors' interest in diversifying their portfolio with this new asset class. Among these investors, we find in particular the "family offices" and the ultra-rich of Hong Kong and Singapore.
Growing interest despite the bear market
A "family office" is a private wealth management company created by a very wealthy family who provide this same family with a selection of personalized services. This can include investment management, financial planning, estate and tax planning, philanthropic investing, concierge services, etc.
Today these Family Office (FO) as well as the high net worth individuals (HNWI) of Hong Kong and Singapore massively invest in crypto currencies. This information was revealed by a recent study entitled "Investing in Digital Assets – Family office and high-net-worth investor perspectives on digital asset allocation" and published on October 24, by KPMG China and Aspen Digital.
According to this report, in Singapore and Hong Kong, 92% of respondents say they are interested in crypto currencies. As for Family Offices and HNWIs, 58% are already investing in digital assets while 34% plan to do so.
Breakdown of FO and HNWI investments in digital assets. Source: KPMG/Aspen Digital
The boss of the crypto platform Aspen DigitalYang He commented on these results:
"Over the past 18 months, we have seen a huge increase in institutional investor interest in digital assets. For the private wealth management industry in Asia, digital assets represent an emerging asset class offering unparalleled opportunities within other financial products."
Cryptocurrency investing is offered by eToro (Europe) Ltd as a PSAN, registered with the AMF. Cryptocurrencies are very volatile. No consumer protection.
What are the most popular digital assets?
Without too many surprises, we find at the top the flagship digital asset: the Bitcoin (BTC). Nevertheless, the score remains very impressive since 100% of investors hold Bitcoins. Then, in 2ᵉ position, we find Ethereum (ETH) with 87% of investors who hold this digital asset. We also learn that contrary to the current market trend, 60 % of respondents are currently investing in non-fungible tokens (NFT). Stablecoins are also popular with a score of 60% investment.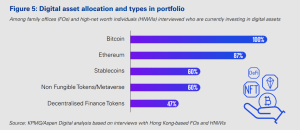 The types of digital assets held by ultra-wealthy Singaporeans and Hong Kongers
That said, Paul McSheaffrey, Financial Services Partner at audit and advisory firm KPMG China pointed out that:
"Increasing the allocation to digital assets requires hedging products and related derivatives to allow investors to effectively manage risk. The development of such products outside of popular tokens such as Bitcoin and Ethereum will help drive allocation to a wider range of digital assets."
Hong Kong and Singapore, 2 very "crypto friendly" countries
The two Asian countries are vying for the lead as crypto industry leader. Indeed, the two city-states develop and implement a lot of means to install digital assets on their territory. This results in a lax regulationfor example, in Hong Kong, you do not pay taxes on crypto-related profits because the rate is simply 0%.
Hong Kong Island also plans to give the possibility for retail investors to buy digital assets directly. All this while working on a new law that would make cryptocurrency policies clearer. Moreover, it would allowincrease digital asset market growth on the island.
For its part, Singapore's largest bank, DBS Group Holdings, now offers a service de trading crypto to its 100,000 wealthiest customers. Online Crypto Trading Giants Coinbase et Blockchain.com have recently been authorized to offer crypto services in Singapore. Just like Hong Kong, Singapore has a very flexible regulation for cryptos with no tax on profits made when selling digital assets.
Some articles on the same topic: