Despite stopping its staking program a few months ago, Kraken continues to expand. The platform now offers its NFT marketplace compatible with Ethereum, Solana and Polygon blockchains. After launching the beta last fall.
Over 250 new NFT collections
After a public beta test, the platform Kraken has just expanded its offer on its marketplace NFT by offering more 250 new collections on the Ethereum, Polygon or even Solana blockchains. The exchange had launched the first beta version of the NFT platform last November. A first version which then only supported 70 different collections and only on the Solana and Ethereum blockchains.
In order to satisfy all of its users, the platform has incorporated flagship projects of the NFT universe like the CryptoPunks or the Bored Ape Yacht Club (BAYC) but also to add collections at a much more affordable floor price. Many collections are even accessible with NFTs accessible for less than $100.
For the addition of these new collections, Kraken specifies thatno fees will be charged to customers buying or selling NFTs on the platform. On the other hand, a fee will be charged when NFTs are transferred out of Kraken. In a video of just under a minute, the Kraken platform communicated on these new additions: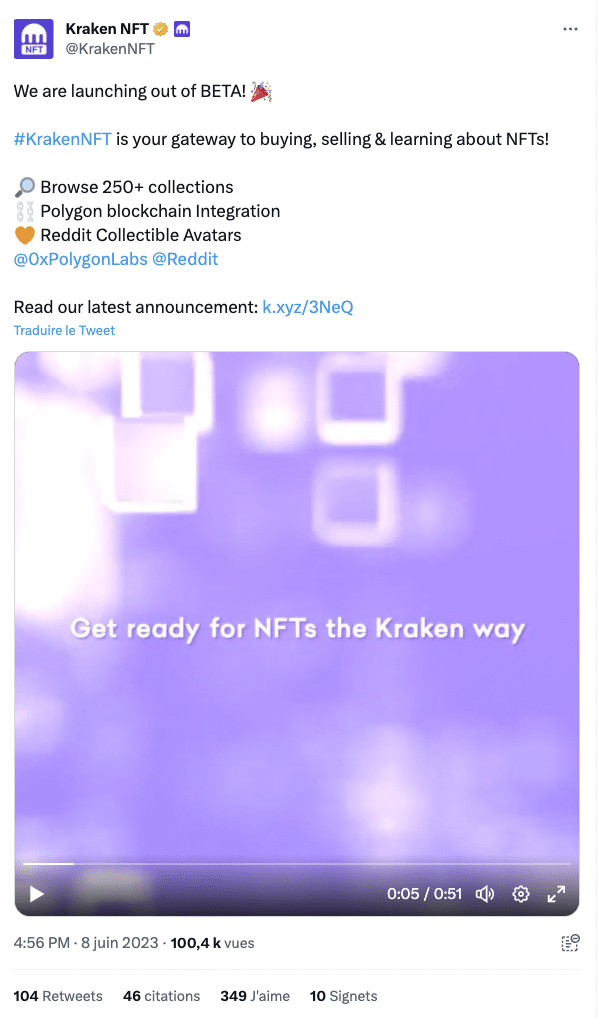 In detail, users of the NFT platform will be able to pay in fiat or through digital assets. Kraken's NFT platform also plans to add rarity rankings as well as support for major wallets crypto like MetaMask or even Phantom for the Solana blockchain. In the future, WalletConnect could be integrated.

Kraken continues to grow!
Despite the regulatory brake and the asks the SEC to scrap its staking program, Kraken continue to develop. A few weeks ago, we learned that the exchange was positioning itself to buy back a French PSAN. With an obvious objective: to penetrate more easily, and in accordance with the regulations, the French market.
If regulatory pressures are increasing all over the world, the various crypto players continue to multiply initiatives. But the recent SEC crusade conducted against the Binance and Coinbase platforms could constitute a major wound for the development of the market and the democratization of digital assets.
---
Source : Coindesk
---
On the same subject :