A Lightning address allows its users to send Bitcoin through the Lightning Network protocol to a wallet with an address similar to that of an email. So that's what billionaire Michael Saylor does.

A Lightning address for Michael Saylor
Michael Saylor, co-founder of analytics firm MicroStrategy (MSTR) just made a slight change in his business email address. Indeed, thanks to the Lightning Network, he was able to integrate the latter within this protocol.
Assessment, from now on everyonecan use the Lightning Network and send Bitcoins to Michael Saylor simply by putting his business email as his address.
So @MicroStrategy converted my corporate email address into a #Lightning⚡️ address and people keep sending me 21 sats…🧡 pic.twitter.com/FHde6RtA6N

— Michael Saylor⚡️ (@saylor) April 17, 2023
It turns out that Lightning Network is primarily a means of payment using bitcoin. As a bonus, it is also a second layer of Bitcoin, thus making it possible to make payments and transactions via Bitcoin faster and at a lower cost.
The principle is simple since Lightning Network allows developers to replace a simple Lightning invoice or payment request as an internet ID just like an email.
Turns out Michael Saylor breaking news would weigh more than 1.2 billion dollars and in particular following the fact that his company sold 140,000 BTC for around 4 billion dollars. Following this news, users had fun sending small sums in Bitcoin to Saylor.
Cryptocurrency investing is offered by eToro (Europe) Ltd as a PSAN, registered with the AMF. Cryptocurrencies are very volatile. No consumer protection.
Bitcoin on the rise
Besides the Bitcoin Lightning which is a means of payment that is increasingly asserting itself Little by little, as MicroStrategy was able to show with this news, Bitcoin is experiencing a year 2023 under better auspices than last year.
So, after recently crossed the $30,000 mark, this could only be a step for this cryptocurrency which has the ability to influence the entire industry.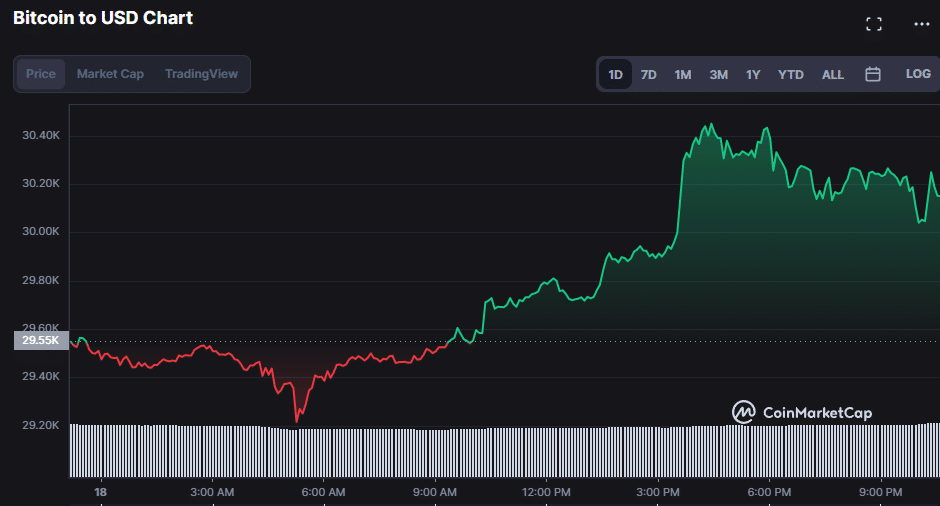 Because of this, several experts are already considering that Bitcoin could approach faster than expected. of the $45,000. If this sum seems substantial, it turns out that the ATH of BTC in 2021 was 69 000 $.
Therefore, it remains a possibility that should not be ignored and it turns out what to buy bitcoin could therefore still be profitable at this price when we know the potential of this asset.
For the time being the next resistance is around $32,000, if it gives way then Bitcoin can climb more easily towards $35,000 before heading to the potentially expected 45,000.
Lightning Network could be a future second key layer for the Bitcoin blockchain offering a simple and efficient means of payment by making use of this crypto-currency.
---
Source : Coindesk
---
On the same subject :