Polygon (MATIC) needs no introduction. This crypto-currency which is an alternative to blockchains like Ethereum has been able to develop and become more and more popular over the years, but especially in recent months.
In addition to its high-performance solutions for its own blockchain, Polygon is attracting more and more projects, but also partners. Thus, after Starbucks, Robinhood or even Disney, here is a juggernaut in the professional environment is added to the list with Meta, the parent company of Facebook and Instagram.
Polygon attracts quality partnerships
Polygon always has knew how to surround itself with quality partners and since the beginning of the year this cryptocurrency was able to obtain the favors of major companies, not only improving its visibility with the general public, but also increasing the confidence of investors around the project.
One of the last notable partnerships in recent months was Polygon, which joined Disney Accelerator. It's a program highlighting startups and companies that focus on new technologies.
In addition to the financial and even technical assistance that Disney can bring to Polygon, it is above all a great publicity stunt for MATIC in order to introduce it to the general public, but also to more companies like Meta.
Soon you'll be able to make and sell #NFTs on @instagramstarting with @0xPolygon. You can also now connect to @solana and Phantom wallet, and see information about @opensea collection: https://t.co/aH8035Tk8n

Comment your #NFT below 👇 pic.twitter.com/dvHau9n9Yu

— When (@When) November 2, 2022
Thus, the parent company of Facebook has chosen Polygon as a partner for its NFT tools which will allow users to mint, show and sell their assets through and outside the social network. An incredible announcement for Polygon which is likely to have a strong impact on its price and the development of this blockchain in the future.
Cryptocurrency investing is offered by eToro (Europe) Ltd as a PSAN, registered with the AMF. Cryptocurrencies are very volatile. No consumer protection.
Early days with JPMorgan
Beyond the upcoming partnership with Meta, JPMorgan first used Polygon to complete a real-time trade worth $71,000 on a public blockchain. This shows one of the first prominent examples of the use of crypto-currencies in the traditional world of finance.
As a result of these announcements, the price of MATIC climbed 10.28% over the past 24 hours with a substantial increase in trading volumes of 223.11% increasing the market cap of this crypto by around 10%. As a reminder, MATIC is a utility token based on the Polygon blockchain and its current price is $0.9574.
MATIC Price Analysis
The rise of MATIC in recent days not only translates into these important announcements for the Polygon blockchain, but also into a general rise in the cryptocurrency market. In recent months, the price of MATIC jumped more than 200%. This is a trend that should be confirmed and even increase in the months to come potentially.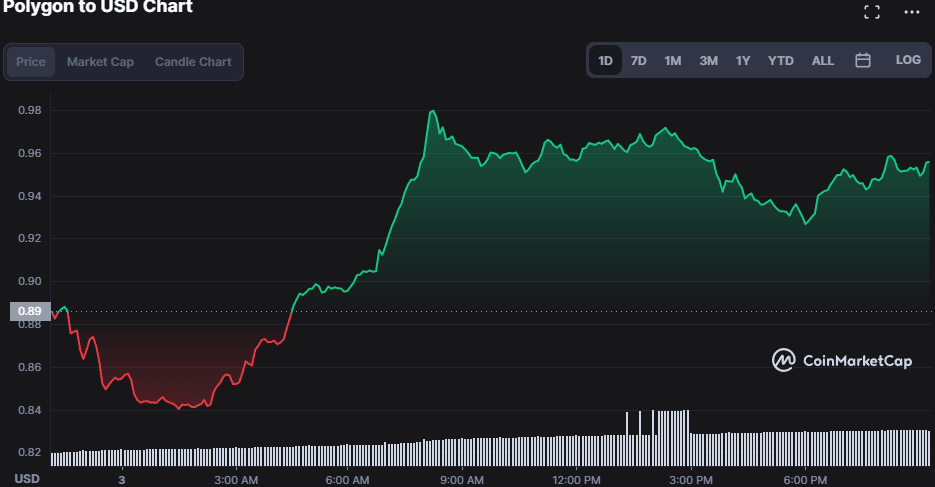 Indeed, the first clue showing a continuation of the rise of MATIC comes from a classic technical configuration. So, according to MATIC's daily chart from CoinMarketCap, we see a bowl-shaped figure or "U" with a down channel.
The token is now aiming for a decisive break of the pattern's neck line to achieve its upside target of 2.89 which was its ATH having taken place last year during the amazing bull run of 2021.
Thus, according to its data and the results of technical analyzes in general in the face of such a configuration MATIC could experience a 200% increase in value for by the end of the first quarter of 2023. Logically, the demand for MATIC will increase greatly following new blockchain projects and partnerships and FOMO (Fear Of Missing Out) from investors not wanting to miss such a opportunity.
Matic takes on NFTs
NFTs are taking a bigger and bigger stake at Polygon and should help drive the price up even more, besides partnerships like the one with Meta. There is also Robinhood, Disney or even Starbucks who are part of the NFT partners.
As a bonus, Polygon experienced a excellent third half of 2022 with a record reached among the number of active wallets on its blockchain for a total of 6 millions. This number can be explained in particular with the launch of the Reddit marketplace on the Polygon blockchain.
Despite everything, the cryptocurrency market is still in a bearish state which could impact Polygon's growth. It takes donationto remain vigilant because even if the technical analysis predicts a sharp rise, we must not forget the major external factors which can have temporary or even lasting consequences on the growth of the price of a crypto.
---
After the announcement of his partnership with Robinhood last September allowing 20 million users to have access to MATIC, Polygon continues to develop by obtaining a substantial partnership with Meta, the parent company of Facebook and Instagram.