The crypto market is booming all over the world and especially in the MENA (Middle East/North Africa) regions. But some countries stand out in their adoption of this new digital technology. At the top of the list are countries in the Middle East and North Africa regions. The latter are recording record growth compared to other countries in the world.
Over a period of 1 year, from June 2021 to June 2022, MENA regions recorded a 48% increase of their trading volume. Users in these countries received $566 billion in one year! But how to explain this enthusiasm for the model of digital currencies. We give you all the necessary information in this article.
Why are cryptos so popular in MENA regions?
If cryptos are so massively adopted by these countries, it is largely because they overcome many problems in force in these countries. For starters, the rate of inflation may have a major role in many turning to Bitcoin and other cryptos. Egypt, Ghana, Malawi, Nigeria and Zimbabwe all have double-digit inflation. It is therefore not uncommon to see payments made in Bitcoin to counteract this massive inflation of local currencies. According to the data, Egypt is also 12ᵉ in the top 30 crypto countries in the world. And Africa is modernizing, with nearly 700 million mobile phones in circulation on the continent today.
Turkey is also one of those countries that has a gigantic cryptocurrency market. Between the year 2021 and 2022, its citizens received 192 billion dollars. However, it experienced a consequent slowdown in growth during the year. To continue in the Middle East region, Saudi Arabia also stands out with an increase in its transactions of 194.8%, followed closely by Lebanon and Morocco with increases of around 120%.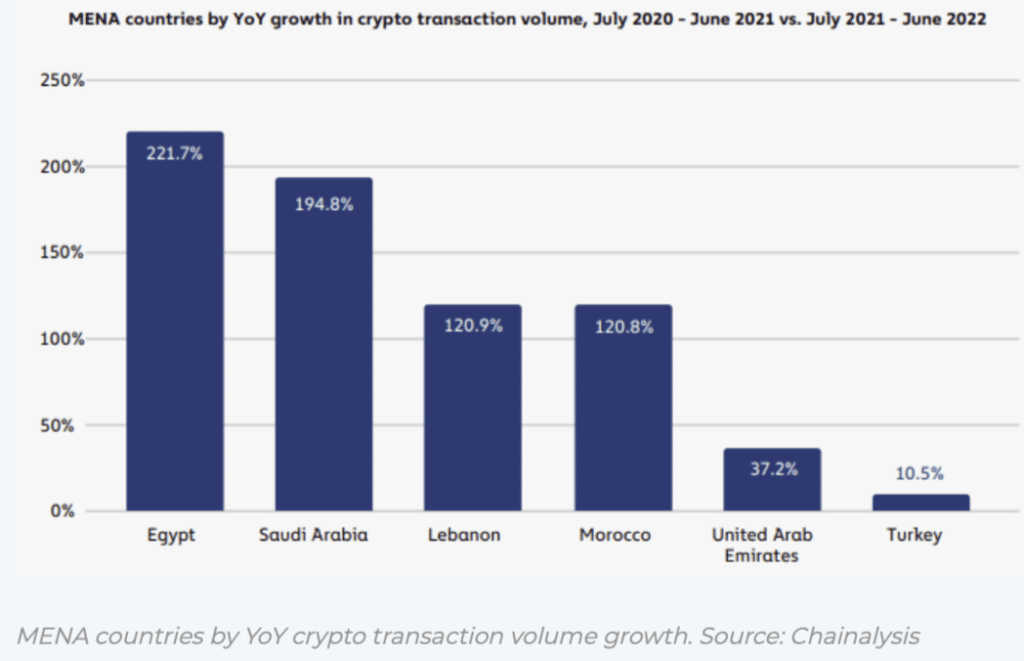 The website Chainalysis spoke about the remarkable case of Egypt by stating:
"Egypt's position at the intersection of growing crypto remittances and rising inflationary pressures helps explain why it is the fastest growing crypto market in the entire region. MENA this year. Between July 2021 and June 2022, the volume of transactions in Egypt tripled compared to the previous year."
Cryptocurrency investing is offered by eToro (Europe) Ltd as a PSAN, registered with the AMF. Cryptocurrencies are very volatile. No consumer protection.
Data to qualify when looking at the value received
Apart from Turkey, MENA countries represent only 9% of the value received in the world. The latter nevertheless remain far behind other regions such as Central, Northern and Western Europe which represent 21%, North America with 19% and Asia and Oceania with 15.8%. As you may have understood, what is remarkable is above all the growth of these countries on the subject of cryptos. These mixed results are partly the effect of the crypto crash caused by the Taliban regime in Afghanistan which triggered the arrest of crypto dealers who defied the ban on trading crypto on the markets. Either way, seeing this data is very encouraging for the future of crypto.
What this means for the crypto market
Once again, the extreme growth of cryptos, and more specifically of Bitcoin in countries with high inflation, legitimizes these as a reserve currency. It would seem that states are increasingly adopting blockchain technology and even experimenting with it. Saudi Arabia, Turkey, UAE are all experimenting with blockchain and some banks are even allowing crypto transactions.
These are strong signals regarding the real value of cryptos. The latter bring a certain stability in countries with high inflation, even in crisis with Syria for example. If the crypto market is still in the bear market, more favorable conditions could take Bitcoin and other tokens to new highs. To learn more about this, go to this article which talks about it.