There is a substantial amount of projects and altcoins in the cryptocurrency market making it difficult to determine which investments can be the most profitable over the long term.
Nevertheless, there is still some altcoins that stand out by their potential, whether in particular because they bring an original project or because they make so much noise within the community that it is difficult to ignore them. So here are 3 altcoins to buy that could explode in 2023!
Dash 2 Trade (D2T), for all traders
Dash 2 Trade is a new kid who has just launched his presale on October 20. Despite everything, success is already present with more than $500,000 collected in the space of 24 hours. The goal of the project is to offer a platform with many tools and features for crypto traders and investors.
Thanks to Dash 2 Trade, no more missing opportunities or spending hours trying to analyze data to make decisions. The platform is intended simple and complete in order to offer the best information to enable crypto traders and investors to plan their strategies profitably.
In addition to the traditional tools that can be found on this kind of platform, D2T goes further by providing many metrics, real-time alerts, trading signals, automated trading as well as a tool to simulate your strategies without risking your investments.
in addition to provide a global vision of the market and to guide on the best opportunities to seize, Dash 2 Trade also focuses on ICOs and presales which represent an important part of the future of the cryptocurrency industry. Indeed, investing in presales involves risks, but the profits are also very profitable if they are there.
Nevertheless, as there is a substantial amount of presales and ICOs, it is far too easy to miss a golden opportunity. At least that was until now because Dash 2 Trade intends to provide the solution
Crypto-assets are a risky investment.
Le token D2T
The D2T token is based on the Ethereum blockchain and will be at the heart of the Dash 2 Trade platform since it will mainly be used to pay the monthly subscription allowing access to tools and functionalities for traders and investors.
Indeed, there is 3 levels: free, standard and premium. Of course, to have full access the premium subscription will be necessary, while the free subscription serves as an introduction to the tools and in order to show the capabilities that Dash 2 Trade offers.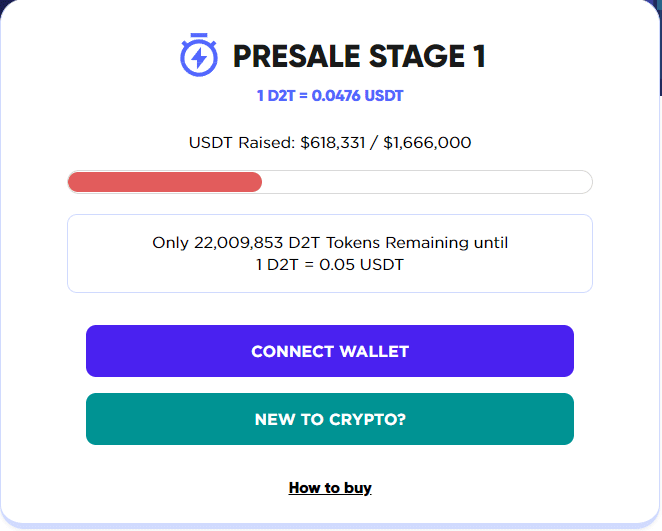 The presale started on October 20 and already $500,000 invested in the space of 24 hours over $1.6 million for the first phase where the D2T token is worth 0,0476 $. A total of nine phases will take place and in the second the token price will be $0.0500. At the end of the presale, the price of this cryptocurrency will be $0.0662.
To participate in the presale go to the official website. Connect your crypto wallet and make the transaction in USDT or ETH to make your purchase. The tokens will be recoverable at the end of the presale via un bouton claim available on the Dash 2 Trade website. If you want more information, read our comprehensive guide to buy D2T.
IMPT (IMPT), to crypto verte
IMPT is a green cryptocurrency whose purpose is to enable to buy and sell carbon credits. These give the possibility of emitting a certain amount of CO2. They will be in the form of NF2 in order to guarantee their authenticity and avoid any attempt at scamming, thus allowing total transparency.
The project wants contribute ecologically by allowing contributions to verified environmental projects using IMPT tokens. As a bonus, it will be possible to buy or sell carbon credits via the IMPT shop.
Additionally, IMPT has many partners luxury brands and various products where it will be possible to buy their items (more than 2 million available) and receive a percentage over the purchases in order to manage your carbon credit. You can then sell it or burn it to reduce your carbon footprint by obtaining NFTs as a reward.
More than 10,000 partners have joined the project, including Apple and Hugo Boss. More recently, IMPT announced Amazon as well and the arrival of several companies each month.
A token on Ethereum
The IMTP token is based on the Ethereum blockchain which was able to reduce its energy consumption by more than 99% following The Merge. The presale is in phase 1 with a price of $0.018 per IMPT token. Already over $6.8 million invested since October 3.
🚨 BREAKING NEWS! 🚨

🔥 ANOTHER MILESTONE ACCOMPLISHED 🔥

🔥 $6.5 MILLION RAISED 🔥

DON'T MISS A CHANCE TO FILL YOUR BAGS! 💰

✅ WE ARE SELLING OUT FAST!
✅ HURRY UP BEFORE THE PRICE INCREASE TO $0.023

➡️ https://t.co/LGJdDfUSAi pic.twitter.com/jiaIIyOI8w

— IMPT.io (@IMPT_token) October 21, 2022
Phase 2 will take place in early December or as soon as Phase 1 hits $10.8 million. The price will then be 0,023 $. There will then be a final phase with a price of 0,028 $. At the latest, the presale will end in March 2023 for a listing on exchange platforms from the beginning of April 2023.
The project has enormous potential, because the sustainable development and ecology are subjects that affect everyone. IMPT offers an original and useful way to contribute to the environment. In addition, the number of partners reinforces the solidity and credibility of the IMPT platform.
If you want to invest in IMPT, visit the official website in order to connect your wallet and proceed with the transaction via ETH or USDT. For more information see our detailed guide explaining the complete process.
Tamadoge (TAMA), the useful corner meme
Tamadoge is a coin meme that compared to other cryptos in this category has a well-defined project in order to make itself useful. So, in addition to being a coin meme it's also a Play to Earn drawing inspiration from tamagotchis while using the Metaverse.
The goal will be raise your virtual pets (the Tamadoge) in order to see them grow, but also to make them fight against other players to obtain rewards. The concept is relatively interesting knowing that tamagotchis were toys that were all the rage in the late 90s.
As a bonus, the Tamadoges will be and 3D more augmented reality and virtual reality are on the program. The Tamadoge will be NFTs, some of which are already on sale on OpenSea, breaking price records.
An explosive presale
The Tamadoge presale ended a few weeks ago with over $19 million raised. While the price of the TAMA token in phase 1 was $0.01 its ATH brought the token up to $0.19 allowing many investors to do x19 with this project.
If the price has since fallen towards $0.025 it remains a value close to the end of presale. Moreover, the project is still in its infancy and the success of NFTs on OpenSea shows that there is potential. It's definitely a Play to Earn that could take off in 2023 if it is able to deliver all the promises of its roadmap.
📣 Buy #Tamadoge Rare #NFT And Get Up To A 70% Better Chance Of Placing In The Top 3 On Our Global Leaderboards 🥇

Buy Now And Let Us Know Which One You've Got ⬇️https://t.co/yHt4SiY6ed pic.twitter.com/gHw69mM2UJ

— TAMADOGE (@Tamadogecoin) October 21, 2022
Therefore, with a relatively low price, it is the perfect time to invest in this crypto-currency which is likely to increase in value from the beginning of next year with the arrival of concrete elements which will reassure investors, but also generate more enthusiasm around Tamadoge.
---
In a relatively similar case, there is also Battle Infinity (IBAT) which is a Play to Earn project based on the concept of Fantasy League in the Metaverse. Just like Tamadoge, the project is expected for 2023 and could explode.