Blow to Bored Ape Yach Club and Yuga Labs' ApeCoin crypto: The United States Securities and Exchange Commission (SEC) indeed yesterday opened an investigation into the company to find out if Bored Ape Yacht Club NFTs and the token ApeCoin, based on the Ethereum blockchain are unregistered "securities", similar to the charges the SEC leveled against Ripple and its XRP, and which resulted in a highly publicized lawsuit still ongoing.
Regarding BAYC and ApeCoin, Bloomberg revealed that according to an unnamed source, the SEC is seeking to prove that Yuga Labs violated federal law by issuing its NFTs and its ApeCoin token launched earlier this year.
Recall that the SEC has increased its scrutiny of NFT markets and cryptos in general this year under Chairman Gary Gensler, who believes that all cryptocurrencies except bitcoin could qualify as securities, and has taken a number of recent steps, including designating nine tokens listed on Coinbase as securities, in addition to pursuing a lawsuit against Ripple, the issuer of XRP.
Yuga Labs under SEC investigation over BAYC and ApeCoin
Regarding ApeCoin, it is important to clarify that officially, the crypto was not created by Yuga Labs, but by the Ape Foundation, whose board of directors includes eminent figures of the Web3 movement. like Reddit co-founder Alexis Ohanian and FTX Ventures director Amy Wu.
This approach was apparently chosen due to regulatory concerns, a detail that may have caught the attention of the SEC. However, at this stage, no official charges have been made by the SEC, which has not publicly communicated on the matter.
Faced with these rumours, Yuga Labs commented that "it is well known that policy makers and regulators have sought to learn more about the new world of Web3", adding that they hoped to "associate with the rest of the industry and to regulators to define and shape the burgeoning ecosystem".
The company also announced its intention to show its credentials, stating that "as a leader in this space, Yuga is committed to fully cooperating with any inquiries along the way."
Crypto-assets are a risky investment.
ApeCoin crashes more than 16% in 25 minutes
Unfortunately, this did not prevent the ApeCoin course to dive into the market. Indeed, the cryptocurrency fell from around $5.15 yesterday around 6:20 p.m., then bottomed out at $4.3125 25 minutes later, a drop of 16.2%.
The cryptocurrency has since regained some ground, trading at $4.72 midday on Wednesday, but is still down sharply from yesterday.
From a technical standpoint, immediate support appears to be forming near $4.6250, as seen on the hourly chart below.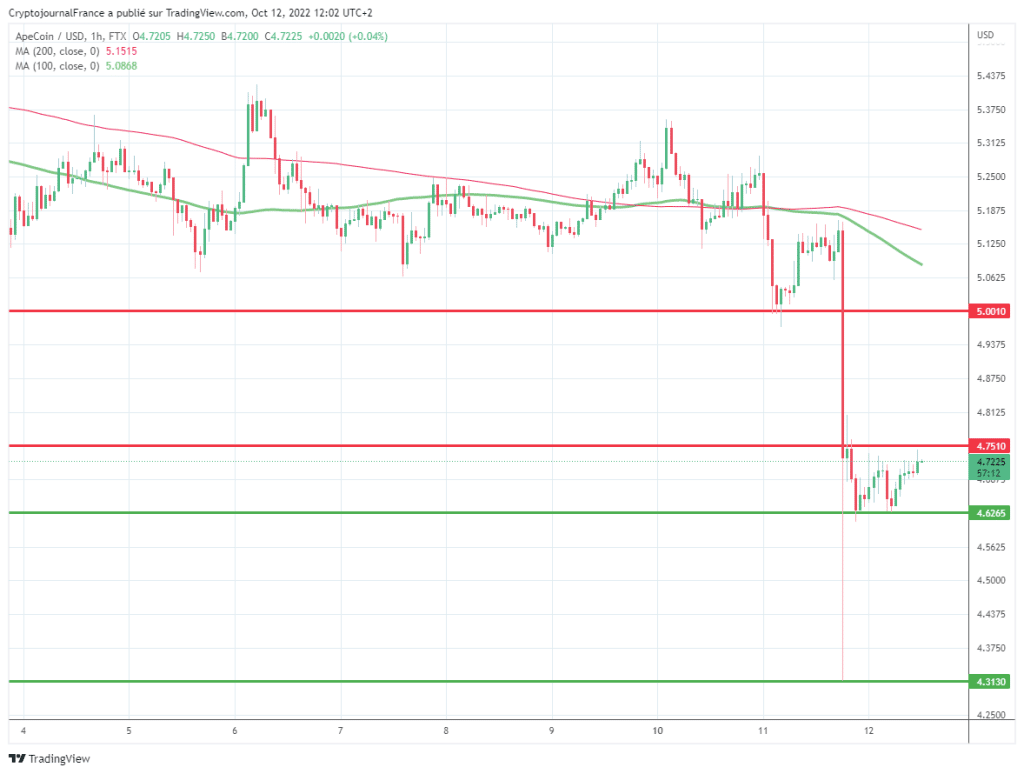 On the upside, the first potential resistance is around $4.75, before a psychologically more important threshold at $5.
What is the Yuga Labs Bored Ape Yacht Club?
We end by recalling that the Bored Ape Yacht Club is one of the most popular NFT projects in the world, with a core collection of 10,000 NFTs based on the Ethereum blockchain. The initial sale brought in about $1.9 million for Yuga Labs, but the company has also developed follow-up and spin-off projects, including the Mutant Ape Yacht Club and metaverse game Otherside, which brought in $96 million. and $319 million, respectively.
Separately, BAYC NFTs have generated close to $2.5 billion in secondary market trading volume to date, while Mutant Ape Yacht Club and Otherside have combined $3.35 billion in trading volume. secondary exchanges. However, you should know that Yuga Labs collects a 2.5% royalty on each sale on the secondary market.
---
Looking for the best NFTs to invest in immediately? Discover our guide to best NFTs to buy for 2022 !