Joe Biden had ordered a report on March 9, 2022 to obtain recommendations for protect consumers, investors and businesses. This in order to have better financial stability while strengthening national security and environmental protection. The report contains some errors, particularly about crypto mining and its effect on the climate. A cryptocurrency specialist noted 9 inconsistencies that we are going to present to you today.
The first White House report on cryptocurrencies
On September 16, the White House finally published its report ordered in March 2022. In this note which will serve as a guideline to frame the cryptocurrency sector, there are 7 main axes. We thus find, in a non-exhaustive way, the fight against illicit financing, the strengthening of American leadership or the desire to promote financial stability.
This report has therefore been prepared with the aim of proposing concrete solutions to the problems that cryptocurrencies can pose. A large part is also dedicated to the climate issue. Indeed, Proof of Work digital assets, and more particularly Bitcoin, are often criticized for their high energy consumption. For example, the annual consumption of Bitcoin in 2021 was estimated at 130 TWh (terra watt hour). While that of the whole city of Paris was estimated at 30.8 TWh. Thus the annual consumption of Bitcoin is more than 4 times greater than a city of 14 million inhabitants!
The report hopes that different organizations will work together to eventually curb this staggering energy consumption. This leaves the uncertainty of a possible ban on cryptocurrency mining in the United States.
Top 9 White House Mistakes About Crypto Mining
Nic Carter, the co-founder of CoinMetrics read the report up and down. Here he gives us his analysis of what is wrong with the White House report.
1- Lack of data
First, the report was criticized for its lack of data. According to Nic Carter, the co-founder of CoinMetrics: "this report is mostly a regurgitation of data presented (and in some cases invented) by academics and bloggers." The authors would have limited knowledge and experience in Proof of Work (PoW). They are even accused of laziness in addition to avoiding debate around the issue.
2- The absence of industry experts
In the report, big names in the industry are absent and did not participate in the report. According to lecturer Ross Steven and Nic Carter, industry structures such as "Arcane Research, Bitcoin Mining Council and Bitcoin Net Zero are not taken into account despite being at the heart of the matter".
3- Mention of "Bitcoin's best enemy" Alex De Vries
Dutch economist Alex de Vries is considered Bitcoin's public enemy. He finds himself quoted in the report while for Nic Carter: " Alex De Vries works for the Dutch "anti-crypto" central bank. He is not a climate expert or an authority on cryptocurrency mining". For the co-founder of CoinMetrics, De Vries' analyzes and figures on Bitcoin energy consumption and electronic waste are wrong. However, it is interesting to know that the Dutch economist was one of the first to warn about the energy overconsumption of cryptocurrencies.
4- Mention the Gallerdörfer, Klaaßen and Stoll
Moreover, Nic Carter criticizes the consultation of the "unacademic" and "conflictual" works of Ulrich Gallersdörfer, Lena Klaaßen and Christian Stoll, which "actually benefit from their academic endeavors with an advisory firm called the Crypto Carbon Ratings Institute (CCRI)", thus helping the "Proof of Stake blockchains to clear their reputation". It is therefore a conflict of interest that is criticized here for the White House report.
5- The use of "absurd" reports
Camilo Mora's Report Tells Us "Bitcoin Emissions Alone Could Push Global Warming Above 2°C"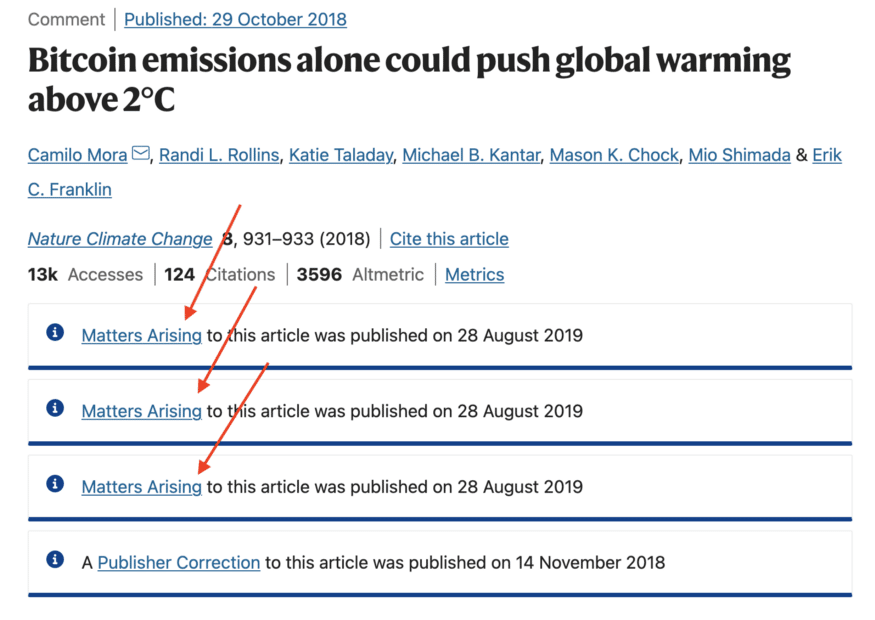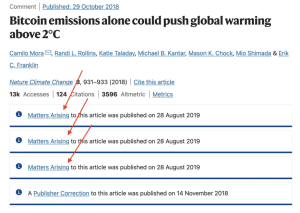 For Nic Carter, this is again a weak point in the report. The study "assumes a model of bitcoin (BTC) that has no relation to bitcoin at all, and gets an obviously wrong result."
6- A conflicting approach to the use of data
While they acknowledge the lack of data and the uncertainty of its estimates, the report presents the "assumptions of people like De Vries as facts in addition to quoting erroneous figures". As Carter added: "In places where we might have reasonably good models, like estimating Bitcoin's future energy consumption (…), they refuse to make an estimate. Even though the report emphasizes the data gaps and highlights the epistemic limitations of this topic, the authors are generally undeterred and continue with their claims:
7- "No effort" from miners who use renewable energy
The report discredits the efforts of miners to decarbonize their operations. Especially in "rejecting flare gas mitigation, claiming that renewable energy use impedes transmission, and failing to credit miners to subsidize renewable energy development" said Nic Carter.
8- Do not take into account the forecasts of the energy trajectory of Bitcoin
Forecast models of Bitcoin energy consumption have been provided by the industry. In addition, the report to decide not to take it into account. The report does not offer either an alternative or a forecast. This therefore leaves the field open to the imagination since there is no data provided.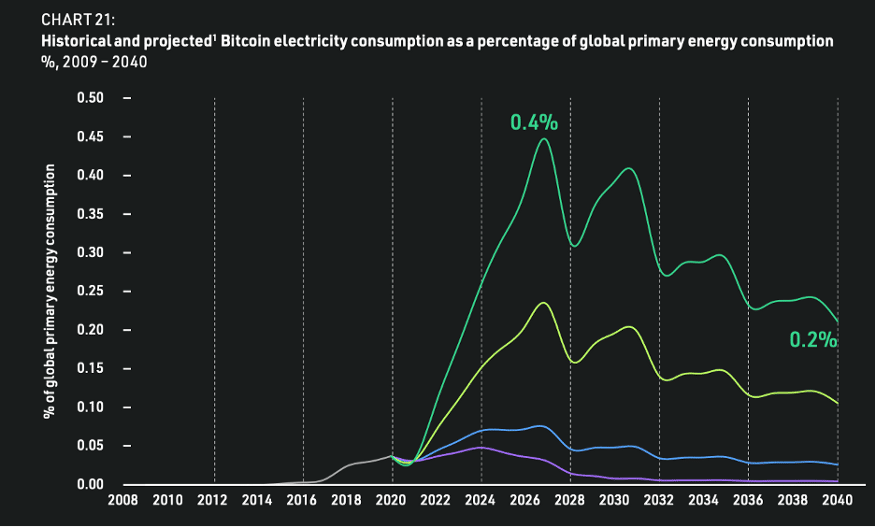 9- "Stupid and counter-productive" suggestions
Finally, Carter criticizes recommendations that require Bitcoin miners to "net new generation of renewable energy to be able to operate mines". He adds that this obligation makes no sense since it does not exist in any other sector than that of cryptocurrencies.
A very strong bias for cryptocurrencies
These 9 criticisms of the report should be qualified. Since Nic Carter is the co-founder of CoinMetrics, he therefore defends the interests of cryptocurrencies. Indeed, it has every interest that the White House does not regulate the sector too much in terms of ecology. More restrictions in terms of ecology often means less profit.
We have seen that theEthereum which moved to Proof of Stake and therefore became 99% less energy intensive has only seen its value drop since then. However, we are only at the start of The Merge, so the price is not representative.
On the same subject :