It is since October 3 that the presale started for this new innovative and ecological crypto-currency: IMPT token. Indeed, this project wishes to encourage sustainable actions on a daily basis and support the environmental cause that concerns us all.
As a result, through its crypto it is possible to buy carbon credits when shopping, in particular thanks to more than 10,000 partnerships with luxury companies and various products.
What is IMPT?
IMPT is therefore a new project that wishes to highlight a very real cause: the environment. Thus, this concerns the possibility of buying or selling carbon credits. These were created during the Kyoto Protocol which aims to fight against the emission of greenhouse gases by companies and in particular CO2.
These are certificates that only governments and national agencies can distribute. They give the right to emit a certain amount of CO2. Thus, for users of the IMPT platform, they will have to offset their CO2 emissions via these carbon credits when purchasing with IMPT partners.
Therefore, IMPT wants to make trade more transparent by taking into account greenhouse gas emissions while finding a clever way to do ecological prevention.
✅We carefully chose and assessed the most influential projects from around the world to avoid fraud and ensure that the Global Certification Protocols were properly followed.

✅Choose from various programmes focused on conserving the environment and enhancing people's lives. pic.twitter.com/PjRRHCOeaQ

— IMPT.io (@IMPT_token) October 11, 2022
Everything will be done through the use of NFTs (carbon credits will be NFTs). Thus, users after a purchase from partners will receive IMPT tokens themselves converted into carbon credits that it will be possible to resell, burn to receive rewards in the form of NFTs or invest in environmental projects verified beforehand by IMPT and which aim to offset the corresponding quantity of CO2 emitted.
Crypto-assets are a risky investment.
Current problems with carbon credits
It is therefore since 2005 that carbon credits are available and exchangeable, particularly in the workplace. All in order to fight against climate change.
However, the existing infrastructure to manage all of these carbon credits remains relatively poor and that is why the IMPT platform was born. Currently, carbon credits can only be traded on bilateral and multilateral markets whose rules and prescriptions make everything relatively complex.
There is also a blatant lack of transparency on the amounts of carbon credits consumed or even the environmental projects concerned and the exact compensation for CO2 emissions. Moreover, there are frequent forgeries that skew the whole market.
This is why the IMPT platform was born and its project wants to solve all these problems while using the blockchain as the main solution. Indeed, the industry cryptocurrencies is an ideal space to demonstrate transparency. IMPT's white paper tells us more about the current situation and all the possible solutions that will be possible in the future.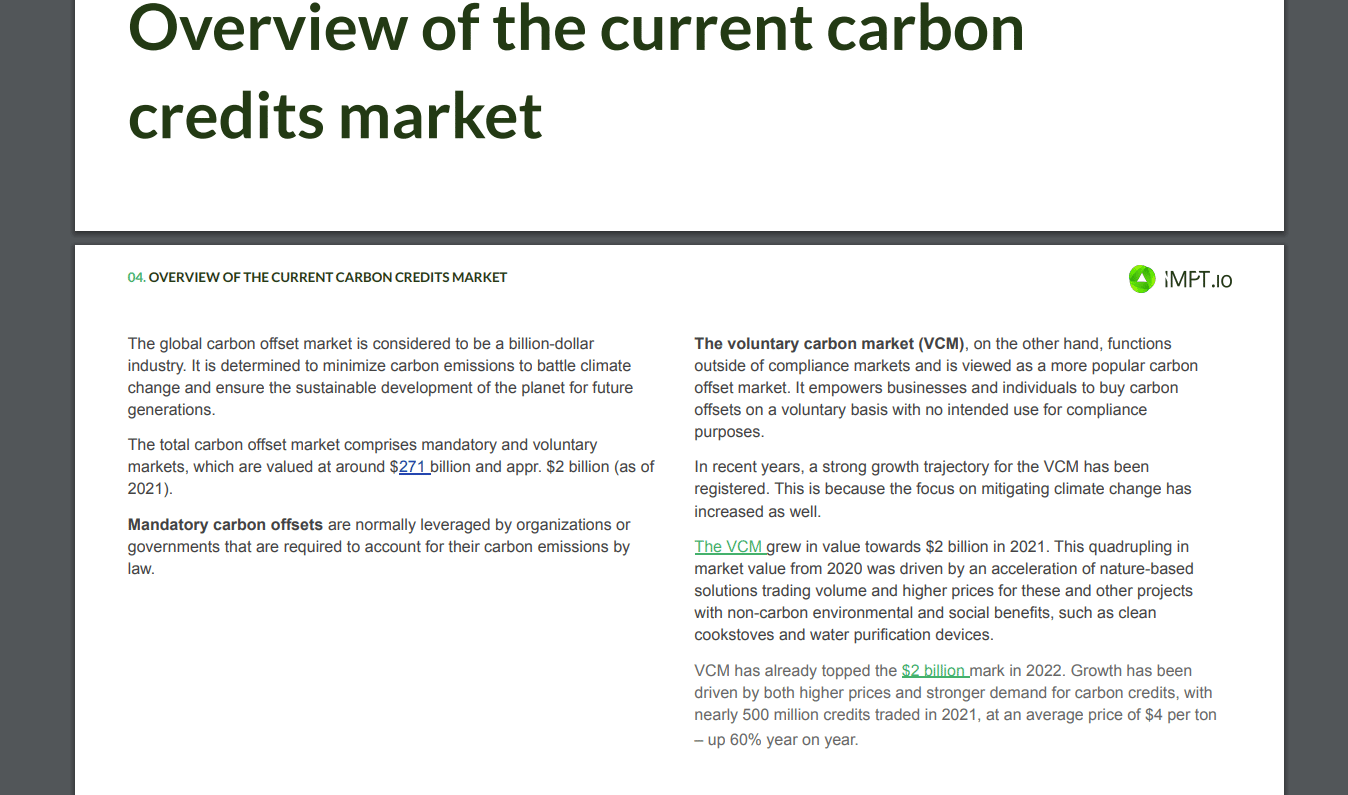 In addition to being an ecological project, IMPT is also a solution for combining business with pleasure. Indeed, nowadays with the online world, it is easy for everyone to do their shopping in a few clicks without having to travel.
With this in mind, IMPT goes further by seeking to bring businesses and consumers together in the same cause: the environment. The goal is to commit all together to sustainability on a daily basis.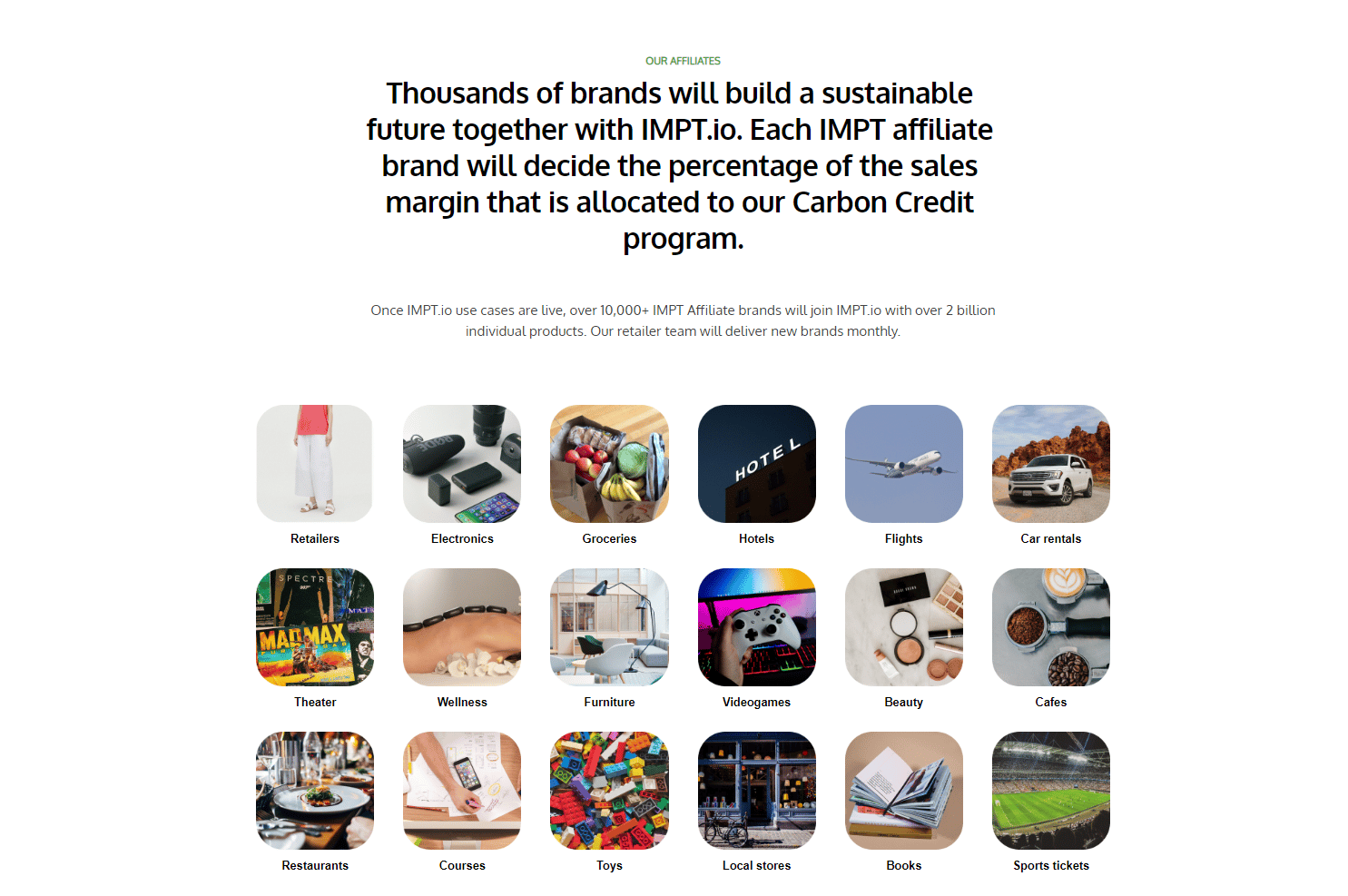 Thus, by making purchases with IMPT partner companies, consumers will receive IMPT tokens according to the profit margin defined by the company. These tokens can be converted into carbon credits NFT which can then be burned to offset CO2 emissions.
IMPT has already succeeded in convincing more than 10,000 partners. This represents more than 2 billion products available in this way. Of course, this is just the beginning and IMPT hinted that more companies will join the cause as the months go by.
More information about the token
Before the launch of phase 1 of the presale, there was a private sale giving the possibility to certain investors to buy IMPT tokens for a total of 300,000 available which represents 10% of the total amount that will be available. The starting price was $0.012.
https://t.co/f7szQiICkS will connect people with the most impactful and reliable environmental projects around the world with the ultimate goal of reducing carbon emissions and making positive changes to the environment. ♻️

Connect with us on Discord!
👉 https://t.co/ibfSX351zX pic.twitter.com/eIb5CJSIeQ

— IMPT.io (@IMPT_token) October 9, 2022
The token is based on the Ethereum blockchain, it is therefore an ERC-20 token. Following The Merge, the energy consumption of the ETH blockchain has radically decreased by more than 99%, which justifies the use of such a blockchain in addition to the technological needs adapted via it.
IMPT token serves as a means of payment throughout the IMPT ecosystem and also the IMPT shop where it will be possible to sell or buy carbon credits. Moreover, it is also a governance token for the CAD side of the project.
The potential to multiply its price by 100 in 2023
The purpose of IMPT is to make everyone's ecological footprint much more transparent to encourage sustainable development. It is an awareness that everyone must take into account and such a project is there to show how important each gesture is.
Many polls show that consumers are aware of the problembut few solutions exist to effectively assess its own impact on the environment in complete transparency.
Thus, depending on how IMPT will develop its project, it could be the most widespread solution in the future to actively participate in the ecological cause as a consumer. while having feedback on its own participation.
In addition, with more than 10,000 companies already convinced, including brands such as Apple, Dolce & Gabanna or Hugo Boss, this shows the seriousness and influence of the project. Ideal conditions to develop the IMPT platform, but also to convince many investors to join the cause.
As a bonus, the carbon credit market is booming. There is currently a mandatory market and a voluntary market. In the first case, it is valued at 261 billion dollars, as for the voluntary market, it exceeded 1 billion in turnover for the first time in 2021.
Forecasts estimate that the voluntary market could reach 50 billion dollars in 2050. Obviously, a central platform is needed to manage everything transparently. Thus, IMPT could be the solution and become the market leader!
A pre-sale with an explosive start
While the presale started on October 3 with its first phase, IMPT token has already raised over $3 million in the space of a week. This is the first one which is in progress and which will last until the end of the month or if the objective is reached to sell the 600 million tokens available.
Right now it's about a little more than a quarter of the target that IMPT was able to exceed in 8 days, because 176 million tokens were sold for a price of 0,018 $ par IMPT token.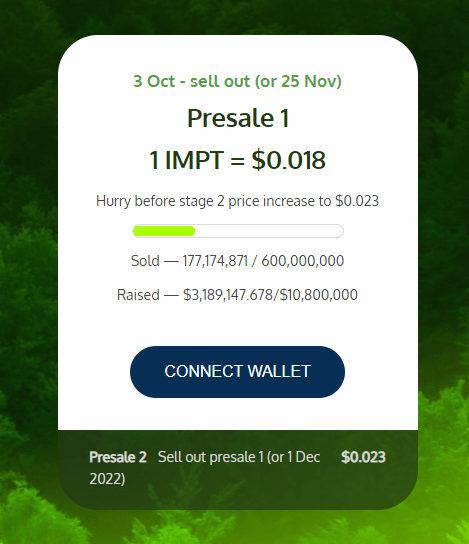 Once the first phase is completed, two others will take place as soon as the previous objective is reached, or else at the beginning of December for the second phase and at the end of January for the third. The price will increase respectively to 0,023 $ for the second phase and 0,028 $ for the last. In total, it is 1,800,000,000 tokens put up for sale out of the 3 billion available in circulation.
To invest in the presale, all you need to do is join the official website and connect your crypto wallet to it. The minimum investment is 10 IMPT and it will take use ETH or USDT to make the payment.
For more information you can read our guide on how buy IMPTs. Fully detailed in order to inform you more about the project, but also to explain to you each step to be taken to become yourself the holder of this crypto-currency with great potential.
---
Presales represent risks, but also a good way to actively participate in remembering new projects while potentially increasing your chances of making a profit. This was particularly the case, a short time ago with Tamadoge : a Play to Earn inspired by tamagotchis in the Metaverse which made x19.