Despite an increase at the start of the year, the UNI token price has seen significant drops in value since its crash in mid-March. But the token is currently trading above $6, and is experiencing a trend that looks positive for its future price.
For now, the indicators seem to tell us that Uniswap is on track to increase in value over the next few days. Sites like Changelly Blog forecast UNI to rise to $7.20 on average during the month of May. We tell you what we think about it in this article.

Uniswap (UNI): the indicators are good and confirm the future rise of the token
According to data from the website of Trading View, the UNI token is showing positive signs of its rise in value in the coming days. Over a 24-hour period, theThese indicators give us a score of 14 for buy, 9 for neutral and 3 for sell.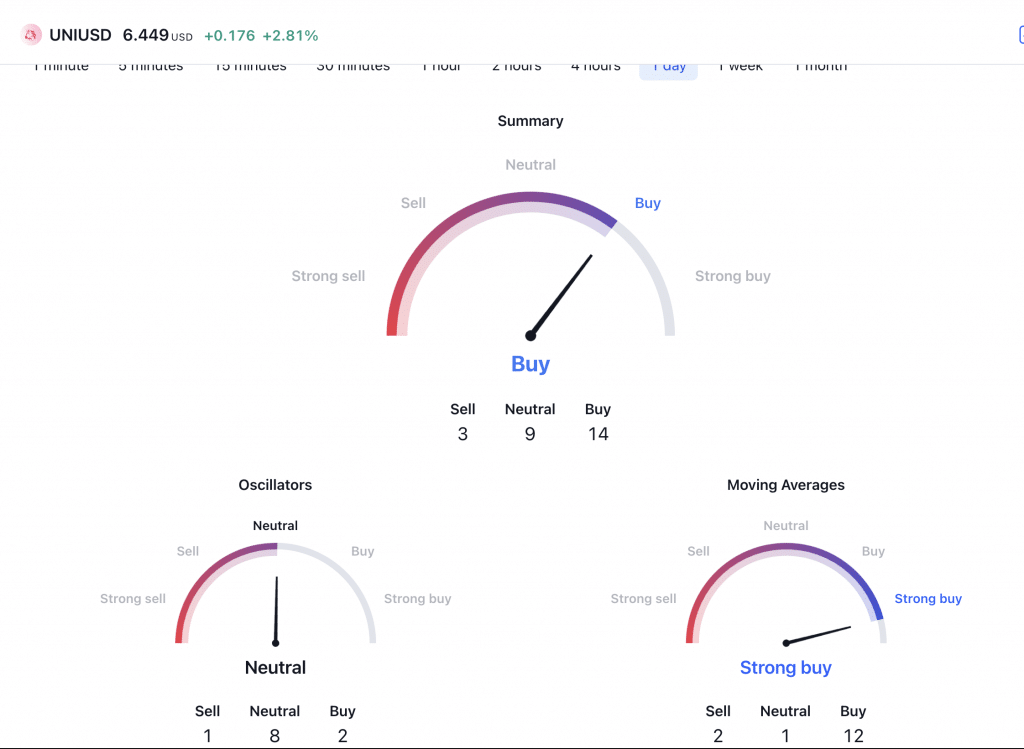 Indications that are backed by a price that is above most of its simple exponential moving averages. When looking at the MACD indicator, we also see that the MACD line crossed the signal line upwards on March 30th.
Since then, the price has been steadily rising and no downward crossover has yet occurredalthough it almost happened on April 12.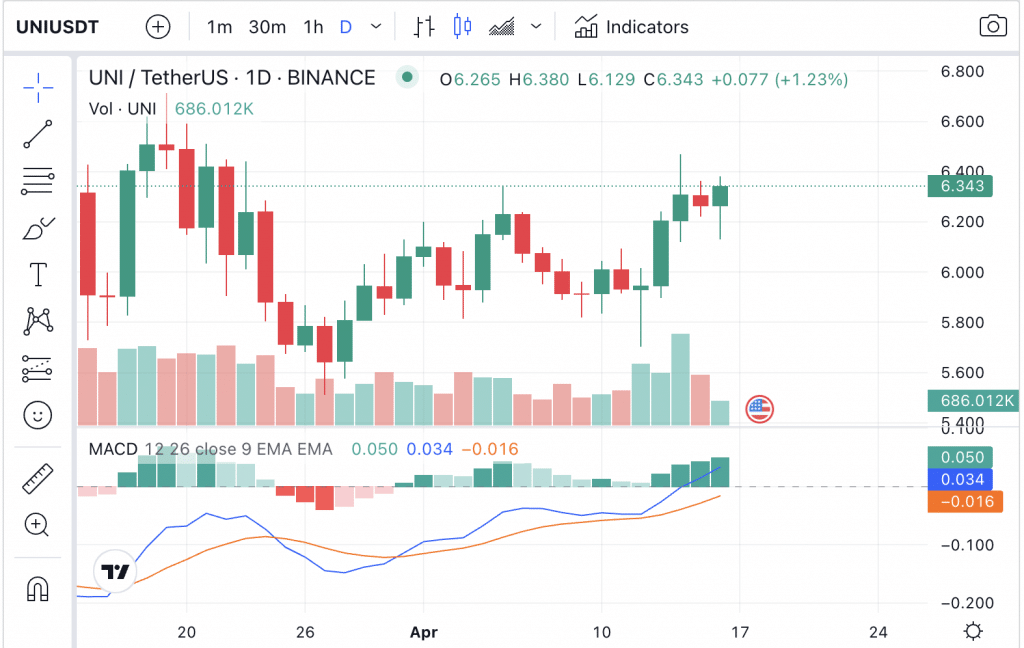 Despite an RSI that tends slightly towards a potential state of overbought, it is still far from it and displays a score of 57. In short, there are few clouds that could thwart UNI's uptrend over the next few days.
Cryptocurrency investing is offered by eToro (Europe) Ltd as a PSAN, registered with the AMF. Cryptocurrencies are very volatile. No consumer protection.
The next key levels to watch for UNI
The UNI token has just exceeded the upper line (located at $6.36) of its Bollinger bands on April 14 with a current price of $6.43. This is once again a strong signal in favor of the rise in value of the token!
According to Fibonacci Pivot Points from Trading View, watch the level at $6.7 today which could constitute a first resistance to the rise of UNI.
If UNI continues to break the next resistances, then it could rise above $7 as predicted by the price prediction of Changelly Blog for the month of May!
To learn more about the platformgo to our complete page which gives a Uniswap reviews, clear and concise.
Uniswap: the popular decentralized exchange platform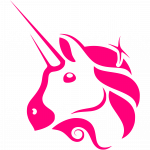 Beyond the purely technical analyzes that we could do, it is important to remember the context in which Uniswap operates. The SEC and the various regulatory authorities now have centralized platforms in their sights.
Uniswap currently escapes the wrath of the SEC, because it is considered decentralized. A state of affairs which allows it to benefit from immunity since it is governed by a decentralized system of governance.
Uniswap therefore enjoys a huge strategic advantage over its competitors. and attracts investors most eager to put their funds in safety! This is an element to take into account when calculating a potential rise in the UNI token in the future!
To see other cryptos that may explode soon, you can also look into new projects. Discover our selection of cryptos ICO with great potential for the year 2023!
---
Source : CoinMarketCap, Trading View, Changelly Blog
---
On the same subject :