Originally announced in 2021, the investment fund is now using the BTFD ticker for its latest leveraged Bitcoin ETF.
Valkyrie: a leveraged ETF for Bitcoin?
Valkyrie is bringing the issue of Bitcoin futures back into the spotlight, as part of a new ETF application filing. The investment firm yesterday filed a new application for a futures-based exchange-traded fund Bitcoin. The latter, which should be negotiated on the NASDAQ under the name "BTFD". But what is a Bitcoin / Crypto ETF?
Unlike the company's already active BTF fund, this one will be leveraged, allowing speculators to double their exposure to the market's leading cryptocurrency: Bitcoin.
JUST IN: 🚨Valkyrie Files New Leveraged #Bitcoin Futures ETF application that will trade on the NASDAQ under the ticker $BTFD #crypto pic.twitter.com/4lTWW8zVxi

— Crypto Macro (@cryptomacro14) May 16, 2023
The ticker "BTFD" was first to be used for the company's first fund, until she amended it in October 2021. None of Valkyrie's bitcoin-centric funds have direct exposure to the asset itself. Instead, they use bitcoin futures traded directly on the Chicago Mercantile Exchange (CME).
Traders holding futures contracts actually hold a deal which obliges them to buy or sell an asset at a given time, quantity and price. They exist for a multitude of different products: Bitcoin, corn, gold and for many other financial assets.
To date, there are four different ETFs based on Bitcoin futures, the first being the ProShares Bitcoin Futures ETF (which also launched in October 2021). At the moment, there are no spot ETFs on Bitcoin, nor funds directly exposed to the main cryptocurrency of the market. The SEC has blocked all enforcement attempts.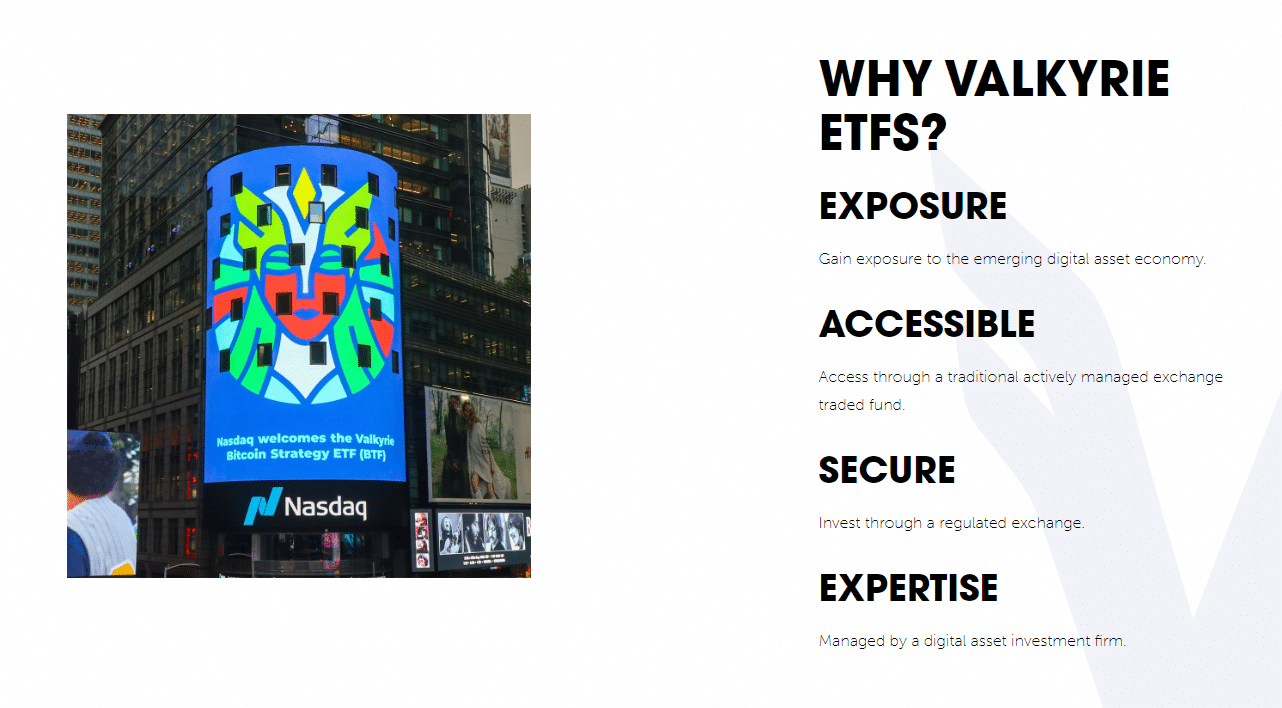 The SEC and Bitcoin ETFs
The SEC rejected all attempts to create a ETF Bitcoin spotexplaining that she feared manipulations on the spot market already existing on the exchanges.
The giant Grayscale is currently engaged in a legal battle with the SEC to convert its product Grayscale Bitcoin Trust (GBTC) into a spot ETF on Bitcoin. For the investment company, endorsing ETFs based on futures contracts rather than spot ETFs is illogical. In an old Grayscale document, we can read:
There is no reasonable basis to conclude that CME oversight adequately protects holders of one type of ETP (Exchange-Traded Product) and not the other. Yet the order rests on that same conclusion.
In March, judges involved in the case between the two entities also said the SEC really needs to explain how it understands the relationship between the two entities.term contracts and the prix spot you Bitcoin.
---
Source : Valkyrie SEC Application
---
On the same subject :