One of the biggest advantages of blockchain is its ability to adapt to any sector of society. After having revolutionized the world of finance with crypto-currencies, the world of sport and that of fashion, the blockchain is now attacking that of recruitment.
DeeLance is an innovative crypto project that aims to merge the Metaverse and NFTs (both blockchain-powered) to deliver a revolutionary and immersive platform for businesses and freelancers.

A platform that aims to revolutionize remote work
If it is true that the community had already heard about the existence of an exciting and revolutionary new crypto project, it was only recently that platform details have been properly published.
During a captivating interview session on Binance Live, the team responsible for DeeLance (DLANCE) revealed exciting developments on their visionary project.
According to them, DeeLance will beyond just a typical recruiting service. Thanks to the power of NFT with which the platform will be equipped, it will be able to guarantee the ownership of the custom work orders entrusted to each freelancer.
The project intends to build an adaptable and engaging platform that easily outperform traditional hiring methods.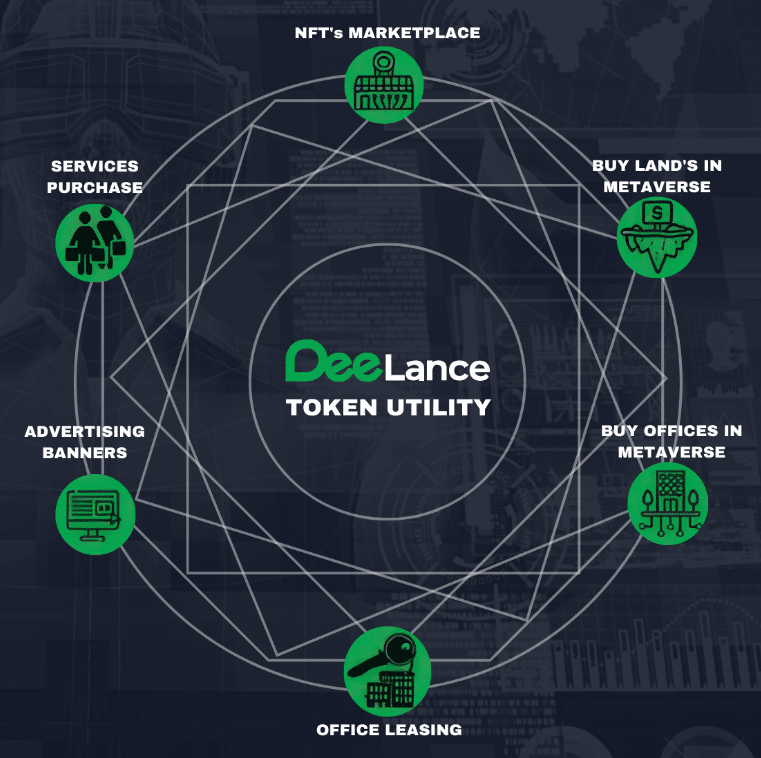 DeeLance also stands out from other recent Metaverse concepts which are much more focused on virtual reality and 3D spaces. Its platform will thus focus on office-based interactions for improve accessibility and user experience.
Platform users will be able to set up virtual offices in the Metaverse DeeLance, to showcase their services and cultivate successful businesses using DeeLance's native token, DLANCE.
As a result, owners of the DLANCE token have access to a plethora of uses and opportunities. Thus, they can acquire land in the platform's Metaverse, rent advertising space or even employ virtual agents.
Crypto-assets are a risky investment.
An innovative altcoin with great potential
This is a statement that most experts seem to share on the question of the reliability of the DeeLance project. This position is not really surprising either since the potential for DeeLance's market is colossal.
According to the various calculations made by the prediction agencies, the market segments of the Metaverse should reach the 335 billion dollars by 2027, a 759% increase from its valuation of $39 billion in 2022.
Thus, the DLANCE token is based on the blockchain Ethereum, who remains the first protocol for business and commerce applications.
Presale in progress
The project started its pre-sale phase only a few weeks ago, but has already raised over $150,000. This is proof that its potential has attracted the attention of many investors.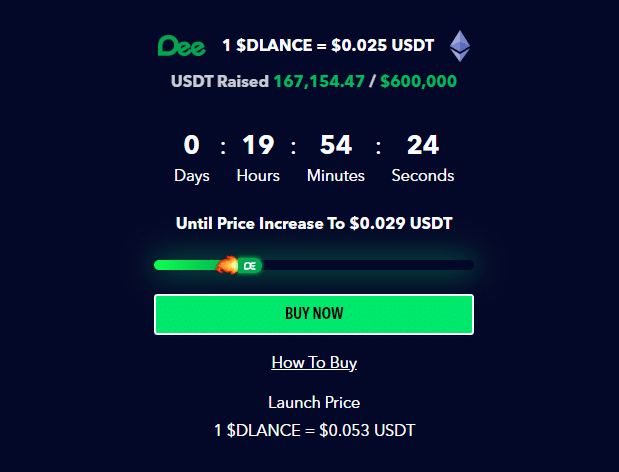 For the moment, the token has the price 0,025 $, but with a limited duration. Indeed, in less than 24 hours, it will pass at $0.029.
As a participant you can buy DLANCE tokens with Ethereum (ETH), Tether (USDT), or via the Transak payment network using a credit card.
For more information on how to buy DLANCE tokens, feel free to consult our guide which explains each step in detail even if you are completely new to the field of presales.
---
Source : DeeLance
---
On the same subject :
---
This article does not represent investment advice in any way. The information provided here should not be used as the basis for making financial decisions. Investing in cryptocurrency involves risk and can lead to significant losses. You should only invest what you can afford to lose and do your own research before making any investment decisions.