The cryptocurrency market is currently in a pivotal period which will determine the course of events. For now, Bitcoin resists selling pressure and keeps its price above $30,000. Now he's getting ready to test its resistance again to the 30,800 dollars that he had failed to confirm on June 21.
Its progress will strongly depend on the state of TOTALCAP, which seems to be getting back on track. After breaking its upward parallel channel, it is now heading to its highest annual level that he might be able to beat in the near future!
The TOTALCAP returns from the dead and continues its ascent
The TOTALCAP (market capitalization of the entire cryptocurrency market) is making a comeback after bounced off its support level located at 980 billion dollars on June 15th.
Since then, the TOTALCAP has broken upwards its parallel channel supposed to determine the maximum volatility of the market. Such a break up is a very good sign for report a sharp rise in the coming days !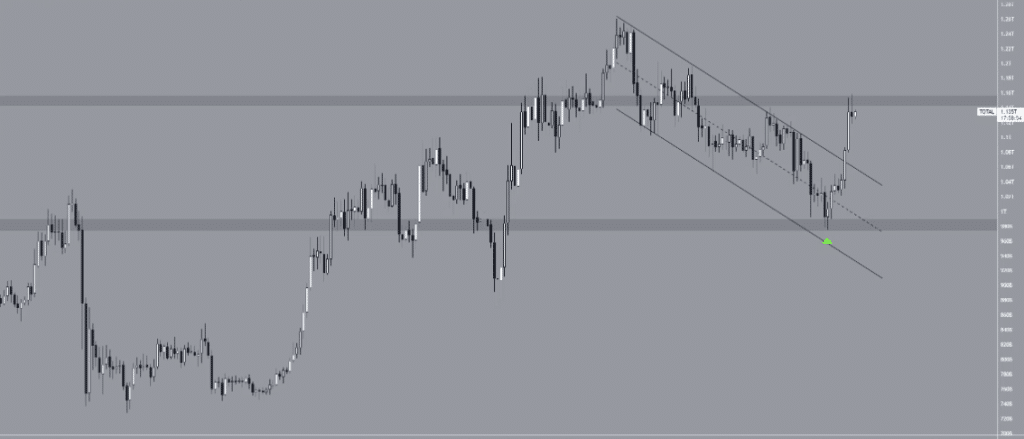 Henceforth, the next objective of TOTALCAP is to break the resistance located at 1.15 trillion dollars. This would then give it the opportunity to exceed its highest level and come and test the next resistance located at 1.30 trillion dollars according to data from the site of Trading View.

Bitcoin has yet to overcome its resistance located at $30,800
This is the next challenge that awaits Bitcoin if he wants to continue his mad ascent. After a first rejection on June 21, this one is again ready to come and face this famous line.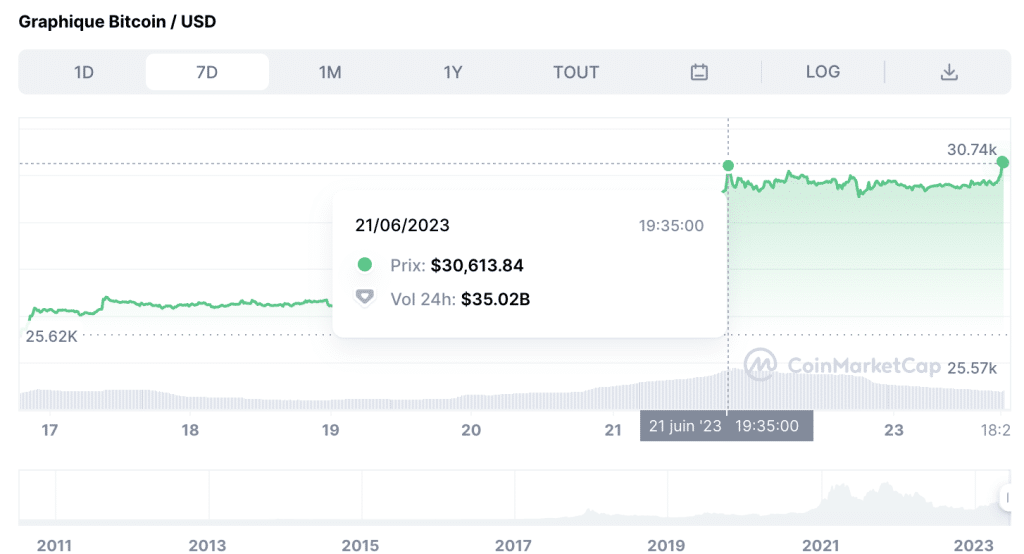 The task will be tough and the next few hours will be decisive to finally see the cryptocurrency market continue its journey. let's remember that BTC is the most influential asset in the market and that its value greatly influences that of other crypto assets.
If Bitcoin manages to consolidate above $30,800, then it will be possible that it will goes up to $35,000 or a new resistance awaits it.
If, on the other hand, Bitcoin fails to overcome the resistances, then it may drops to $27,000.
yPredict: the AI-based platform to thwart the indecisive market trend
If you want to invest in a project that can quickly explode, yPredict is the ideal candidate to achieve these ambitions. This is a project whose objective is to propose a all-in-one environment for crypto traders/investors who do not know how to boost their performance.
🤖 Fascinating Facts About Artificial Intelligence! 🌐

💡 AI is everywhere, with 77% of devices utilizing AI technology.
💥 The growth of AI startups surged 14-fold since 2000.
🚀 84% of execs believe AI is crucial for growth.
💰 The global AI market will reach $190.61 billion… pic.twitter.com/C58vYU1SZk

— yPredict.ai (@yPredict_ai) June 23, 2023
So yPredict will be a platform that will use artificial intelligence finally effective predictive models to its users. In a world where algorithms are more and more efficient, the most modest traders are struggling to stand out.
yPredict also wants thwart the business of selling fraudulent algorithmsx, to replace it with truly effective solutions.
Crypto-assets are a risky investment.
The presale has already raised $2.5 million!
Good news ! The native token of yPredict ($YPRED) is available for sale. It is on him that the whole ecosystem of yPredict will be based. It will allow, among other things, to use predictive models made by other competent traders and validated by the community for their effectiveness!
At the moment, the presale has already collected for 2.5 million dollars. The token is sold at a price of $0.09. However, you will have to hurry if you are interested in the project, because prices are constantly increasing.
The listing price is expected at $0.012 and the next stage of the presale will drop the $YPRED token to $0.1.
To see other promising cryptocurrencies, go to our dedicated page on this subject !
---
Source : Trading View, CoinMarketCap, yPredict
---
On the same subject :
This article does not represent investment advice in any way. The information provided here should not be used as the basis for making financial decisions. Investing in cryptocurrency involves risk and can lead to significant losses. You should only invest what you can afford to lose and do your own research before making any investment decisions.