Justin Sun is the former CEO of Tron, but also an Ethereum whale, that is, he has significant amounts of this cryptocurrency, but in addition, he has in the past managed to predict the top of the market , a performance that deserves to be highlighted.
It is so considered an outstanding trader and of course each of its movements are carefully scrutinized. Recently, he transferred $50 million to Binance. Does this mean that he would have predicted a new bullish movement for Ethereum or is he looking to generate one with his action?
Justin Sun transfers 50 million to Binance
Justin Sun, the ex-CEO of Tron is a renowned trader with the ability to accurately predict the top of the market, a fact that is as rare as it is difficult to accomplish. As a bonus, he recently moved $50 million on Binance, the world's largest exchange.
The last time he did something similar, the value of Ethereum climbed above the $1600 mark. While currently the resistance at $1600 for ETH seems hard to break through, such action could positively influence the price of this cryptocurrency.
Indeed, a whale that influences such an amount of ETH will potentially influence other traders to buy more and hold leurs tokens ETH. This could lead to breaking this resistance and turning it into support for ETH would then have a much higher price in the next few days.
Cryptocurrency investing is offered by eToro (Europe) Ltd as a PSAN, registered with the AMF. Cryptocurrencies are very volatile. No consumer protection.
An exceptional trader
Justin Sun is a successful trader to tame the market just like a consultant from Huobi. These two individuals managed to buy and sell the best Ethereum opportunities on the market last year.
Justin Sun transferred 50M to #Binance just now.

The last time he transferred a large amount of stablecoins to #Binance was 7 days ago.

After that, the price of $ETH rose from $1,335 to $1,620, an increase of 22%.

And this address of Justin Sun holds 79,170 $ETH($125M) now. pic.twitter.com/SRuRn60MsG

— Lookonchain (@lookonchain) October 31, 2022
When Ethereum was on top last year, Justin Sun a vendu 340 000 ETH gaining considerable profits. Since then, Ethereum has continued to crash and Sun has continued to reduce its position by selling amounts below 50,000 ETH.
Following this transfer of 50 million dollars to Binance, this is one of the first times in several months that he realizes such a purchase. Indeed, since The Merge, Ethereum has had some difficulty in gaining value, from many investors sold their tokens.
Nonetheless, a large portion of the whales happily picked up these discounted tokens and now that Ethereum seems to be going back up little by little, it looks like it was the right choice!
The status of Ethereum
Ethereum is currently trading at the price of 1580,60 $ while writing this article. This is an increase of 6% over the last 7 days and 0.72% over the last 24 hours. Thus, the resistance at $1600 continues to prevent this asset from rising.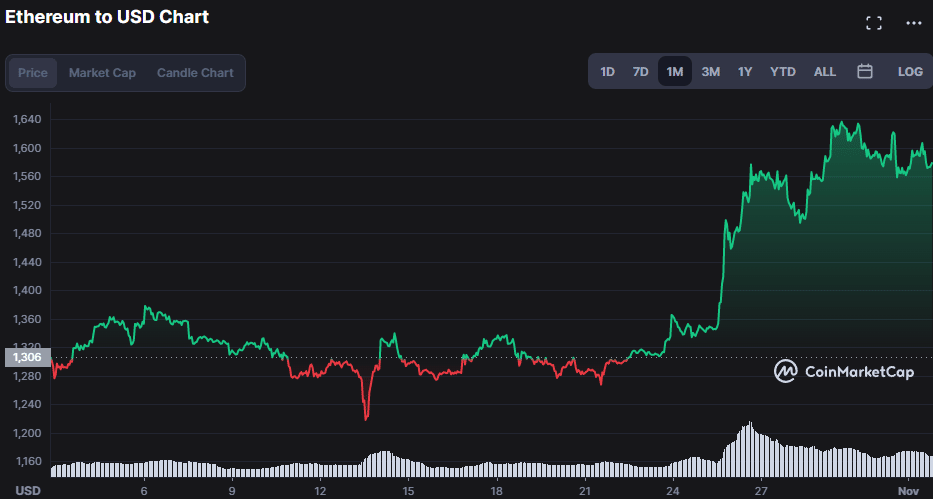 Despite everything, there is still little, the Bitcoin was below $20,000 and Ethereum was only worth around $1200. So there was fairly substantial gains for the two most important cryptocurrencies on the market.
This results in bringing bullish sentiment that we had not seen for many months with the bear market. Although the latter is still very present, certain favorable signs suggest that the end of the year could bring a general rise in the market and launch the next bull run for 2023.
---
From reasons for this possible increase of the future market, we see that the whales continue to accumulate Bitcoin and ETH just like Justin Sun which is a strong clue for the future of the crypto market.