After a big crash in mid-March like many other cryptos, Litecoin has resumed its run and could reach new highs. Currently priced at $96, LTC is on its way to glory with a potential crossing of the symbolic $100 mark.
And we can say that this is a highly anticipated event since the token has not exceeded this value since the beginning of 2022. Exceeding such an amount would undoubtedly cause a nice boost of optimism for the crypto. The latter would then have the opportunity to continue its long ascent. SO, Will LTC achieve the feat? This is what we are going to see now.

Litecoin (LTC): a halving that is fast approaching and whales that "hold" their tokens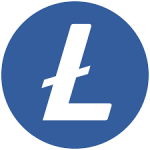 Litecoin is about to know its next halving which should take place in about 120 days. An event that divides the rewards received by miners and allows the price of the crypto in question to be increased mechanically. Also present on Bitcoin, the halving mechanism is eagerly awaited by investors and miners, because it heralds a rise in value.
And it did not miss since miners seem to be accumulating their tokens more and more. If the latter had, it seems, taken their profits during the month of March, the trend is now to the holding company. Halving episodes are almost always followed by a rise in value and the latter seem to anticipate this.
A graph of IntoTheBlock shows us the phenomenon very well with a curve that shows us theadding 1.11 million LTC to their reserves since the end of March.

And that's not all, the miners aren't the only ones joining the party, because the whales, too, intend to take their share of the cake. And that's the least we can, because they have accumulated 2.37 million LTC according to IntoTheBlock.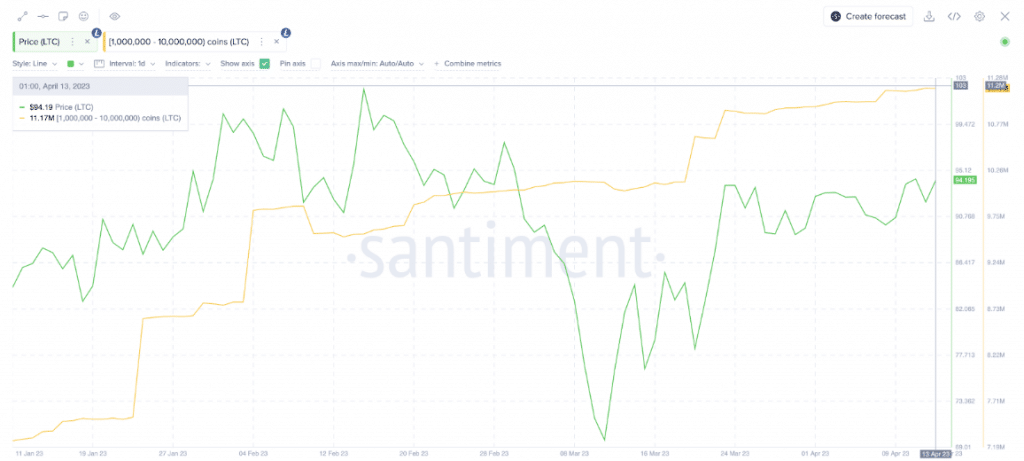 Cryptocurrency investing is offered by eToro (Europe) Ltd as a PSAN, registered with the AMF. Cryptocurrencies are very volatile. No consumer protection.
LTC at $131 could be possible according to analysts
If this estimate is very optimistic, it is nevertheless quite possible! In any case, this is what the analysts at IntoTheBlock claim. For now, the next key levels to watch are located at $98 with 149,000 addresses having placed a sell order, and at $102.5 as well.
If the bulls manage to thwart these resistances, LTC may continue to rise before coming under significant selling pressure at the $113 level. As of this writing, the latter remains the most attainable point that you will need to watch to take your profits.
In the best case, we can expect LTC at $131 if the bulls are in very good shape. If this amount is very optimistic, a very favorable "Sentiment" could nevertheless take us towards this level. At this point, nearly 1 million addresses are waiting to sell their 6 million LTC tokens.

Can bears regain control and bring down LTC?
Even if the trend does not seem to lean in this direction, we must still be prepared for a possible fall in LTC. If the crypto were to come back down after breaking its teeth on the resistance at $98 or $102.5, a potential breakout at $95 would not be impossible.
If LTC were to drop below this level, it may then be necessary to take a fall in the crypto to 85 dollars. Of course, this scenario still seems unlikely when looking at the current situation.
At this level, nearly 500,000 addresses holding 7.47 million LTC are waiting to buy tokens.
To follow news related to the crypto world in real timego to our page crypto news on our Cryptonaute website.
---
Source : IntoTheBlock, Saintly
---
On the same subject :