Often presented as a palliative to the problems of the Ethereum blockchain, what will become of Polygon when Ethereum has succeeded in curing all its ills? If some fear that Polygon could fall into oblivion, what is it really?

Polygon: a corrector or a complement to Ethereum?
For Ethereum, the transition from Proof of Work to Proof of Stake (The Merge) significantly improves network scalability and efficiency. Making in fact the blockchain more than ever competitive from a technical point of view. If Polygon was structured to initially respond to the problems of Ethereum, and in particular those related to network congestion, layer 2 also has other tricks up its sleeve.
Indeed, Polygon is also active on central issues in the blockchain universe such as network interoperability. According to Mihailo Bjelic, The Merge could even prove profitable in the longer term for Polygon.
The merger fixes Ethereum's huge carbon footprint, arguably making Ethereum more secure and reducing ETH inflation. Polygon is benefiting from Ethereum's improved security and general ecosystem growth – even though Ethereum is benefiting massively from Polygon's suite of enterprise scaling solutions, like the recently announced Polygon zkEVM. Proof of stake is therefore a game-changer: Ethereum is now, like Polygon, a much more environmentally friendly network.
Cryptocurrency investing is offered by eToro (Europe) Ltd as a PSAN, registered with the AMF. Cryptocurrencies are very volatile. No consumer protection.
Fierce competition from layer 2
And Polygon is a leading player when it comes to second-layer solutions, the competition tends to thicken. However, Polygon seems to be staying the course. It is no longer uncommon to see the network surpass Ethereum in the number of daily active addresses. As the graph below illustrates: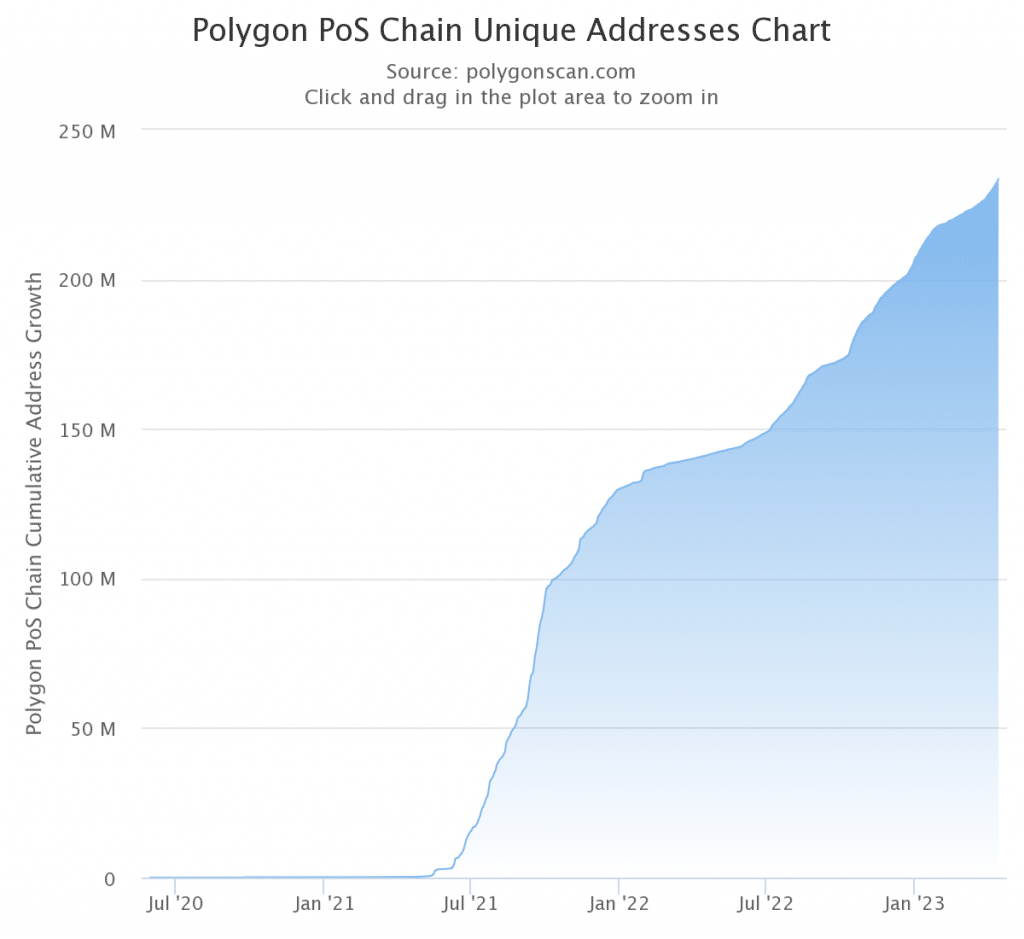 Despite the enthusiasm, Polygon is far from being the only layer 2 blockchain to generate traction on its network. The emergence of solutions like Arbitrum or Optimism could modify thePolygon crypto review of some analysts. In other words, many believe that Polygon may ultimately be more threatened by competing layer 2s than by Ethereum itself.
For the Polygon blockchain, the regulatory concerns are also an element that could prove unfavorable for adoption. But on this point, Polygon is to be put in the same basket as all the other crypto projects.
---
On the same subject :