MATIC's price analysis from the blockchain Polygon, shows us a sharp decline that took it to $0.66. This one was triggered by turbulence which triggered at the $0.71 level. This was not surprising since the resistance of MATIC is located at $0.7216.
Since then, crypto faces a new challenge and will have to resist with its next level of support located at $0.6367. Back on the case of MATIC and if it can reach the dollar in the coming weeks!
MATIC's price analysis over a 1-day period
The MATIC/USD pair struggled to overcome crucial resistance located at just over 0.72 dollars. When looking at MATIC's daily price chart, the price of the crypto saw a slight bear run, once it hit the $0.71 level. Consequently, MATIC experienced a consequent bearish cycle that took it below several Fib retracements until reaching the fateful level of $0.66.
24-hour trading volume jumped to $9.6 million, which showed an increase in trading activity. Currently, the price of MATIC is hovering around $0.67, with a decline of 3.2% in the last 24 hours, according to Trading View.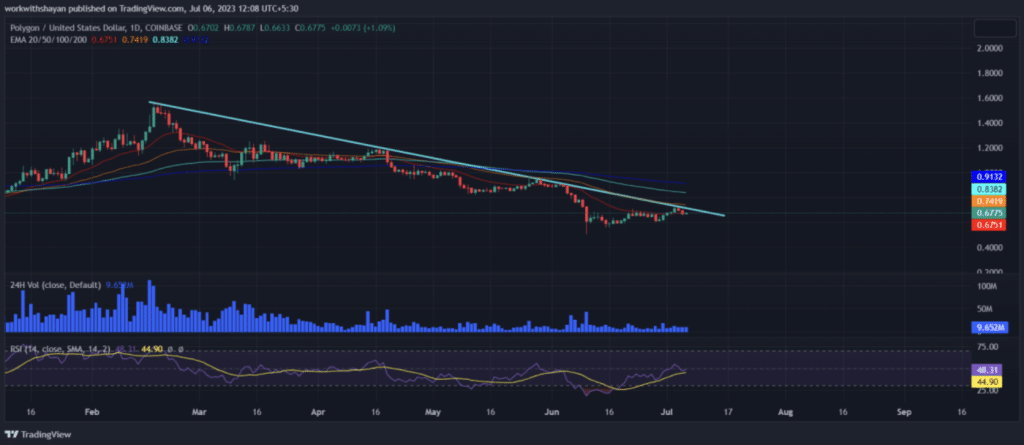 The RSI based on a 14-day period, has declined a bit from its previous level and it is now below the middle line, showing a score of 48. This shows an increase in selling tendency from investors.

The 4 hour price chart of MATIC
MATIC experienced some buying activity which turned out to be minor as the price of $0.66 has been reached. However, the bears are determined to contain the surge in MATIC and are likely to prevail in the near future.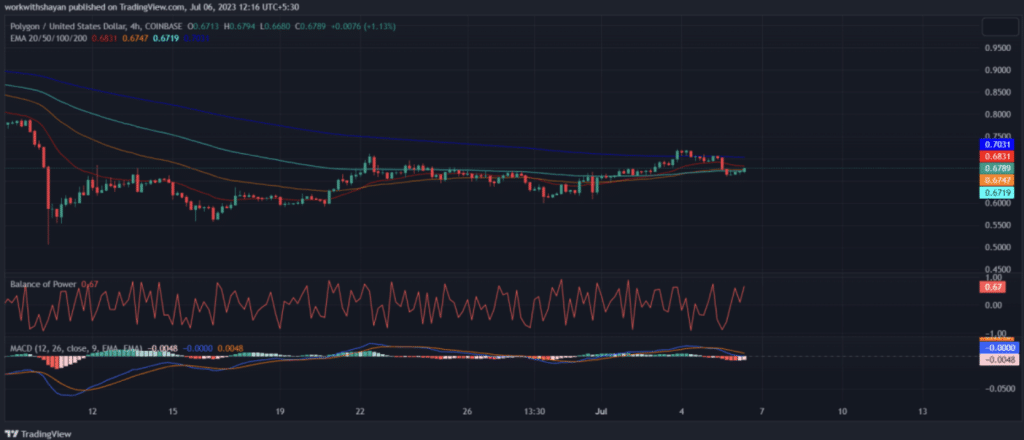 The BoP indicator is trading in a positive region at $0.67, which could hint at a further upward correction in the near future. We should not get too excited too quickly, because in parallel, bearish candles have formed and come to reinforce the positions of the sellers.
What to expect from the price of MATIC in the future?
The price chart confirms that a genuine battle takes place between bulls and bears at this moment. MATIC even managed to consolidate its position above its EMA 20! If the bulls manage to contain the selling pressure from the bears and the price breaks above the $0.7216 level, then it could surge and come to its next resistance located at $0.789.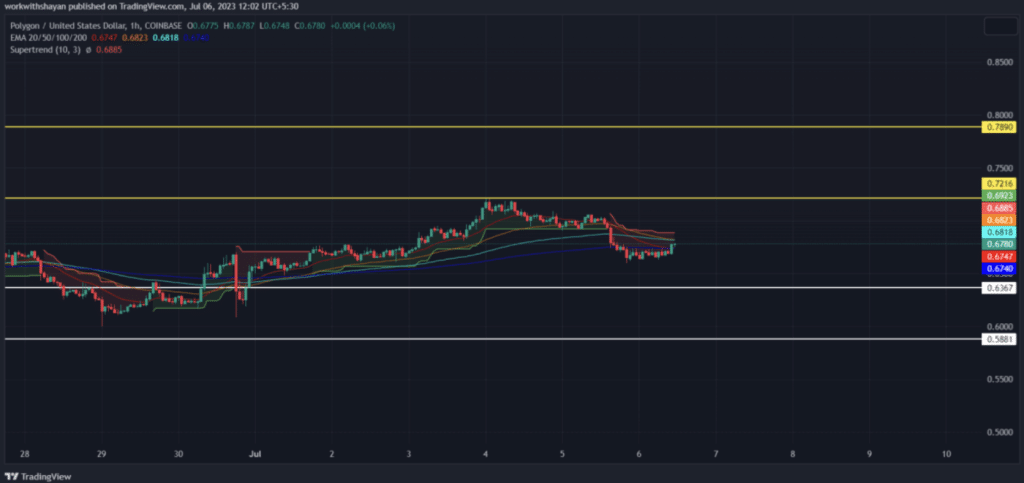 If the bulls fail to contain the selling pressure, then the price of MATIC could fall to its main support level located at $0.6367or even, at $0.5881 in the worst case.
In conclusion, if it is very unlikely that MATIC will reach the dollar soon, it could however experience a rise that would take it to levels close to $0.8.
To continue to follow all crypto news and keep you informed, go on our Cryptonaute website!
---
Source : Trading View
---
On the same subject :